Young People Declare Green Economy Crucial to Earth's Future
BANDUNG, Indonesia, October 1, 2011 (ENS) – Young people from 100 countries and all regions of the world today declared their commitment to fast track a future Green Economy to heal and support the planet.
More than 1,200 delegates, ages 10-24, are attending the Tunza International Children and Youth Conference on the Environment in Bandung, hosted by the United Nations Environment Programme, UNEP, with other UN agencies, NGOs and private sector partners.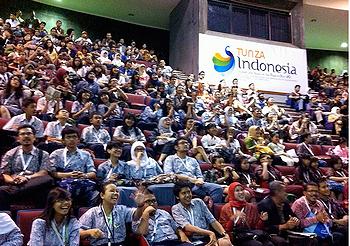 Delegates share a laugh at the Tunza International Children and Youth Conference on the Environment (Photo courtesy UNEP)
The word Tunza means "to treat with care or affection" in Kiswahili. The Tunza Youth Strategy, adopted in 2003 by UNEP's Governing Council, is a long-term strategy to engage young people in environmental activities and in the work of UNEP.
"As children, we can plant trees, clean rivers and beaches, but we cannot stop industries from polluting our rivers, we cannot force them to adopt a green economy. We want policies and laws that will make industries sustainable," said Indonesian 14-year-old Adeline Tiffanie Suwana.
The event was capped by the Bandung Declaration, released today, that finalizes the requests of children and youth to governments attending the Rio+20 conference in Brazil next June.
"The trends and science tell us that we cannot wait another generation (until a Rio+40) before we act … the Green Economy is our only future," the Bandung Declaration states.
Many of the delegates to the Tunza conference expressed concern about jobs – jobs that are fulfilling, worthwhile, decent and contribute to an acceleration of sustainable development.
UNEP says nearly 40 percent of the world's unemployed, over 80 million people, are between the ages of 15 and 24.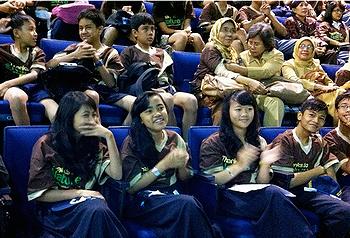 Tunza conference delegates (Photo courtesy UNEP)
The Bandung Declaration states, "In the next 10 years, as the world's population passes seven billion, we need to provide jobs for more than one billion young people – employment that will both enable them to live productive and worthwhile lives and to contribute to the transition to a just Green Economy."
Young people call the Green Economy "the only integrated framework that is truly sustainable … placing human well-being, social equity and environmental protection on equal footing."
Daniel Isfer Zardo, a 24-year-old from Curitiba, Brazil, said access to green jobs should be at the heart of the sustainability debate.
"We have to look at our communities, our society, our environment, and realize that we cannot reduce poverty or protect the environment without green job opportunities, especially for young people. This is something that policy makers must consider, if we want the Green Economy to take off," Zardo said.
UNEP Executive Director Achim Steiner, who attended this week's meetings and debates, said, "Throughout the past week, the voices of 1,200 young people have spoken with passion and eloquence here in Bandung. Their positive vision, extraordinary energy and creative solutions must be part of the dialogue on the Road to Rio +20 conference next year. Representing half of the world's population, it is vital that their efforts and inputs are not overlooked."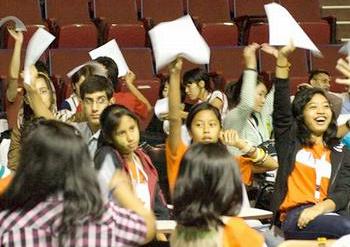 Malaysian delegates celebrate finishing their amendments to the Bandung Declaration. (Photo courtesy Tunza Magazine)
"Too many of our youth feel a sense of powerlessness and frustration with the 'way things are,'" Steiner said. "Leaders should listen more carefully and attentively to them and ensure that their willingness to become involved is supported."
"Not only do young people have ideals, solutions and energy but they are often free from some of the finger pointing, political gamesmanship and vested interests of the past that can hijack a fresh future," he said.
"The youth gathered in Bandung is the best antidote to a world which continues to rationalize mass unemployment, poverty and environmental destruction in the name of economic progress – and part of the best hope for a transformational Rio+20," Steiner declared.
The Bandung Declaration states that the Rio Earth Summit of 1992, during which several landmark environmental documents on climate change and biodiversity were agreed, was "transformative."
But the warning signs that were debated there have become the realities of today, the Declaration notes. It urges governments to move swiftly and decisively towards developing national green economy transition plans.
In the Bandung Declaration the young Tunza Conference delegates say that over the next nine months to Rio+20 they will:
Lobby their governments to make Rio+20 Earth Summit a top priority.
Adobt more sustainable lifestyles and reduce their ecological footprints.
Educate their communities and raise awareness about sustainable production and consumption.
Support the work of young scientists and entrepreneurs that is geared towards Green Economy solutions.
Contribute to the global, regional and national discussions on sustainable development.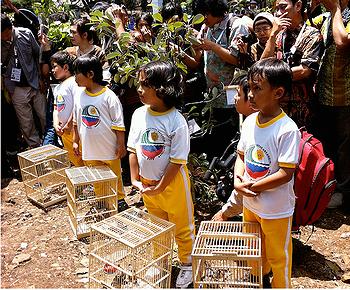 Children prepare to release birds into the new City Forest in Bandung, Indonesia, September 27, 2011. (Photo courtesy UNEP)
Indonesian Environment Minister Professor Gusti Muhammad Hatta said, "The Bandung Declaration articulates in specific terms the policies and actions that young people of the world believe should be at the heart of the Rio+20 agenda. We are pleased Indonesia played host to this important event, and I hope we succeed in carrying the message of future generations to world leaders."
In conjunction with the opening of the Tunza Conference on September 27, the first City Forest in Bandung was inaugurated. Children released birds into the forest as part of the inauguration ceremony.
A love of walking through forests in her home country of the Philippines inspired the winning entry of 13-year-old Trisha Co Reyes in UNEP's 2011 International Children's Painting Competition on the Environment. Reyes' painting was selected over art submitted by 600,000 other young people.
Reyes' painting shows a young girl pulling back a grey curtain covered in images of dying trees in a polluted landscape, to reveal a colorful forest filled with abundant wildlife. She said the painting is an appeal for people to appreciate the value of forests and to encourage them to plant trees.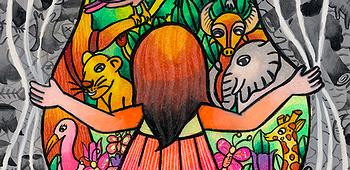 Artwork by Tisha Co Reyes of the Philippines took first place in UNEP's 2011 International Children's Painting Competition on the Environment (Image courtesy UNEP)
"My painting shows two sides; a good and sustainable forest and the causes of forest destruction," said Reyes.
"Forests are essential for life on Earth, but the destruction of the forest has become a worldwide problem," she said. "We must treasure the Earth's greatest biological treasure, so that we will always have forests in our lives."
Reyes won US$2,000 in prize money and an all-expenses-paid trip to the Tunza International Children and Youth Conference on the Environment in Bandung, where she was formally presented with her award.
The Bandung Declaration will be communicated to the Rio+20 Conference by the Government of Indonesia and the United Nations Environment Programme by the deadline for submissions of November 1, 2011.
Rio+20, the UN Conference on Sustainable Development will be held in Rio de Janeiro, Brazil, on June 4-6, 2012. For more information, click here.
For the UNEP Green Economy Report, see: http://www.unep.org/greeneconomy
The UNEP Green Jobs report is at: http://www.unep.org/labour_environment/features/greenjobs-report.asp
Copyright Environment News Service (ENS) 2011. All rights reserved.