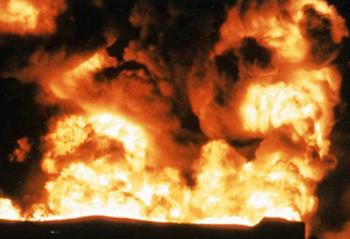 GOGAMA, Ontario, Canada, March 9, 2015 (ENS) – Another Canadian National oil train derailed and caught fire early Saturday in Ontario near the town of Gogama, about 600 kilometers (372 miles) north of Toronto. It was the second such incident in Ontario and the fourth in North America since February 14.
Oil trains in West Virginia and Illinois also ran off the rails, sending fireballs and thick clouds of black smoke high in the air. The Illinois wreck occurred just this week; that fire is still burning.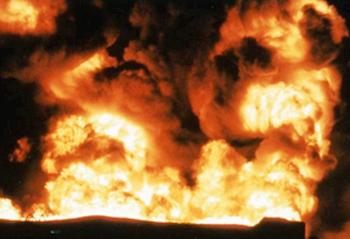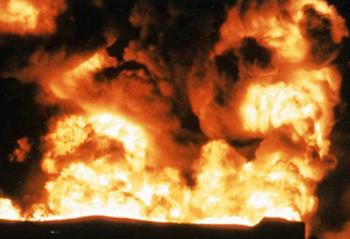 On Saturday, police said 10 cars of up to 40 on the train derailed and caught fire less than four kilometers (2.4 miles) from Gogama, igniting a huge blaze that was still burning Sunday afternoon. The wreck cut off rail traffic between Toronto and Winnipeg, Manitoba. There were no reports of injuries.
Several of the CN oil tank cars are in the Makami River and police warned residents to stay indoors Sunday to protect themselves from air and water contamination.
This incident occurred about 100 kilometers (62 miles) south of Timmins, where another CN oil train derailed and caught fire on February 14.
CN crews and outside specialists are fighting the blaze, and CN is building a 457-meter (1,500-foot) long track to bypass the burning train.
Investigators from the Transportation Safety Board are in Gogama, but as of Sunday afternoon they were unable to get to the scene because of the raging blaze, according to a spokesman.
Gerry Talbot, secretary of the local services board, told the "Globe and Mail" newspaper that the recent accidents raise questions about current safety standards.
"We need answers," Talbot said Sunday. "You know, why is it happening? People are asking these questions. Is it because the trains are heavier? The trains are certainly longer. Is it because the cars, the tanker cars, are not built strong enough to withstand the impacts?"
The tank cars involved in both of the CN accidents near Gogama were newer CPC-1232 models which have steel cladding at the front and protection over the valves.
In July 2013, a fiery oil train derailment in the town of Lac-Mégantic, Quebec resulted in the loss of 47 lives and more than a million gallons of oil spilled into a nearby lake. After that incident, Canada imposed a requirement for the CPC-1232 model tank cars.
Talbot said he knows that Saturday's wreck involved the newer tank cars. "But they still ruptured, and they still caught fire," he said. "So you know, they need to certainly look at those and see if they can do a much better job as far as the quality of cars, when hauling all this crude."
Near Galena, Illinois today, BNSF Railway crews are working to reopen track after an oil train derailed Thursday about 160 miles west of Chicago.
In view of all these incidents, the U.S. nonprofit group Center for Biological Diversity is calling for a moratorium on oil trains.
"Before one more derailment, fire, oil spill and one more life lost, we need a moratorium on oil trains and we need it now," said Mollie Matteson, a senior scientist with the Center. "The oil and railroad industries are playing Russian roulette with people's lives and our environment, and the Obama administration needs to put a stop to it."
In the United States, some 25 million people live within the one-mile "evacuation zone" of tracks carrying oil trains.
The Center recently released a report showing that oil trains threaten vital wildlife habitat; oil trains pass through 34 wildlife refuges and critical habitat for 57 endangered species.
There has been a more than 40-fold increase in crude oil transport by rail since 2008, but no significant upgrade in U.S. federal safety requirements.
The oil and rail industries have lobbied against new safety regulations that would help lessen the danger of mile-long trains carrying highly flammable crude oils to refineries and ports around the continent.
The Obama administration recently delayed for several months the approval of proposed safety rules for oil trains. Matteson says the proposed rules fall short because they fail to require appropriate speed limitations, and it will be at least another two and a half years before the most dangerous tank cars are phased out of use for the most hazardous cargos.
The oil and railroad industries have lobbied for weaker rules on tank car safety and brake requirements.
Copyright Environment News Service (ENS) 2015. All rights reserved.