WWF Marks 50 Years With Urgent Call for Global Green Economy
ZURICH, Switzerland, April 29, 2011 (ENS) – Environmental leaders and politicians from around the world today called for an urgent move towards a global green economy in order to achieve sustainable development and wildlife conservation over the next 50 years.
Low-carbon technology, green infrastructures, investment in renewable energy and sustainable agriculture are essential in combating climate change, poverty and water shortages, said participants in the summit convened by WWF to mark the global conservation organization's 50th anniversary.
EU Environment Commissioner Janez Potocnik told participants that unless biodiversity is adequately protected the consequences would be "catastrophic."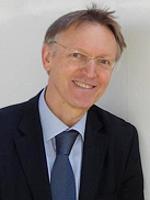 EU Environment Commissioner Janez Potocnik (Photo courtesy Office of the Commissioner)
"Biodiversity and ecosystem services must be protected, valued and adequately restored," said Commissioner Potocnik. "It's essential for human well being and in our own self-interest."
"If we do not preserve ecosystems we will push biodiversity over the tipping point beyond which changes become irreversible and possibly even catastrophic," he warned. "It is an irrefutable fact that global consumption and use of resources is the biggest factor in a sustainable future."
Together with leaders from Asia and Europe, Commissioner Potocnik took part in a roundtable, Public Sector Voices on Conservation in the Next Half-Century, where they envisioned the state of the planet in 50 years' time.
Chairing the debate, WWF International President Yolanda Kakabadse said, "We are here to celebrate 50 years of WWF – but we want to look forward, not back. What is the next half century going to bring in terms of water, food and life on Earth?"
Bhutan's Minister of Agriculture and Forests, Dr. Pema Gyamtsho pledged that within 10 years, Bhutan would be the world's first totally organic country, as part of its drive towards sustainability.
He said water security is the biggest challenge facing Bhutan, a challenge that can only be solved through global action.
"What happens in the Himalayas and South Asia is going to impact all of us," warned Dr. Gyamtsho. "Can we afford to wait until 2050 to limit temperature rises to two degrees celsius? Two degrees will be too much and 2050 will be too late."
"We need to act now," he urged. Many areas are already suffering shortage of drinking water."
Norwegian Environment Minister Erik Solheim spoke of the urgent need to put real economic value on ecosystems and natural resources to help stop widespread deforestation.
"We must come to a situation where there is an economic benefit for the sustainable use and conservation of natural resources," said Solheim.
"The big success story is Brazil where deforestation has been reduced by 70 percent in seven years – by far the biggest factor in fighting climate change. NGOs must encourage governments to take risks and support those politicians who do do something."
Monique Barbut, CEO of the Global Environment Facility, warned that any proposed global green investment fund to fight climate change should not attempt to replace or duplicate existing environmental and development finance.
"Today there are more than 230 overseas development funds which lead to fragmentation and more overheads," said Barbut. "We should not be trying to build again another poorly coordinated system which is not going to work. I do not believe we need a new institution or a new bureaucracy."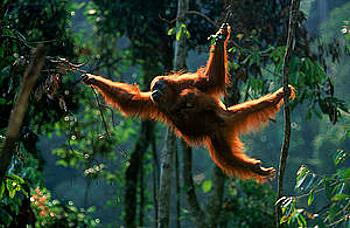 Orangutans are endangered by loss of their forest habitat. (Photo © naturepl.com / Anup Shah courtesy WWF)
To avoid dangerous climate change and curb biodiversity loss, WWF proposed in a new report issued Wednesday that policymakers and businesses unite around a goal of zero net deforestation and forest degradation by 2020 as a groundbreaking global benchmark.
The first chapter of WWF's Living Forests Report examines the drivers of deforestation and identifies the opportunities to shift from business as usual to a new model of sustainability.
The report is based on a new global analysis showing that more than 230 million hectares of forest will disappear by 2050 if no action is taken.
"We are squandering forests now by failing to sort out vital policy issues such as governance and economic incentives to keep forests standing," said Rod Taylor, WWF International Forests Director.
Taylor presented the report to business and political leaders meeting this week in Jakarta, Indonesia, for the Business 4 Environment Global Summit convened by the Government of Indonesia in partnership with WWF and Global Initiatives.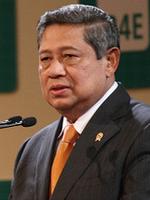 Indonesian President Susilo Bambang Yudhoyono (Photo by Irza Rinaldi courtesy WWF Indonesia)
In his B4E keynote address, Indonesian President Susilo Bambang Yudhoyono expressed support for a green economy.
"You can step forward and play an important role in promoting a green economy. You can come up with a new model that generates the business growth while reducing the overall environmental impacts. Therefore, let me once again invite all captains of industries here to contribute to the creation of a green economy and low-carbon future," said President Yudhoyono.
In Zurich, participants congratulated WWF for its record of conservation achievements over the past 50 years.
In response, WWF International Director General Jim Leape urged NGOs to move beyond their traditional roles of lobbying and asking for money. "We are uniquely placed to help in forging coalitions of the committed to address the biggest issues of our time. By working in partnership with government we have already achieved some great results."
WWF was born on April 29, 1961, when a group of concerned scientists, businessmen, and public relations professionals from Europe, Africa and the United States met with leaders of the fledgling International Union for the Conservation of Nature, IUCN, in the small town of Morges on Lake Geneva.
They produced the Morges Manifesto, the WWF founding document, which states, "All over the world today vast numbers of fine and harmless wild creatures are losing their lives, or their homes, in an orgy of thoughtless and needless destruction. In the name of advancing civilisation they are being shot or trapped out of existance on land taken to be exploited, or drowned by new dams, poisoned by toxic chemicals, killed by poachers for game, or butchered in the course of political upheavals."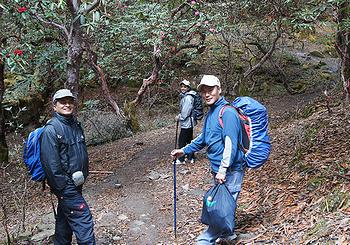 WWF's Green Hiker-Green Planet trekkers travel the rhododendron trail in Nepal's Sacred Himalayan Landscape to raise awareness of conservation for Earth Day 2011. (Photo courtesy WWF)
"But although the eleventh hour has struck, it is not yet quite too late to think again. Skilful and devoted men and admirable organisations are struggling to save the World's Wild Life. … They need above all money…"
And so the World Wildlife Fund was formed.
Today, WWF has more than 1,300 conservation projects underway in over 100 countries, to "stop the degradation of our planet's natural environment, and build a future in which humans live in harmony with nature."
WWF is focused on 14 visionary, large-scale efforts that, given limited time and financial resources, have the potential for the broadest positive impacts across the widest spectrum of priority species and ecoregions.
These include changing the political climate to combat climate change, sourcing sustainable timber through the Forest Stewardship Council that WWF helped to form in 1993, as well as halting wildlife poaching and overfishing. WWF has made tiger conservation a signature issue with a goal of doubling the world's wild tiger population to 6,400 by the next Year of the Tiger in 2022.
Support for a global green economy is growing through the efforts of WWF and many other organizations, such as the UN Environment Programme. UNEP said in February that investing two percent of global GDP into 10 key sectors could kick-start a transition towards a low carbon, resource efficient green economy.
UNEP calculated that the sum, currently $1.3 trillion a year, would grow the global economy at around the same rate than those forecast under current economic models.
Copyright Environment News Service (ENS) 2011. All rights reserved.