World's Police Unite for Environmental Crime Crackdown
DOHA, Qatar, November 16, 2010 (ENS) – The police agencies of the world are supporting INTERPOL's Environmental Crime Programme in an historic display of consensus. Delegates attending INTERPOL's General Assembly in Doha, Qatar last week voted unanimously in favor of a resolution encouraging greater global policing efforts to stem environmental crimes.
Environmental crime encompasses activities ranging from illegal trade in wildlife, timber and marine species, to transborder movements of hazardous waste, and the illicit exploitation of natural resources.
The resolution approved by INTERPOL's 188 national law enforcement authority members recognizes that "environmental crime is not restricted by borders and involves organized crime networks which engage in other crime types including murder, corruption, fraud and theft."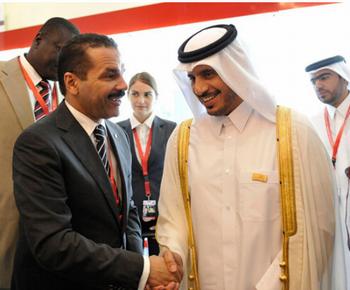 INTERPOL Secretary General Ronald Noble, left, greets Qatar's Minister for Internal Affairs, Sheikh Abdullah bin Nasser bin Khalifa al Thani (Photo courtesy INTERPOL)
"Today's vote clearly shows how seriously the police community of the world takes environmental crime and we look forward to the ongoing support of our member countries in this area," said David Higgins, manager of INTERPOL's Environmental Crime Programme, who presented the resolution to the conference.
The resolution pledges support to back the Convention on International Trade in Endangered Species, CITES, and to fight environmental crime.
"We will continue to work closely with CITES and other international organizations to help protect the environment and biodiversity of the world, as environmental crime is global theft," said Higgins.
Addressing the Assembly shortly before the resolution was considered by more than 650 delegates from 141 countries, CITES Secretary-General John Scanlon said police agencies are an integral and essential part of the conservation community.
"The endangered fauna and flora of the world cannot be safeguarded without you, without the police," he said.
Scanlon praised INTERPOL for preparing such a resolution in 2010, the United Nations' International Year of Biodiversity and congratulated INTERPOL and the international policing community on their vote.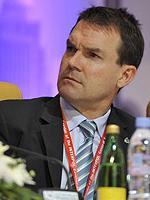 CITES Secretary-General John Scanlon in Doha (Photo courtesy INTERPOL)
"One couldn't have asked for a better result," he said. "This sends a very strong message to those who seek to rob countries of their natural resources that the global law enforcement community recognizes that it must work together, led by INTERPOL, to bring these environmental criminals to justice."
Sabri Zain, director of advocacy, with the wildlife monitoring network TRAFFIC International, says poachers use the same networks and methods used by arms dealers and drug traffickers.
"We're not talking about poor people, these are professional hunters. They have 4-wheel drives, GPS, and assault rifles," Zain told reporters in a teleconference on tiger conservation today in advance of the world's first global tiger summit opening in St. Petersburg, Russia on Saturday.
"The people there to stop them don't have boots, they are not armed, they may have to take a bus to work, and many park guards and wardens have been killed by poachers," said Zain.
Dr. Barney Long, manager of the Tiger Program with WWF-US told reporters on the call, "Poachers are criminals going into these parks to steal national resources. But in most tiger range states, rangers are not allowed to shoot; that is the choice of each of the 13 tiger range countries."
Long told ENS in an interview, "Anything coming out of INTERPOL is hugely important. Tigers are very rarely poached in one country and sold in the same country; they are taken across borders. If you were to get the police forces in the 13 countries involved, we could improve tiger conservation, but they're not getting funded to get involved in these crimes. It takes funding."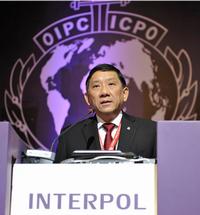 INTERPOL President Khoo Boon Hui addresses delegates in Doha. (Photo courtesy INTERPOL)
In his closing remarks in Doha on Thursday, INTERPOL President Khoo Boon Hui, who is also Singapore's senior deputy secretary of the Ministry of Home Affairs, told delegates, "We have adopted resolutions against Environmental Crimes, People Smuggling, Human Trafficking and Counterfeit Medical Products. These resolutions must not be mere declarations of our noble intentions, but must lead to practical actions at the national level. It is, therefore, important that upon our return to our home country, we start implementing these resolutions."
INTERPOL's Environmental Crime Programme works to provide assistance and support in the enforcement of national and international environmental laws and treaties by working alongside the 188 INTERPOL member countries and their Environmental Crime Committee.
Scanlon said the recent success of INTERPOL's Operation RAMP, a worldwide operation targeting the illegal trade and possession of reptiles and amphibians, is a "prime example of the global law enforcement community's willingness and desire to work together in stemming the effects of environmental crime."
The two month-long RAMP operation in September and October involved law enforcement agencies in 51 countries across five continents taking action against the illegal trade in reptiles and amphibians. It resulted in arrests worldwide and the seizure of thousands of animals as well as of products worth more than 25 million euros.
INTERPOL's Environmental Crime Programme unit was the operational communications and intelligence center, facilitating the exchange of information among the police of participanting countries.
"Our goal in Operation RAMP was to detect and apprehend suspected wildlife criminals, whilst also furthering co-operation and collaboration between agencies and countries in an effort to enhance the fight against organized environmental crime," said Bernd Rossbach, director of INTERPOL's Specialized Crime unit.
"While investigations will continue well beyond the conclusion of Operation RAMP, this operation has shown what the international law enforcement community can collaboratively achieve against suspected environmental criminals and their networks," said Rossbach. "The success of this operation would not have been possible without the close cooperation and dedication of the police, customs, wildlife law enforcement agencies and specialized units in all of the participating countries."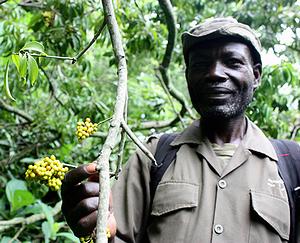 Park ranger in Virunga National Park, Democratic Republic of Congo, October 2010. (Photo by gorilla.cd)
In his address to INTERPOL delegates in Doha, Scanlon expressed empathy for the men and women on the front lines of wildlife crime intervention, especially in the developing world, who are not police but work in national parks departments, ministries of forestry, fishery protection agencies, or wildlife authorities.
"The men and women of these bodies do excellent work, much of it revolving around protecting species in their habitats and ensuring they are not poached or illegally harvested. Such activities regularly expose them, not only to encounters with heavily-armed poachers, but also to hazardous terrain and to diseases ranging from dengue fever to malaria. Every year, forest guards, game scouts, fishery officers, and park rangers will die or be seriously injured whilst performing their duties," said Scanlon.
"These rangers, and their counterparts elsewhere, seldom have the training, equipment, and certainly not the salaries, to match those of their colleagues in Customs and Police authorities," Scanlon said.
Recognizing this, the CITES and INTERPOL secretariats have jointly published manuals smuggling concealment methods, and the questioning of smugglers. The two intergovernmental agencies, with their colleagues in the World Customs Organization, have jointly delivered, or facilitated, national and sub-regional training workshops.
To strengthen this tripartite effort, Scanlon said a new wildlife enforcement group, the International Consortium on Combating Wildlife Crime, will be introduced at the Global Tiger Summit in St. Petersburg later this month.
This consortium will bring the United Nations' Office on Drugs and Crime and the World Bank into the partnership.
"The International Consortium on Combating Wildlife Crime – or ICCWC for short – is intended to introduce a new era to wildlife law enforcement," Scanlon said. "An era where those organized criminal networks that seek to rob countries of their natural resources, often exploiting the poor inhabitants of rural communities and corrupting officials, will face a determined and coordinated opposition, rather than the current situation where, all too often, the risk of detection, and imposition of penalties that match their crimes, are low or absent."
Copyright Environment News Service (ENS) 2010. All rights reserved.