World's Largest Travel Trade Show Showcases Eco-Mobility
BERLIN, Germany, March 9, 2011 (ENS) – This year, the venerable travel trade convention ITB Berlin will highlight sustainable transportation with its first-ever Eco-Mobility Day on Friday March 11.
"Climate-friendly transport has a huge commercial potential in the tourism market," says David Ruetz, senior manager of ITB Berlin. "By hosting the ITB Eco-Mobility Day, the ITB Convention now occupies a special role."
David Ruetz, senior manager ITB Berlin (Photo courtesy ITB Berlin)
"For the first time the leading minds behind projects exploring solar-powered transport by air, water and on the ground will be gathered on a stage to discuss this forward-looking topic at a tourism trade show," said Ruetz.
From March 9 to 13, a total of 11,163 exhibiting companies and organizations from 188 countries will present their products and the latest travel trends at the 45th ITB Berlin. An estimated 100,000 trade visitors and 60,000 members of the general public are expected to attend.
Following the announcement of a warning strike by Deutsche Bahn, the German national railway company, and Berlin's S-Bahn, the rapid transit system in and around Berlin, on Thursday from 4 to 10 am, ITB Berlin has already taken steps to minimize the impact of the strike on visitors to the show. In Berlin, U-Bahn, bus and tram services are not affected.
Bus shuttles have been set up which will operate from the airports at Tegel and Schonefeld. Regularly updated information giving alternative travel options can be found on the ITB Berlin website at www.itb-berlin.com.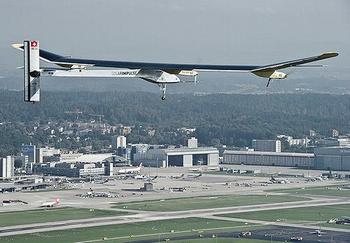 The Solar Impulse approaches Geneva International Airport (Photo courtesy Solar Impulse)
If visitors attend on Friday, which is Eco-Mobility Day, they can hear from pioneers of solar-powered travel such as keynote speaker Andre Borschberg, who is currently preparing to undertake the first round-the-world, solar-powered flight in 2012. ITB Berlin is sponsoring a solar cell on a wing of his solar-powered plane, the Solar Impulse.
"During this round-the-world trip, which will neither consume fuel nor produce emissions, Solar Impulse will contribute to research and innovation in support of renewable resources, will highlight the importance of new technology for long-term developments, and will continue in the footsteps of scientific exploration guided by dreams and emotions," said Borschberg.
The solar panelists include Louis Palmer, the project initiator, tour director and driver of the solar taxi, visiting 38 countries in 18 months to highlight existing, low-cost ways to protect the climate.
Last month, Palmer finished a second solar circumnavigation of the globe as director of the Zero Emissions Race, in which three solar-electric vehicles crossed the finish line in Geneva on February 24 after 80 running days.
The third solar panelist, Immo Stroher, an investor in Planet Solar, was instrumental in building the first solar-powered boat, TURANOR PlanetSolar. Through this project he aimed to prove that engineers already possess the necessary skills and technologies to revolutionize maritime transport.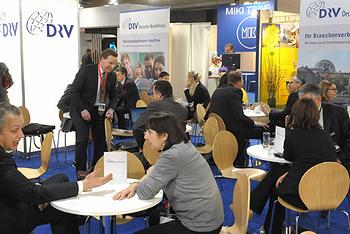 Visitors to the German Travel Association, DRV, exhibit at ITB Berlin, March 9, 2011 (Photo courtesy ITB Berlin)
The three speakers will debate which solar-powered vehicle will be the first to reach mass production. Eberhard Krummheuer, a transport industry editor with the business magazine "Handelsblatt," will moderate the discussion.
To answer the question, "Are electric vehicles a suitable means of transportation for taking vacations?" the German market research company GfK surveyed the mobility needs, purchase intentions and usage requirements of drivers in Germany, Great Britain and the Netherlands.
Herbert Lechner, division manager of GfK Mobility, will present the survey findings during another Eco-Mobility day event.
Two more events round out the Eco-Mobility Day.
An Eco-Mobility Manufacturers' Roundtable moderated by Eric Heymann, senior economist with Deutsche Bank Research, will take a look at the electric vehicles of the future. Participants include experts from Toyota Motors Europe; Europe's second largest automaker, PSA Peugeot Citroen; Adam Opel AG; and BMW as well as EV charging station manufacturer RWE Effizienz GmbH; and Europe's largest automobile club, Allgemeiner Deutscher Automobil-Club e.V.
Some drivers will have their first electric car experience in a rental car on vacaction. Another Eco-Mobility Day event will focus on rental cars as promoters of sustainable mobility.
Moderated by Prof. Dr. Tim Sterzenbach of the University of Applied Sciences Worms, this rental car panel features Wolfgang Neumann, group commercial director with Avis Europe, and Dr. Frank Wolter, of InnoZ, the Centre for Innovation in Mobility and Societal Change.
Overall, organizers of ITB Berlin are emphasizing corporate social responsibility as an integrated concept for the sustainable development of companies in the travel industry.
Copyright Environment News Service (ENS) 2011. All rights reserved.
Environment News Service (ENS) © 2011 – 2012 All Rights Reserved.