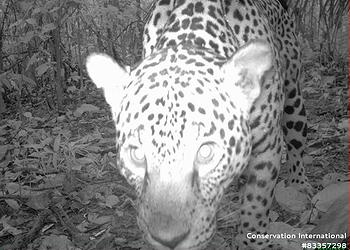 ARLINGTON, Virginia, February 21, 2013 (ENS) – Remote camera traps have captured more than one million photographs of animals and birds in tropical forests on three continents for a global team of conservationists monitoring changes in ecosystems and species diversity.
The millionth photograph, of an elusive jaguar, was captured in Peru's Manu National Park in June 2012. The project has now snapped 1,121,895 images and is still counting.
"The one-millionth image is an amazing representation of our camera trap work, and it symbolizes the success we have had with this program in collecting new data," says ecologist Dr. Jorge Ahumada, technical director with the Tropical Ecology Assessment and Monitoring, TEAM, Network.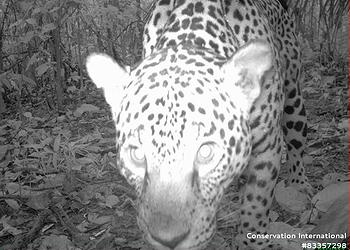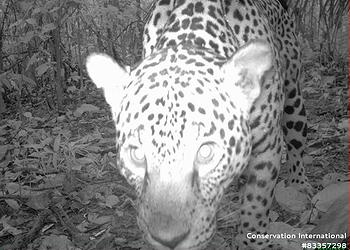 The TEAM Network is a partnership among Conservation International, Missouri Botanical Garden, Smithsonian Institution and the Wildlife Conservation Society and is implemented through over 80 local partner institutions.
"As we celebrate this accomplishment, we are also at a critical point in beginning to provide information to decision makers from the local to global level on how biodiversity is affected by climate change and habitat loss," said Ahumada, who works at Conservation International based in Arlington.
"Conservation is not usually about setting records, but there are times when the scale of an achievement can be measured in the millions," said Dr. Joshua Ginsberg, senior vice president, Wildlife Conservation Society, one of TEAM's partner institutions.
"One million pictures allow us to develop and test global indicators that are critical to measuring the success of global conservation and informing the global community on the increasingly perilous state of the world's biodiversity," Ginsberg said.
The images provide real-time information on how animal populations that are usually unseen are affected by changes in climate, habitat and land use that in turn affect the health of tropical forests and flow of goods and services to people.
The TEAM Network's study area covers 16 protected areas in 14 countries.
In Latin America, camera traps are operating in Brazil, Costa Rica, Ecuador, Panama, Peru and Suriname. In Asia, the cameras are capturing images in Indonesia, Laos and Malaysia. In Africa, cameras are set up in Cameroon, Congo Brazzaville, Madagascar, Tanzania and Uganda.
The TEAM Network has monitored changes in tropical forests for 10 years, using standardized methods to collect data on trees, mammals, the climate, woody vines known as lianas, and birds.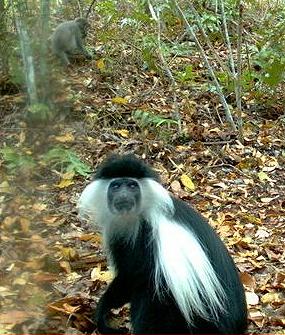 Ahumada told ENS in an interview that as the project's technical director for the past seven years his job is to ensure that people consistently use the same methods across all sites – set the traps always in the dry season, use the same camera technology and the same equipment – so that all these activities in many different areas constitute a "huge experiment across the world."
He develops the science agenda for the network to understand how the animals captured on camera are doing at one site, and across the protected area, on the continent and all over the world.
Working through local partner institutions, TEAM site managers and technicians set the traps. Cameras are placed in a grid throughout the forest and left for 30 days. Each site collects between 10,000 and 30,000 photographs a year.
Ahumada says local people, including students, place the cameras, which operate on batteries, and go back to retrieve them. "The amount of work involved is huge," he explained. "These cameras are spaced out every two square kilometers, or 1.5 square miles, over an area of 120 square kilometers. There should be 60 camera traps in that area."
All the workers are paid, Ahumada said. "They have to walk a lot between camera traps. Just to install them can take 15 days of walking through the forest with no trails; they sleep in the forest."
Some camera traps are placed in areas of conflict. Ahumada said, "We try not to work in areas of civil war. In general, we work in places that are secure and protected by law."
"We have to get official permission from ministries of environment or parks," he said. "We choose partners who already have permits to work in those parks. In some areas our partners have arrangements so they know they're going to be safe."
Poachers are the main threat to TEAM Network personnel as well as to the animals they are trying to capture on camera. "The camera traps are difficult to see; they are camouflaged with infra-red flash. Sometimes we get pictures of poachers," Ahumada said.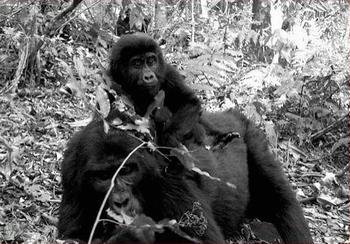 In one of the study's protected area, the Bwindi Impenetrable Forest in Uganda, he said, "We've had poachers show up at the camera traps. People from the project know who they are and have arrangements with them. It's difficult to turn them in."
Once the memory cards are retrieved from the forest traps, workers go through the images on computers and identify them with software developed specifically for this study.
From all the 16 sites, the local partners send Ahumada's group the images in compressed format. "We put them in our database, where can count them," he explained. "We don't see all the images, but we don't need to see the images to extract the important information. The more abundant an animal is in a place, the more images we get. This tells us about the populations."
"In our first baseline study, we really found a very strong relationship between size of protected areas where the camera traps are placed and the number of species that you get on camera. We were expecting this result, and we found that this is a pervasive pattern."
But there have been surprises. Ahumada has observed that mammals that feed on many types of foods, called omnivores, are more sensitive to changes in the protected reserve sites than herbivores or carnivores. "That was a little surprising," he said.
Now with a million images, Ahumada and his team are starting to do more in depth analysis.
The million images have been collected from 960 camera trap points across the 16 sites. They are:
Barro Colorado Nature Monument – Soberania National Park (Panama)
Bukit Barisan Selatan National Park (Indonesia)
Bwindi Impenetrable Forest (Uganda)
Caxiuanã National Forest (Brazil)
Central Suriname Nature Reserve (Suriname)
Manu National Park (Peru)
Korup National Park (Cameroon)
Manaus (Brazil)
Nam Kading National Protected Area (Lao PDR)
Nouabalé Ndoki (Republic of Congo)
Pasoh Forest Reserve (Malaysia)
Ranomafana National Park (Madagascar)
Udzungwa Mountains National Park (Tanzania)
Volcan Barva Transect (Costa Rica)
Yanachaga-Chemillén National Park (Peru)
Yasuni National Park and Biosphere Reserve (Ecuador)
Click here to watch a video about the camera trap research.
Copyright Environment News Service (ENS) 2013. All rights reserved.
© 2013, News Editor. All rights reserved.