World's First EV Racing Circuit Green Flagged for Summer 2011
LONDON, UK, January 19, 2011 (ENS) – The EV Cup – the world's first circuit race series for zero-emission electric vehicles – will hold its inaugural season of seven races this summer and fall. The London-based company behind the races announced the new green motorsport race circuit and displayed models of the race cars at last weekend's International Autosport Show in Birmingham.
EV Cup races are planned for tracks in the UK, Portugal, Spain, and the United States, with a city street race also slated for the near future.
"The electric car is already changing the world and soon will begin to revolutionize the face of traditional motor-sport across the world by embracing the issues of the day from straightforward zero emissions, to eco-friendly cars, sustainability and corporate social responsibility," said Sylvain Filippi, director of the EV Cup.
"We believe the commercial world will take notice when they begin to recognize a new opportunity to partner with a new and exciting sporting event like the EV Cup and add significantly to their sustainability credentials," Filippi said.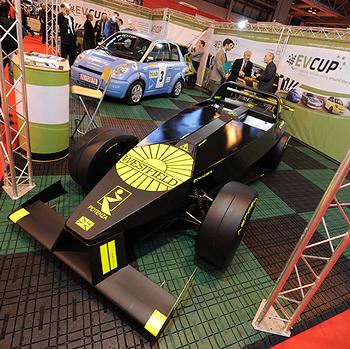 The Westfield iRacer and THINK City EV Cup Edition at the International Autosport Show, January 16, 2011 (Photo courtesy EV Cup)
The EV Cup is the first green motor racing series based totally around zero-emission electric cars, providing the platform for sustainable motor sports.
"We are creating an opportunity for the EV manufacturers and suppliers to promote their technologies in a new and exciting way," Filippi said. "Green motor sport is a reality."
EV Cup cars will compete in two main classes. In the City EV car class, racers will drive carbon-free, race-prepared urban THINK cars. Created by the Norwegian company, THINK, for urban driving, these cars have been made race-ready by an EV Cup team of specialists in London, who stripped down the interior to one lightweight racing seat and steering wheel, and replaced all glass with lightweight heat resistant, shatterproof material.
The Sports EV class will feature teams racing 185 kph (115 mph) Westfield iRacers. Developed by Britian's Westfield Sportscars, this race car is powered by lithium ion phosphate batteries and features a feather-weight lycra skin over a lightweight aluminium framework.
A third category, the Prototype EV class, will not feature races, but rather base its results on time trials that showcase the latest non-production electric vehicles on circuits through street and race courses.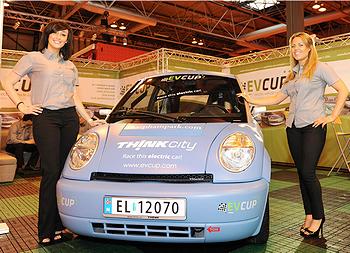 EV Cup showcases the THINK City race car at the International Autosport Show, January 16, 2011 (Photo courtesy the EV Cup)
Models of the THINK City EV Cup Edition and the Westfield iRacer were on display this past weekend at the International Autosport Show in Birmingham, England.
Race days will include qualifying rounds and all car batteries will be recharged at on-site facilities. Each sprint race will be contested over 20 to 30 minutes of competitive laps.
Several tracks and dates in the UK have been confirmed, including Silverstone on August 6, Snetterton on August 20, Rockingham on September 10, and Brands Hatch on October 23.
Damon Hill, 1996 Formula One British champion and president of the British Racing Drivers' Club, is a supporter of the EV Cup. "I think the time is fast approaching when we will have to rethink our expectations regarding private road transport generally," he said. "The advantages of electric vehicles in urban environments are too many to miss. Less noise and less direct pollution are just two. The race is to save the planet from us!"
"Racing electric vehicles should convince the wider public of their potential. Racing was initially used to develop and prove a new product called the motor car. I see no reason why electric vehicle development will not benefit in the same way," said Hill.
To that end, the EV Cup last week announced a new partnership with CAA Sports, a division of Creative Artists Agency, to create opportunities for corporate partnerships, business development, brand marketing and event management.
Peter Kenyon of CAA Sports said, "The EV Cup is a ground-breaking concept that creates unique marketing and sponsorship opportunities for major brand advertisers, through social responsibility programs and other marketing initiatives."
Ben Collins, who appeared in the popular BBC television series "Top Gear" as The Stig, plans to be a regular EV Cup driver. "Electric Vehicles represent a new dawn in motoring by running on clean energy that can be sourced as locally as organic sausages," he said. "It's surprising that mankind has taken so long to embrace the technology."
"Motorsport still offers the purest research and development platform to deliver the true potential of electric power and dynamic energy recovery; perhaps to a level that will shame the carbon combustion engine the way rubber tires did the wooden cartwheel," Collins said. "EV is developing fast and the current crop of road cars are superb to drive. With a dedicated racing series that encompasses both road and racecar development, the next steps will be more like a quantum leap."
Copyright Environment News Service (ENS) 2011. All rights reserved.
Environment News Service (ENS) © 2011 – 2012 All Rights Reserved.