NEW YORK, New York, March 3, 2017 (ENS) – As the sun rose on UN World Wildlife Day across the globe today, the morning opened in Kenya with a shootout between suspected poachers and a Kenya Wildlife Service anti-poaching team. Two suspects were gunned down at Kulalu Galana Ranch in Tsavo East, and a KWS officer was airlifted to hospital with non-life-threatening injuries, says KWS spokesman Paul Udoto. A weapon and ammunition were recovered, and a hunt for the rest of the suspects is underway.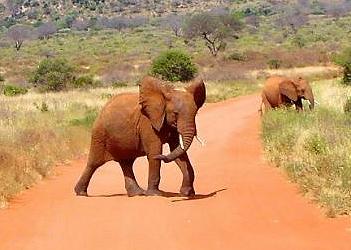 The world has lost 50 percent of its wildlife in just 40 years, according to the United Nations. The most grave and immediate threat is from poaching and illicit trafficking in wildlife and wildlife products, with transnational organized criminals now targeting high-value species.
Wildlife crime is worth many billions of dollars every year, as serious a crime as illicit trafficking in arms, drugs and humans.
In New York, the President of the General Assembly is hosting a high-level discussion on illicit trafficking in endangered wildlife, and the role of youth in wildlife conservation, the theme of this year's UN World Wildlife Day.
"Poaching and illegal trafficking pose a significant threat to wildlife, especially some of the world's most iconic and endangered species," UN Secretary-General Antonio Guterres said in his message for the Day, which this year is themed "Listen to the Young Voices."
"Strict enforcement of laws is important, but so too is awareness," Guterres added, appealing to young people to protect their inheritance by becoming informed and acting to protect wild animals and plants from the threat of extinction.
Irina Bokova, the Director-General of the UN Educational, Scientific and Cultural Organization, UNESCO, said that young people have a special role to play as "change-makers and future custodians."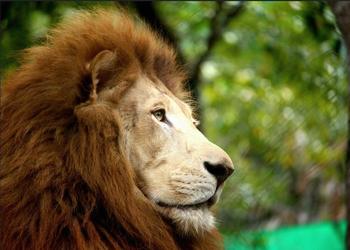 "We must listen to them and nurture their engagement, to craft new forms of action to conserve and protect wildlife on the basis of solidarity," she said.
To see videos and listen to some of the young voices, go to #YoungVoices and #Youth4Wildlife.
Extraordinary images of wildlife are online from the 10 finalists of the World Wildlife Day Youth Photo Competition.
The first World Wildlife Day was observed in 2014, and the UN's top wildlife protection official, John Scanlon, secretary-general of the Convention on International Trade in Endangered Species, told an audience at UN Headquarters in New York today that in just four years "UN World Wildlife Day has become the world's most important global annual event dedicated to wildlife."
"The 3rd of March is the opportunity for all of us – no matter who we are or where we are – to celebrate the beauty and variety of the millions of plants and animals that we share our planet with, both terrestrial and aquatic," said Scanlon.
"Given the current rate of poaching and smuggling, will future generations one day speak of elephants, rhinoceros and many other endangered species as we speak of mammoths? We must not and will not allow this to happen," said Scanlon.
"Our generation has not yet succeeded in securing the future of many wild animals and plants. Meeting this challenge will now be shared with the next generation," he said.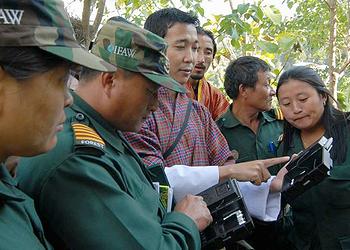 "The good news is that there is a global collective effort underway to tackle illegal trade in wildlife and at the global level all of the necessary elements have fallen into place to effectively combat these highly destructive crimes," Scanlon said.
"We are seeing unprecedented levels of high-level political support and international and regional cooperation," he said. "Just looking to enforcement, we have the International Consortium on Combating Wildlife Crime, or ICCWC, that is now fully operational and actively providing coordinated support at the country level to help authorities fight transnational organised criminal groups."
Authorities now have support to apply the same tools and techniques used to combat other serious crimes – modern forensics, enhanced investigation techniques, and tackling money laundering.
And yesterday, said Scanlon, "our ICCWC partner, INTERPOL, announced the outcomes of a major global wildlife law enforcement initiative, known as Operation Thunderbird."
INTERPOL, the international police force with 190 member countries, reports that Operation Thunderbird, focused on the illegal trade in wildlife and timber has resulted in the identification of nearly 900 suspects and 1,300 seizures of illicit products worth an estimated US$5.1 million.
Operation Thunderbird Catches Wildlife Criminals
Codenamed Thunderbird, the three-week operation, conducted between January 30 and February 19 involved police, customs, border agencies, environment, wildlife and forestry officials from 43 countries and territories.
The operation's 370 investigations have already led to 89 individuals being jailed with terms ranging from several days to seven years.
Operation Thunderbird resulted in seizures including;
­ 60 tonnes of wood and timber
­ 4,770 birds
­ 1,240 reptiles including at least 560 turtles and tortoises
­ 100 wild cats
­ 2.75 tonnes of pangolin scales
­ 2.54 tonnes of raw and processed ivory
­ 25 tonnes of various animal parts, including meat, horns and feathers
­ 37,130 derivatives and processed products such as medicines, ornaments and carvings
Among the more than 14.3 tonnes of marine wildlife seized were 180 dead seahorses concealed in snack boxes discovered by U.S. authorities, with additional seahorse seizures also made in Mozambique.
In Hong Kong, China, officers seized 1.3 tonnes of red sandalwood hidden in a container shipped from Malaysia.
Intelligence gathered and shared ahead of the operation identified specific targets and areas for action such as wildlife and forest crime hotspots, bottlenecks where checkpoints could be established, as well as operations at airports and national borders.
Cars, trucks, boats and cargo transporters suspected of moving illicit products were also targeted with searches carried out by officers, specialist sniffer dogs and x-ray scanners.
Scrap yards, taxidermy shops, garages, pet fairs, warehouses and health clinics were targeted, resulting in seizures, arrests and information gathering. Websites and social media offering wildlife products were investigated.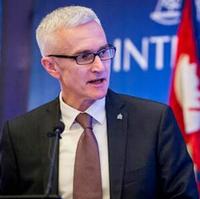 "Wildlife trafficking has surged in recent years, generating billions in illicit profits. Simply put, criminals are helping themselves to the environment's precious resources without a care for the cost to our planet," said INTERPOL Secretary General Jürgen Stock.
"The success of this operation is a demonstration of what can be achieved by transnational law enforcement collaboration, and the resolve of countries to tackle environmental crime," said Stock. "INTERPOL also remains committed to tackling wildlife and forest crime across the globe, to protect today's resources for tomorrow's generations."
The world's top customs official Dr. Kunio Mikuriya, who serves as secretary general of the World Customs Organization, WCO, said, "Operation Thunderbird bears proof of the effectiveness of international cooperation and all role-players are encouraged to continue with their relentless efforts in this regard."
Operation Thunderbird was organized at meetings held alongside the 17th meeting of the Conference of the Parties to CITES (CoP17) held in Johannesburg, South Africa last September.
Operation Thunderbird partners are: CITES, WCO, the UN Office on Drugs and Crime, the World Bank, the INTERPOL Wildlife Crime Working Group, the U.S. Fish and Wildlife Service, the UK Border Force. and Environment Canada.
The intelligence and data collected from the operation will be compiled, analyzed and used as guidance in future national, regional and international enforcement efforts.
In Nanjing, China, World Wildlife Day was marked by a public pledge from Baidu, Alibaba and Tencent – the top three internet service providers in China – to create an industry-wide alliance to tackle illegal wildlife trade online.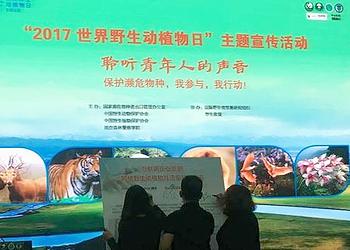 The Baidu, Alibaba and Tencent "BAT" pledge was made during a "Listen to the Young Voices" event, where young people from government, associations, relevant private sector organizations and NGOs expressed their passion for protecting wildlife.
Among them, the three BAT internet giants have hundreds of millions of global users and a major influence on daily life and consumption patterns in China through their social media, online trade and search engine services.
Zhou Fei, head of the China Office of the wildlife trade monitoring network TRAFFIC, said, "TRAFFIC and WWF are delighted to see the three BAT companies go beyond their individual efforts to fulfill their corporate responsibilities and form an industry-wide partnership to take action against online illegal wildlife trade. This is another significant move following TRAFFIC's signing of strategic MoUs with Alibaba in 2014 and Tencent in 2015."
TRAFFIC's regular online market monitoring in China reveals an ongoing shift of illicit trade in wildlife products from physical markets to online platforms and onto social media, as a result of increasing law enforcement efforts.
Zheng Qianru, senior security operations officer for Alibaba, said, "We are glad to see more young people initiating wildlife protection campaigns or advocacy through online or social media platforms. Our internal voluntary Wildlife Club is one of the most popular employees' clubs in Alibaba, and we repeatedly try to engage the public and fulfill our responsibilities to counter online illegal trade through refining the internet environment."
Some Good News for the World's Wildlife
WWF is taking this opportunity to reflect on the five greatest successes for wildlife over the last year March 2016-2017:
– Wild tiger numbers increase for the first time in conservation history, up to 3,890 from 3,200
– Pandas are no longer classified as Endangered by the International Union for the Conservation of Nature. In September, the IUCN announced that the giant panda would be downgraded from endangered to vulnerable as a result of a recent 17 percent increase in population numbers.
– All trade in the world's most trafficked mammal, the pangolin, is now illegal
– Saving World Heritage sites: Belize's barrier reef saved from offshore oil exploration; Spain canceled plans to dredge Doñana National Park.
– China announced closure of the world's largest legal ivory trade market by the end of 2017.
Wildlife Need More Help
Last year it was revealed that there could be a 67 per cent decline by 2020 in global populations of fish, birds, mammals, amphibians and reptiles and that there already had been a 58 percent decline between 1970 and 2012.
The Living Planet Report 2016 issued by WWF and the Zoological Society of London shows that humans are pushing species populations to the edge as people overpower the planet for the first time in Earth's history.
A joint INTERPOL – UN Environment report published in June 2016 estimated the value of all forms of environmental crime – the illegal trade in wildlife, corporate crime in the forestry sector, the illegal exploitation and sale of gold and other minerals, illegal fisheries, the trafficking of hazardous waste and carbon credit fraud – as worth between US$91-258 billion.
These figures are expected to increase, with current estimates showing environmental crime growing at a rate of five to seven percent annually.
Margaret Kinnaird, WWF's wildlife practice leader, said, "We are at a pivotal point for many of the most fragile species, threatened by human activity including the ongoing poaching crisis, impacts of climate change and habitat destruction."
"However, despite these grave threats, the past year has welcomed wildlife successes that will go down in conservation history. There's still a long road ahead and small but significant victories hang on a knife edge. It is vital that the progress made over the past twelve months develops further and this momentum is shared worldwide. We want to see greater achievements still for World Wildlife Day 2018."
Copyright Environment News Service (ENS) 2017. All rights reserved.