World Leaders Meet to Prevent Nuclear Terrorism
WASHINGTON, DC, April 12, 2010 (ENS) – President Barack Obama welcomed the leaders of 47 nations to Washington today for a two-day nuclear security summit with the goal of securing all vulnerable nuclear materials around the world within four years.
President Obama took a moment out from a round of bilateral talks with world leaders to tell reporters he thinks attendance at the summit is "impressive."
"I think it's an indication of how deeply concerned everybody should be with the possibilities of nuclear traffic," said Obama, "and I think at the end of this we're going to see some very specific, concrete actions that each nation is taking that will make the world a little bit safer."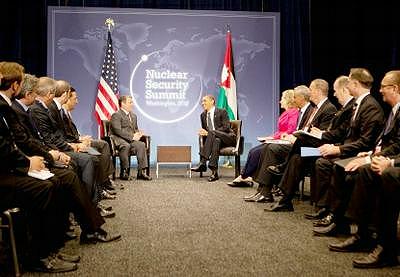 President Barack Obama meets with King Abdullah II of Jordan at the Nuclear Security Summit at the Washington Convention Center. April 12, 2010. (Photo by Lawrence Jackson courtesy The White House)
There are hundreds of tons of nuclear material scattered across the world in more than 40 countries, including the United States. The purpose of the summit is to make plans to gain control of this material, 50 pounds of which could destroy any city, killing hundreds of thousands of people.
President Obama said Sunday, "The central focus of this nuclear summit is the fact that the single biggest threat to U.S. security – short term, medium term and long term – would be the possibility of a terrorist organization obtaining a nuclear weapon. This is something that could change the security landscape of this country and around the world for years to come."
"If there was ever a detonation in New York City, or London, or Johannesburg," said Obama, "the ramifications economically, politically, and from a security perspective would be devastating. And we know that organizations like al Qaeda are in the process of trying to secure a nuclear weapon – a weapon of mass destruction that they have no compunction at using."
"Nuclear terrorism is one of the greatest threats we face today," UN Secretary-General Ban Ki-moon told reporters in New York before heading to the summit,
In Washington today, Canadian Prime Minister Stephen Harper announced that Canada and the United States will work together to return to the United States spent inventories of highly enriched uranium of U.S. origin, now being held at the Chalk River Laboratories in Ontario.
Once back in the United States, the radioactive material will be converted into a form unusable in nuclear weapons.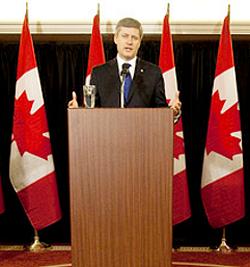 Canadian Prime Minister Stephen Harper announces repatriation of Chalk River nuclear material. (Photo courtesy Office of the Prime Minister)
"Canada is actively participating in international efforts to help ensure that nuclear weapons materials do not fall into the hands of terrorists," said Prime Minister Harper. "This project will return highly enriched uranium spent fuel inventories to the U.S. and will result in significant cost savings to Canada over time."
The project, which will take place between 2010 and 2018, is part of broader international efforts being promoted at the Nuclear Security Summit to consolidate fresh and spent highly enriched uranium at a smaller number of very secure locations.
Today, at the Nuclear Security Summit, Ukraine announced a landmark decision to get rid of all of its stocks of highly enriched uranium by the time of the next Nuclear Security Summit in 2012, while the United States will provide necessary technical and financial assistance.
Ukraine intends to remove a substantial part of those stocks this year. Ukraine will convert its civil nuclear research facilities to operate with low enriched uranium fuel, which cannot be used for nuclear weapons.
In their bilateral meeting today, President Obama and Ukraine President Viktor Yanukovych agreed to explore ways to strengthen cooperation in the peaceful uses of atomic energy, including development of Ukrainian nuclear research capabilities and efforts to diversify Ukraine's nuclear power industry's fuel supply, in accordance with an existing agreement between Ukraine and the United States.
Ukraine and the United States agreed to continue cooperation on nuclear safety, including efforts to safeguard the Chernobyl nuclear reactor site, site of a disastrous explosion and fire in April 1986 that spread radiation across much of northern Europe.
The United States has contributed almost $250 million to safeguarding Chernobyl and President Obama today reaffirmed the U.S. commitment to further support Ukraine and others in restoring the Chernobyl site to a safe condition.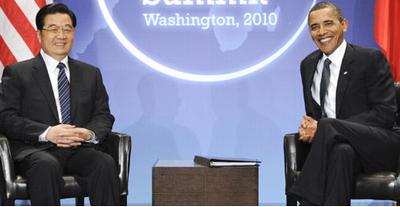 Chinese President Hu Jintao, left, and President Barack Obama hold a bilateral meeting as part of the Nuclear Security Summit. April 12, 2010. (Photo courtesy Xinhua)
President Obama held a bilateral meeting today with President Hu Jintao of China, during which the two presidents observed a moment of silence to remember victims of the recent mining accidents in West Virginia and China.
Much of the discussion of the meeting focused on their shared concern about Iran's nuclear weapons ambitions. During the meeting Presidents Obama and Hu underscored their agreement that Iran must meet its international nuclear non-proliferation obligations.
The Chinese and U.S. presidents agreed to instruct their delegations to work with the five permenant members of the UN Security Council plus Germany and UN Security Council representatives on a sanctions resolution. The resolution will make clear to Iran the costs of pursuing a nuclear program.
China has pledged a nuclear strategy emphasizing self defense, including no-first-use and a commitment to not use or threaten to use nuclear weapons against non-nuclear weapons states.
The nuclear security summit comes less than a week after President Obama and Russian President Dimitry Medvedev signed the New START Treaty which will require the United States and Russia to reduce by 30 percent the number of nuclear warheads they have deployed on intercontinental ballistic missiles, submarine-based ballistic missiles, and bombers.
The new START treaty was signed two days after the U.S. Department of Defense released a new Nuclear Posture Review, which establishes as a goal of America's foreign policy, in President Obama's words, "to reduce the role of nuclear weapons in our national security strategy and focus on reducing the nuclear dangers of the 21st century, while sustaining a safe, secure anfd effective nuclear deterrent for the United States and our allies and partners as long as nuclear weapons exist."
There was a strong police presence in Washington, DC Monday with so many leaders to protect. U.S. Army vehicles and District of Columbia Department of Public Works dump trucks lined the intersections, forming a protective barrier for motorcades carrying leaders to and from the Washington Convention Center where the summit is being held.
The summit has indirectly resulted in one fatality. A National Guard vehicle assigned to motorcade security route for the summit struck and killed a bicyclist at 12th Street and New York Avenue. The Secret Service told reporters that the accident is under investigation.
Students for a Free Tibet demonstrators demanding that China grant independence to Tibet and stop persecution of the Falun Gong marched around the Washington Convention Center and rallied in Gompers Memorial Park. They were countered by a smaller group of Chinese supporters waving Chinese flags.
Click here to view a list of world leaders attending the Nuclear Security Summit April 12-13 in Washington, DC.
Copyright Environment News Service (ENS) 2010. All rights reserved.
© 2010 – 2012, Jim Crabtree. All rights reserved.