World Economic Forum: Water, Food, Energy Scarcity Multiplies Global Risk
DAVOS, Switzerland, January 25, 2011 (ENS) – Resource limits to growth – hard limits on the availability of water, food and energy – is one of three key clusters of risk creating liabilities for the coming decade, warns a new report on risk released ahead of the annual World Economic Forum that opens in Davos on Wednesday.
Rising populations and consumption and climate change drive this challenge, while interconnections between these issues make response difficult, states the report, "Global Risks 2011."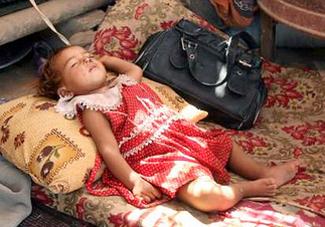 A displaced baby girl sleeps in a makeshift shelter in Qadesia, Iraq, a village short of water and electricity. (Photo by H. Caux courtesy UNHCR)
"Demand for food, water and energy resources is growing by double digits. Yet chronic fiscal deficits are threatening investments in infrastructure crucial to improving availability and access to them. The resulting shortages threaten global prosperity," said John Drzik, president and chief executive of the Oliver Wyman Group.
"Most interventions only create new and worse problems, or shift risk across the nexus. Shortages of core resources will only create more conflict between the social groups, nations and industries that need them," according to the report.
The other two risk clusters are macroeconomic risks and an illegal economy worth US$1.3 trillion globally in 2009.
The macroeconomic risks include long term underlying structural weaknesses in the global economy, fiscal crises in the developed economies, massive unfunded social liabilities and weak financial markets.
"Crisis-induced indebtedness has reduced the capacity to handle further shocks to critically low levels," the report warns.
Increasing levels of illicit trade, organized crime and corruption form a nexus of criminal risk compounded by greater numbers of failed and fragile states, a networked world, governance failures and economic disparity.
In addition to these three clusters of risk, Global Risks 2011 identifies five emerging risks to watch, three of them environmentally-related:
High population growth: in fragile, resource-constrained countries, population growth may result in "population cluster bombs," increased violence and state collapse
Resource scarcity: limits on commodities, water and energy put stringent limits on growth and create conflict hotspots
Nuclear and biological weapons threats are of renewed concern in a fragile world
Cybersecurity: the new frontier for controlling information, from hackers and massive service failures to the little-understood possibility of cyberwarfare between nation states
Retrenchment from globalization: as economic inequality grows, a populist backlash against globalization could fracture economic and political integration
In this context, the World Economic Forum will launch a new Risk Response Network this week. The network will bring a new approach to addressing the complexity of risk that leaders are facing and enable them to capture the upside of those risks.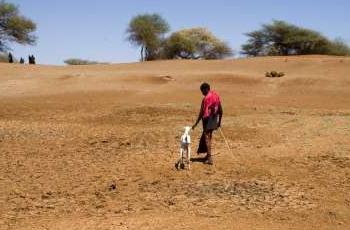 Climate change has dried up grasslands for Somalia's pastoral nomads. (Photo by B. Bannon courtesy UNHCR)
"If business leaders and decision-makers can overcome the behavioral biases towards immediate, short-term solutions and switch to longer term thinking, then they will have made significant progress in adopting an attitude suited to the mitigation of increasingly complex and interlinked global risks," said Howard Kunreuther, co-director of the Wharton Risk Management and Decision Processes Center.
Published in cooperation with Marsh & McLennan Companies, Swiss Reinsurance Company, the Wharton Center for Risk Management and Zurich, "Global Risks 2011" draws on the insights of 580 expert respondents to the World Economic Forum's Global Risks Survey 2010.
The survey across stakeholder groups and regions, measured perceptions of risk likelihood, impact and interconnections for 37 global risks over a 10-year time horizon. The results of this survey are included in the report.
Robert Greenhill, managing director and chief business officer at the World Economic Forum, concludes , "Twentieth century systems are failing to manage 21st century risks. We need new networked systems to identify and address global risks before they become global crises."
Copyright Environment News Service (ENS) 2011. All rights reserved.