PIERRE, South Dakota, December 22, 2009 (ENS) – Just after the East Coast dug out from heavy snowfall on Saturday and the weather is forecast to be fine for Christmas travel in that region, the Central Plains is bracing for a major winter storm that could hamper holiday travel from Wednesday afternoon through Christmas Day.
A storm in the Intermountain West today will move east on Wednesday. After it emerges onto the plains of Texas and Oklahoma Wednesday, it is forecast to rapidly intensify as it moves north Friday toward the western Great Lakes, strengthening into a severe snow storm over the Central Plains by Wednesday and Thursday.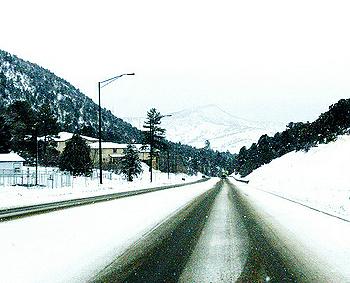 Snowy road crosses Colorado. December 22, 2009. (Photo by Angie Stalker)
The storm is expected to produce heavy snow from Kansas to Minnesota and Wisconsin. The National Weather Service says blizzard warnings, winter storm warnings and winter storm watches are in effect for much of the Central United States from North Dakota through Kansas.
Winds are expected to increase to 40 and 50 miles per hour Wednesday night and Thursday, causing drifting snow and total whiteout conditions.
In South Dakota, Tom Dravland, secretary of the South Dakota Department of Public Safety, warned, "If you don't leave on your trip by early Wednesday, you should think seriously about not going. Forecasts call for widespread areas of significant snowfall, and the winds are expected to pick up to as much as 30 mph or more. Please plan ahead for your safety and the safety of your family."
"This is a nasty winter storm that is going to hamper if not cripple travel through much of the region," said Todd Heitkamp of the National Weather Service in Sioux Falls.
The National Weather Service office in Hastings says a Blizzard Watch is in effect. "The final blast of winter for 2009 will bring ice, snow, high winds and extremely dangerous winter weather conditions to south central Nebraska and north central Kansas through Christmas Day. Snowfall of over one foot is possible," forecasters said.
By Christmas Eve Day strong winds of 30 to 50 mph will overtake the area, likely resulting in blizzard-like conditions for some areas. Travel the next few days will be difficult and likely turn impossible for many areas.
Snowfall rates will taper off by Friday, but strong winds will keep the blowing and drifting snow going. The storm will finally move out of the area by Saturday.
Minnesota this year will have a white Christmas, defined as having at least one inch of snow on the ground on Christmas Day, according to the National Weather Service office in Chanhassen.
The Minnesota Climatology Working Group says that in 109 years of snow depth measurements in Twin Cities, a white Christmas happens about 72 percent of the time.
Meteorologist Chris Holtz at the National Weather Service office in Goodland, Kansas says a winter storm warning is in effect for the area of northwest Kansas, eastern Colorado and southwest Nebraska that will last through Christmas morning.
Moderate to heavy snowfall of six to eight inches is expected for the region on Wednesday with blowing and drifting snow in the evening and strong winds on Thursday.
Holtz warned, "This will spell big-time travel problems for anyone who hoped to travel along I-70 or any of the other routes through the area for the holiday."
Copyright Environment News Service (ENS) 2009. All rights reserved.