Wind, Solar, Hydro Benefit from Inter-American Development Bank Policy Shift
MONTEVIDEO, Uruguay, March 20, 2012 (ENS) – The Inter-American Development Bank is ramping up its investments in private sector renewable energy and energy efficiency projects in Latin America and the Caribbean.
At the bank's annual meeting in Montevideo, which concluded Monday, bank officials said that for 2012, the bank expects to approve more than $700 million in long-term financing for private sector renewable energy projects, particularly wind, solar and hydropower plants.
"The Latin America and the Caribbean region is committed to reducing its greenhouse gas footprint," said Hans Schulz, head of the IDB's Structured and Corporate Finance Department, which is responsible for financing large-scale projects in the private sector.
Brazil's largest wind energy facility, the Alegria wind plant, on the Atlantic Ocean near Guamare, in Rio Grande do Norte, began operating in 2010. (Photo by Multiner SA)
"Several countries are beginning to develop their potential for wind, geothermal, bio energy production and solar energy, often through private sector leadership," Schulz said. "The IDB provides access to tailored long-term financing, not readily available in local capital markets for these types of projects."
Last year, the IDB approved $736 million in financing for private sector environmentally-friendly projects, compared with the $663 million invested by the bank between 2000 and 2010.
The increase reflects both an increase in demand from the 26 governments the bank counts as its borrowing members and a strategic shift that calls for 25 percent of the bank's lending portfolio to support climate change and environmentally-friendly initiatives, such as renewable energy.
As the annual meeting opened on Friday, the IDB and the Japan International Cooperation Agency signed a framework agreement that will provide up to $600 million in financing for renewable energy and energy efficiency projects in Central America and the Caribbean over the next five years.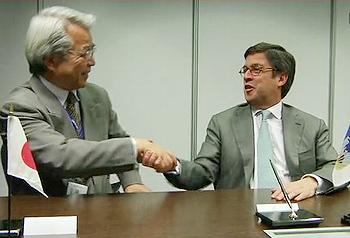 JICA Senior Special Advisor Hiroto Arakawa, left, and IDB President Luis Alberto Moreno shake on their $600 million investment agreement, March 16, 2012 (Image from video courtesy IDB)
Signed by IDB President Luis Alberto Moreno and JICA Senior Special Advisor Hiroto Arakawa, the financing agreement will benefit IDB member countries that already are eligible for JICA financing: Belize, Costa Rica, the Dominican Republic, El Salvador, Guatemala, Guyana, Honduras, Jamaica, Nicaragua, Panama and Suriname.
"For more than 30 years, Japan has been a great partner of the IDB and, in particular, of our borrowing member countries," said Moreno. "This agreement is another example of Japan's efforts to help our region overcome key development challenges. This contribution, in addition to encouraging the adoption of climate-friendly energy investments, will support much needed mitigation measures to address the negative impacts of climate change among our most vulnerable nations in Central America and the Caribbean."
Arakawa said that Central America and the Caribbean are at the core of JICA's agenda to address global climate change. "We count on the IDB's experience, knowledge and long-standing working relationship with the region to create a successful synergy in this effort," he said.
"We are considering potential projects in the areas of hydroelectric power plant rehabilitation, photovoltaic power generation, and installation of energy saving facilities and equipment," said Toshitaka Takeuchi, energy specialist and technical contact for the agreement at the IDB's Energy Division. "In addition we will explore financing opportunities for geothermal power generation considering its significant potential in the region."
The renewable energy push comes as Latin America and the Caribbean governments face strong pressure to meet booming demand for electricity.
The International Energy Agency estimates that energy demand in the region is expected to increase by 50 percent by 2030 because of increased private transport and land use changes, requiring estimated global investments of up to $1.5 trillion.
Over the next decade, the region will require a 26 percent increase in its installed energy generation capacity to meet annual projected economic growth of as much as six percent.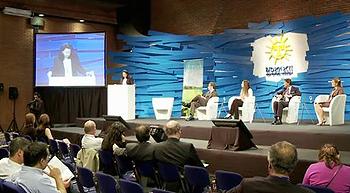 Climatescope 2012 is previewed at the Inter-American Development Bank annual meeting (Image from video courtesy IDB)
Three countries – Brazil, Nicaragua and Panama – are best suited to attract low-carbon energy investment in Latin America and the Caribbean, finds a preview of Climatescope 2012, an upcoming report and index developed by the Multilateral Investment Fund in partnership with clean energy market research firm Bloomberg New Energy Finance.
"We expect that investors and entrepreneurs will use Climatescope to discover places where value chains, finance, and market conditions combine to reveal new business opportunities," said Nancy Lee, general manager of the Multilateral Investment Fund.
Climatescope profiles 26 countries in Latin America and the Caribbean and evaluates their ability to attract capital for low-carbon energy sources while building a greener economy.
The study measures 30 indicators to assess the climate for climate-related investments in the region. Countries were ranked based on four parameters: enabling framework; clean energy investments and low carbon financing; low-carbon business and clean energy value chains; and greenhouse gas management activities.
"Climatescope is not intended to be solely an academic tool," Lee explained. "Its real value will derive mostly from the new businesses and new investment it helps make possible."
In 2011, Latin America and the Caribbean attracted just 10 percent of the estimated $260 billion in new investments to new clean energy projects and companies worldwide, according to Bloomberg New Energy Finance data.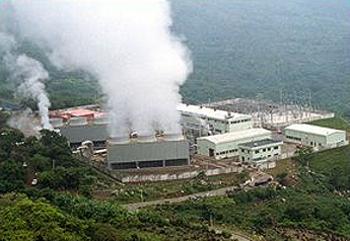 Geothermal power plant in El Salvador operated by LAGEO SA de CV (Photo courtesy LAGEO SA de CV)
"The Latin American and Caribbean region is playing an increasingly important role in the emerging clean energy industry," said Ethan Zindler, head of global policy analysis at Bloomberg New Energy Finance.
"But, given the extraordinary natural resources available and the rapidly growing demand for energy, the region has been fundamentally under-invested," said Zindler. "Our hope is that Climatescope can provide investors, manufacturers, and policymakers with a useful guide on how best to deploy substantially more clean energy dollars in the region in the future."
The official launch of the Climatescope report will take place on June 19, 2012 during the Rio+20 United Nations Conference on Sustainable Development in Rio de Janeiro, Brazil.
The report will be accompanied by a fully interactive online tool, which allows users to adjust various assumptions in the Climatescope model to suit their needs. The data behind the report will also be available for download online.
At the annual meeting, the presidents of the Asian Development Bank and the Inter-American Development Bank for the first time agreed to join forces to find ways to strengthen trade and investment ties and share development policy insights between two of the world's fastest-growing regions.
ADB President Haruhiko Kuroda attended the annual meeting and participated in the presentation to the Board of Governors of the summary of a jointly produced book, to be titled "Shaping the Future of the Asia-Latin America and the Caribbean Relationship."
IDB President Moreno will attend the ADB's annual meeting in Manila in May, when the book will be officially launched.
It is the first time that the top executives of the two regional development banks have participated in each other's annual meetings.
Moreno said, "We are pleased to enter into a close collaborative relationship with the ADB, believing as we do that the world's fastest-growing regions can benefit not only from boosting trade and investment, but from sharing their experiences in pursuing sustainable development."
Today, as part of the annual meeting of the bank's Board of Governors, a seminar on the Emerging Sustainable Cities Initiative is being held. The seminar will review the status of the initiative and lessons learned from its implementation in Montevideo, Trujillo, Santa Ana, Goiania and Port of Spain.
A session on climate change and cities will hear from three scholars and practitioners: Luis Bettencourt, Steffen Lehmann, and Josef Zeininger, and a session on governance and climate change will hear presentations by the mayors of Bilbao, Spain; Rosario, Argentina; and Puebla, Mexico.
Copyright Environment News Service (ENS) 2012. All rights reserved.