Wildlife Conservation Society Pledges $50 Million to Save Tigers
ST. PETERSBURG, Russia, November 22, 2010 (ENS) – To help secure the future of Asia's critically endangered wild tigers, the Wildlife Conservation Society today pledged to spend $50 million over the next 10 years – $5 million of the total during the next year.
Dr. John Robinson, WCS chief conservation officer and executive vice president for conservation and science, made the commitment at the International Tiger Forum in St. Petersburg, a unique four-day meeting that opened Sunday.
"Over the next 12 months, WCS will be putting close to $5 million onto the ground in Asia for tiger conservation," said Robinson. "These are funds that are entrusted to us by bilateral government donors especially the U.S. Fish and Wildlife Service and the U.S. Agency for International Development, and multilaterals like the Global Environmental Facility and the World Bank."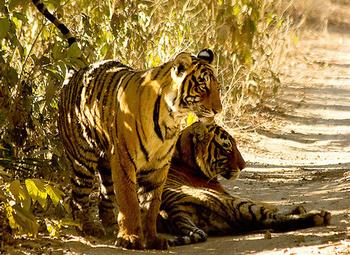 Wild tigers on a road in India's Ranthambhore National Park, Feburary 2008. (Photo by Robert Parker)
"Private individuals and private foundations are also making crucial commitments to tigers, such as those of the Liz Claiborne and Art Ortenberg Foundation which has put tiger conservation as its highest priority, and collaborating organizations like Panthera," said Robinson.
Based at New York's Bronx Zoo, the Wildlife Conservation Society has more than 50 years of experience working for tiger conservation.
"Together we will be investing a minimum of well over $50 million in the next 10 years before the next Year of the Tiger," Robinson said. "And let me stress again that WCS will work to ensure that all of these investments are targeted at on-the-ground efforts in tiger range states."
Hosted by Russian Prime Minister Vladimir Putin, the International Tiger Forum is unprecedented. For the first time, world leaders are coming together focused on saving a single species.
Ahead of the forum, officials from the 13 tiger range states had a series of ministerial meetings and each of these countries wrote its own tiger recovery program.
The 13 countries took more than year to write a Global Tiger Recovery Programme, which sets forth a comprehensive set of actions to help the world's 3,200 remaining wild tigers recover from decades of hunting, poaching and clearance of their forest habitats.
The Global Tiger Recovery Programme aims to at least double the number of wild tigers to a target of 7,000 animals by the next Year of the Tiger in 2022.
Heads of government and ministers are meeting in St. Petersburg to endorse the plan, which is estimated to cost $350 million for the initial five year stage.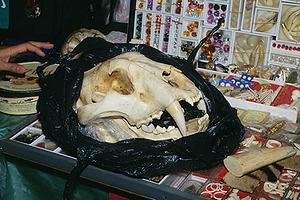 Parts of at least 1,000 tigers were seized in 11 range countries over the last decade. (Photo by Chris Shepherd courtesy TRAFFIC)
The World Bank Group has been supporting this tiger recovery initiative since its inception. World Bank Group President Robert Zoellick said in St. Petersburg Thursday, "This summit may be the last chance for the tiger; tigers are vanishing. There are fewer than 3,200 living in the wild today on only seven percent of the land they once roamed."
"We know what's causing the decline in number of wild tigers: It's illegal poaching, trafficking, lack of habitat," said Zoellick.
"The good news is that tiger populations can recover, but we have to protect their habitats and ranges, target illegal trade, and find ways that people can benefit more from live tigers than dead ones," Zoellick said. "And, critically, we need to see poachers behind bars, not tigers."
Zoellick recognizes that "outsiders can't do this for people. If you don't have local ownership, it won't work."
So, the World Bank is supporting development of this tiger recovery effort from the bottom up with the 13 tiger range countries.
"Together with our partners in civil society and elsewhere, the World Bank Group aims to support the tiger range countries in achieving the goal they've set," Zoellick said.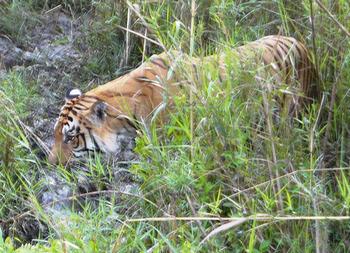 A wild male tiger flushed by tourists on elephants in Nepal's Chitwan National Park. (Photo by Chris Gladwin)
Because tigers don't recongize national borders, Zoellick says resolving regional trans-border issues is important. On a visit to China last year, he was able to start to work with the State Forestry Administration on creating a preserve in Northern China that would allow a wider range area for the Amur tiger that crosses the Chinese-Russian border.
The World Bank's International Development Association, a fund for the poorest nations, has some money set aside for regional projects, Zoellick said. "We have a project that looks like we've got the support of Nepal, Bhutan, Bangladesh, and perhaps India on a subregional project that creates tiger reserves that cross borders."
Nepal has already tried to create corridors among some 11 national reserves to create the opportunity for growth and expansion of its tiger populations.
There has been collaboration between India, Nepal and China on law enforcement and, in the case of Nepal and India on protecting the tiger populations they share.
"WCS is focused on offering technical assistance and support, both financial and logistical, to our partners in tiger range states," Robinson said today. To date, he said, WCS has responded to commitments from tiger range countries to conserve the tigers in Cambodia, China, India, Indonesia, Lao PDR, Malaysia, Myanmar, Russia, and Thailand.
"We are committed to providing this support and assistance at those landscapes prioritized by range states. Most of these contain source sites, nationally important parks and reserves that contain core breeding populations of tigers, which are embedded in larger tiger landscapes, and thus act as sources for dispersal throughout those landscapes.
Quick action is essential or most of the world's wild tigers will be gone within a year, warns James Leape, who heads the global conservation organization WWF.
"Here is a species that is literally on the brink of extinction," said Leape. "I think there is every reason to expect that if we do not succeed now, if current trends continue, by next year, the tiger will have only scattered remnant populations left – it will be virtually extinct."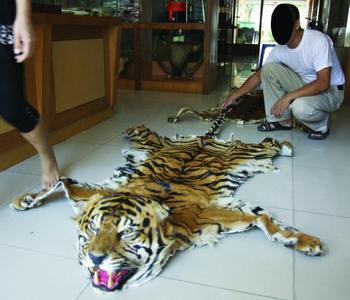 Tiger skin openly on sale at a retail outlet in Mong La, Special Region 4, Shan State, Myanmar, June 2010. (Photo by Adam Oswell courtesy TRAFFIC)
The threats to tiger survival are many. A new report from the wildlife trade monitoring organization TRAFFIC shows that black markets along Myanmar, Thailand and China's shared borders play a crucial role facilitating the illicit trade in tigers and other endangered species.
A joint WWF-TRAFFIC report released November 9 shows that parts of at least 1,069 tigers have been seized in tiger range countries over the past decade.
The report, "Reduced to Skin and Bones," shows that from January 2000 to April 2010, parts of between 1,069 and 1,220 tigers were seized in 11 of the 13 tiger range countries – an average of 104 to 119 animals per year.
Of the 11 countries, India, China and Nepal ranked highest in the number of tiger part seizures, the report states, with India by far the highest number of tiger part seizures at 276, representing between 469 and 533 tigers.
China, with 40, had the second highest number of seizures, or between 116 and 124 tigers; and Nepal reported 39 seizures, or between 113 and 130 tigers, according to the report.
Tiger parts reported in trade ranged from complete skins, skeletons and whole animals – live and dead – bones, meat, claws, teeth, skulls, penises and other body parts. They are used for decoration and in traditional medicines.
In Myanmar, or Burma, the Kachin Development Networking Group has been monitoring the world's largest tiger reserve in the remote Hugawng Valley since 2007. The organization reports that reserve is being clearcut for sugar cane and tapioca plantations by Htay Myint, one of the country's most powerful tycoons.
Htay Myint's Yuzana Company has brought in fleets of bulldozers and backhoes that "have been razing forests and destroying animal corridors, leaving only the conservation signboards standing," the Kachin Group says.
"The reserve was established in 2001 with the support of the US-based Wildlife Conservation Society. However WCS has remained silent on this destruction of the reserve and has claimed that Hugawng Valley will be a cornerstone of tiger conservation in the future," says the Kachin Group.
Still, Robinson of the Wildlife Conservation Society struck an optimistic note today in announcing the organization's $50 million committment.
"No single country can address the challenges of tiger conservation by itself," he said. "No organization, no governmental institution can alone turn around the challenge posed by the decline in tiger numbers. Together, and in partnership, we can make a difference."
"Following this summit," urged Robinson, "we must put into place the institutional mechanisms (1) to leverage the additional resources and funds that will be necessary if tiger numbers are to be doubled in the years ahead, and (2) to maintain the consensus that we have forged over the last two years – a consensus that tiger will survive, and indeed will thrive again."
Copyright Environment News Service (ENS) 2010. All rights reserved.