Wildfires Break Out in New Jersey, Staten Island
TRENTON, New Jersey, April 9, 2012 (ENS) – The New Jersey Forest Fire Service and Burlington County firefighters are working to contain a wildfire discovered in a rural area early this morning. Dry conditions and winds gusting to 40 mph have fanned the flames, which have spread to 1,000-acres in Tabernacle and Woodland Townships in the heart of the Pinelands.
Fourteen fire trucks, three bulldozers, two helicopters and two air tankers were deployed to tackle the fire and to protect some 25 homes threatened by the blaze.
Fire mitigation efforts have been employed around each of the homes, including use of backfires, to protect the isolated residences, which are situated in the woods.
There have been no reports of injuries and no mandatory evacuations at this time.
The New Jersey Forest Fire Service and Burlington County firefighters say the blaze was 50 percent contained as of this afternoon.
"Our crews are working very hard to contain and extinguish this fire, and to ensure that area residents are protected," said Department of Environmental Protection Commissioner Bob Martin, who visited the area this morning.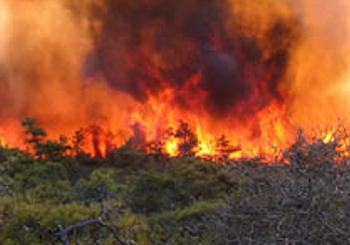 Fire in the New Jersey Pinelands (Photo courtesy U.S. Forest Service)
"With current dry conditions and low humidity creating a high danger for wildfires, it is important to remind all New Jersey residents and visitors to exercise extreme caution to prevent wildfires at this particularly vulnerable time," said Martin.
"The Forest Fire Service is increasing fire patrols and we are increasing our response capabilities as this drying trend continues," added State Forest Fire Service Acting Chief Michael Drake. "But we need your help to prevent fires and to alert us if you see or suspect one."
The Pine Barrens of New Jersey encompass 1.1 million acres, covering 22 percent of the state's land area. Designated as the Pinelands National Reserve in 1978, these highly flammable forests are now surrounded by dense housing developments, commercial property, and key transportation corridors.
The New Jersey Department of Environmental Protection said in a statement that 99 percent of all wildfires in the state are caused by humans. "Wildfire risks increase with every new structure built in or adjacent to forests," the agency said.
Another New Jersey forest fire is burning at Joint Base McGuire-Dix-Lakehurst in Burlington County, with New Jersey Forest Fire Service, JB MDL Fire and Emergency Services and the New Egypt Fire Department working to contain the blaze.
The fire was first located on the base's training ranges and moved in an easterly direction where previous controlled burns had been conducted, about 300 acres of wooded area have burned.
The fire danger level is listed as extreme in Burlington, Atlantic, Camden, Cape May, Cumberland, Gloucester, Salem, Monmouth and Ocean counties, as well as Middlesex County south of the Raritan River. In the rest of the state, the fire danger level is high.
In Burlington, Monmouth and Ocean counties, and Middlesex County south of the Raritan River all camp fires in wooded areas are prohibited unless contained in an elevated stove using only propane, gas or electricity.
The number of wildfires was already 25 percent ahead of the 2011 pace before the rash of fires this weekend, with 359 fires burning 286 acres of land.
There were wildfires over the weekend in Somerset, Ocean, Monmouth, Bergen, Sussex, Warren, Morris, Hunterdon, Middlesex and Cape May counties. On Saturday, several small brush fires snarled traffic on Route 4 in Teaneck.
In New York City, more than 200 firefighters battled a large brush fire at the former Fresh Kills landfill on Staten Island. The smoke could be seen across Staten Island and also from eastern New Jersey.
The fire jumped across the West Shore Expressway, which was forced to close, but there are no immediate reports of injuries or damage to homes and businesses.
Crews are also fighting a separate brush fire in the Gateway National Recreation Area on Staten Island's eastern shore.
Copyright Environment News Service (ENS) 2012. All rights reserved.
Environment News Service (ENS) © 2012 All Rights Reserved.