Water Scarcity Threatens Much of the World, UN Report
MARSEILLES, France, March 12, 2012 (ENS) – "If we fail today to make water an instrument of peace, it might become tomorrow a major source of conflict," warns UNESCO director-general Irina Bokova in her foreword to the UN World Water Development Report released today at the opening of the World Water Forum in Marseilles. "Freshwater is a core issue for sustainable development – and it is slipping through the cracks."
An "unprecedented" rise in the demand for food as the population grows, rapid urbanization and climate change are the drivers of increasing global water stress, finds the report, "Managing Water Under Uncertainty and Risk."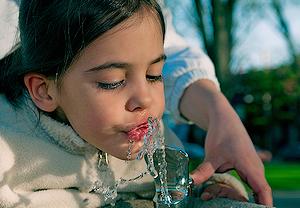 Girl drinks from a public water fountain in Montreal, Canada (Photo by Bella Moona)
Issued every three years since 2003 at the triennial World Water Forum, the UN World Water Development Report offers an overview of the state of the world's freshwater resources and aims to provide decision makers with the tools to make sustainable use of water a reality.
"No water users, anywhere in the world, can be guaranteed they will have uninterrupted access to the water supplies they need or want or to the water-derived benefits from key developmental sectors such as agriculture, energy and health," the report warns.
While UNICEF and the World Health Organization issued a separate report last week showing that the world has achieved the Millennium Development Goal of halving the proportion of people without access to safe drinking water in advance of the 2015 deadline, water scarcity is still a big problem for millions of people.
The new World Water Development Report shows that despite projected increases in demand for water, there are still nearly one billion people without such access, and this number is growing in cities.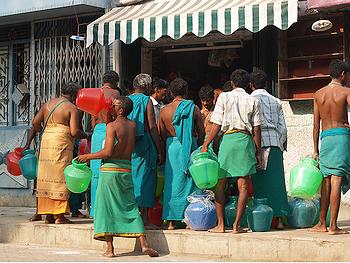 People queue for water in Madurai, India, a city of 1.2 million in the state of Tamil Nadu. (Photo by Nick Williams)
The world's urban population is forecast to grow to 6.3 billion people in 2050, from 3.4 billion in 2009, increasing problems of adequate water supply, sanitation and drainage, especially in urban slums already faced with a backlog of unserved populations.
Sanitation infrastructure is not keeping pace with the world's urban population, and more than 80 percent of the world's wastewater is neither collected nor treated, according to the report.
"We have much to do before all people have the access to the water and sanitation they need to lead lives of dignity and well-being," said UN Secretary-General Ban Ki-moon in a video message to the World Water Forum.
Agriculture accounts for 70 percent of all water withdrawn by the agricultural, municipal, industrial and energy sectors, according to the report, which says, "Responsible agricultural water management will make a major contribution to future global water security."
The report projects a 70 percent increase in demand for food by the year 2050 when the world population is forecast to be nine billion and warns that this level of demand will lead to a 19 percent surge in agricultural water use.
In response to response to growing demand, countries have tapped into underground water sources, with water extraction tripling over the past 50 years. In some underground basins, water cannot be replenished and is now at critically low levels.
Climate change will have a growing impact on water resources as it alters rainfall patterns and soil humidity, melts glaciers and causes water-related disasters such as floods and droughts, which impact food production.
The report projects that by 2070, these climate impacts will affect up to 44 million people all over the world.
In the short term, the shrinking of glaciers is adding water to streamflows over and above annual precipitation and thus increasing water supply, the report states, but warns that as glaciers disappear those additional sources of water will diminish and the buffering effects of glaciers on streamflows will lessen.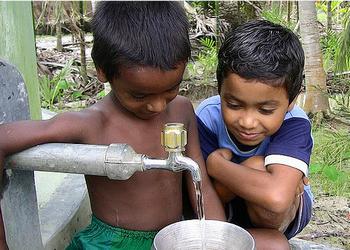 Clean drinking water in Bangladesh achieved with a pond sand filter built by Save the Children USA (Photo by The Uncultured Project)
The report acknowledges that there are "major uncertainties" about the amount of water required to sustain ecosystems and to meet human demands for food and energy, adding, "These uncertainties are compounded by the impact of climate change on available water resources."
"A collective response by the whole international community" will be needed to tackle the issue says Michel Jarraud, who chairs UN-Water, which coordinates United Nations agencies on all freshwater issues, and also serves as secretary-general of the World Meteorological Organization.
"This is especially significant at times of such crises as we encounter today when, for example, several consecutive seasons of drought in the Horn of Africa have left millions on the borderline of survival, thereby requiring emergency food assistance as well as sanitation, energy generation, and many other forms of support in disaster risk reduction," Jarraud said.
Encouragingly, the report says, "Initiatives worldwide are emerging to address the need for improved and comprehensive urban water planning, technologies, investment and associated operations."
The report's authors point to the need for this collective global response, saying, "Greater recognition is needed of the fact that water is not solely a local, national or regional issue that can be governed at any of those levels alone. On the contrary, global interdependencies are woven through water, and decisions relating to water use on a local, national, river basin or regional level often cannot be isolated from global drivers, trends and uncertainties."
Freshwater issues as detailed in this report will be central to talks at the Rio+20 conference slated for Rio de Janeiro, Brazil in June.
"This report is also intended to contribute to the Rio+20 United Nations Conference on Sustainable Development," wrote Secretary-General Ban in his foreword to the report. "If Rio+20 is to succeed, it must renew political commitment to integrated approaches to the sustainable management of the world's freshwater resources. Just as water is central to every aspect of life on Earth, it must lie at the heart of the new vision we forge for sustainable development for the century ahead."
Copyright Environment News Service (ENS) 2012. All rights reserved.
Environment News Service (ENS) © 2012 All Rights Reserved.