Warming, Polluted Oceans Imperil 75 Percent of All Coral Reefs
WASHINGTON, DC, February 24, 2011 (ENS) – At least 75 percent of the world's coral reefs are under such intense pressures – both local and global – that their very survival is threatened, finds the most detailed assessment of threats to coral reefs ever undertaken, published on Wednesday.
If these pressures continue unchecked, more than 90 percent of reefs will be threatened by 2030 and nearly all reefs will be at risk by 2050, according to the "Reefs at Risk Revisited" report.
NOAA Administrator Dr. Jane Lubchenco, left, and report co-author WRI's Lauretta Burke at the launch event in Washington, DC. (Photo by Michael Oko courtesy WRI)
The World Resources Institute, a global environmental think tank based in Washington, DC, led the analysis in collaboration with more than 25 research, conservation, and educational organizations. Partners provided data, offered guidance on the analytical approach, contributed to the report, and served as critical reviewers of the maps and findings.
Speaking at the report's launch in Washington, DC, Dr. Jane Lubchenco, administrator of the National Oceanic and Atmospheric Administration, NOAA, said, "This report serves as a wake-up call for policy-makers, business leaders, ocean managers, and others about the urgent need for greater protection for coral reefs.
"As the report makes clear, local and global threats, including climate change, are already having significant impacts on coral reefs, putting the future of these beautiful and valuable ecosystems at risk," Lucbhenco said.
Launch activities also took place in the UK, Malaysia, Indonesia, the Caribbean and Australia.
Former U.S. Vice President Al Gore, a member of the WRI Board of Directors, wrote in his forward to the new analysis, "Coral reefs are among the world's greatest sources of beauty and wonder. Home to over 4,000 species of fish and 800 types of coral, reefs offer an amazing panorama of underwater life."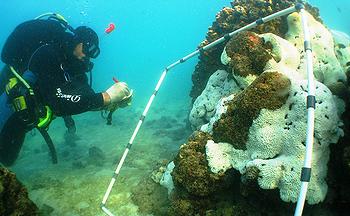 The Kuwait Dive Team discovers widespread coral bleaching in Kuwaiti waters, October 2010. (Photo by Kuwait Dive Team)
"As harmful as overfishing, coastal development, and other local threats are to reefs, the warming planet is quickly becoming the chief threat to the health of coral reefs around the world," wrote Gore.
"Every day, we dump 90 million tons of carbon pollution into the thin shell of atmosphere surrounding our planet – roughly one-third of it goes into the ocean, increasing ocean acidification," he wrote, calling the degradation of coral reefs "a clear sign that our dangerous overreliance on fossil fuels is already changing Earth's climate."
"Coral reefs are currently experiencing higher ocean temperatures and acidity than at any other time in at least the last 400,000 years," wrote Gore. "If we continue down this path, all coral reefs will likely be threatened by mid-century, with 75 percent facing high to critical threats levels."
The new report is an update of "Reefs at Risk," released by World Resources Institute in 1998. The new report uses the latest data and satellite information to map coral reefs – including a reef map with a resolution 64 times higher than the original report.
In addition to the global threats of warming oceans and acidification, the local threats pose the most immediate and direct risks, the report finds, threatening more than 60 percent of coral reefs today.
This analysis addresses the local threats of:
Coastal development, coastal engineering, land filling, runoff from construction, sewage discharge, and impacts from unsustainable tourism
Watershed-based pollution such as erosion and nutrient fertilizer runoff from agriculture that flows down rivers to coastal waters
Marine-based pollution and damage such as solid waste, nutrients, toxins from oil and gas installations and shipping, and physical damage from anchors and ship groundings
Overfishing and destructive fishing, including unsustainable harvesting of fish or invertebrates, and damaging fishing practices such as the use of explosives or poisons.
The 27 countries and territories identified as highly vulnerable to reef loss are spread across the world's reef regions. Nineteen are small island states.
Nine countries – Haiti, Grenada, the Philippines, Comoros, Vanuatu, Tanzania, Kiribati, Fiji, and Indonesia – are most vulnerable to the effects of coral reef degradation. The report points out that these countries have high ratings for exposure to reef threat and reef dependence, combined with low ratings for adaptive capacity.
"These countries merit the highest priority for concerted development efforts to reduce reliance on reefs and to build adaptive capacity, alongside reducing immediate threats to reefs," the report states.
"Coral reefs are valuable resources for millions of people worldwide. Despite the dire situation for many reefs, there is reason for hope," said Lauretta Burke, senior associate at World Resources Institute and a lead author of the report. "Reefs are resilient, and by reducing the local pressures we can buy time as we find global solutions to preserve reefs for future generations."
Among the report's recommendations is more effective management of existing marine protected areas. The analysis shows that more than one-quarter of reefs are already within parks or reserves, more than any other type of marine habitat. Yet, only six percent of reefs are in protected areas that are effectively managed.
"Well managed marine protected areas are one of the best tools to safeguard reefs," said Mark Spalding, senior marine scientist at the Nature Conservancy and a lead author of the report.
"At their core, reefs are about people as well as nature: ensuring stable food supplies, promoting recovery from coral bleaching, and acting as a magnet for tourist dollars," said Spalding. "We need to apply the knowledge we have to shore up existing protected areas, as well as to designate new sites where threats are highest, such as the populous hearts of the Caribbean, Southeast Asia, East Africa and the Middle East."
"Through new technology and improved data, this study provides valuable tools and information for decision makers from national leaders to local marine managers," said Katie Reytar, research associate at WRI and a lead author. "In order to maximize the benefits of these tools, we need policymakers to commit to greater action to address the growing threats to coral reefs."
Copyright Environment News Service (ENS) 2011. All rights reserved.