Vestas Wind Energy Wins $1.5 Million Zayed Prize, Gives It Away
ABU DHABI, United Arab Emirates, January 18, 2011 (ENS) – Danish wind turbine manufacturer Vestas today was awarded the 2011 Zayed Future Energy Prize in recognition of the company's "outstanding leadership to pioneer wind energy, even during periods where demand for renewable energy waned," the jury said.
First awarded in 2009, the annual prize is worth US$1.5 million. It was created in honor of the legacy of the late founding father and President of the United Arab Emirates, Sheikh Zayed bin Sultan Al Nahyan.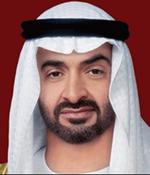 Sheikh Mohammed bin Zayed Al Nahyan (Photo courtesy UAE Media Office)
His younger son, H.H. General Sheikh Mohammed bin Zayed Al Nahyan, crown prince of Abu Dhabi and deputy supreme commander of the UAE Armed Forces, presented the award to Vestas today at the Emirates Palace in Abu Dhabi.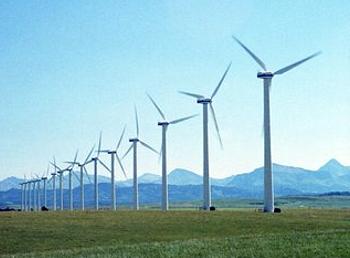 Vestas wind turbines at the Castle River Wind Project, Alberta, Canada (Photo by Todd Spink courtesy U.S. Energy Dept.)
At the presentation ceremony the crown prince credited his father with early awareness "of the importance of reaching a balance between preserving the environment and maintaining economic growth."
"It is his vision that has forged a unique path for the UAE, and has served as a beacon for us to follow as we begin to harness new sources of power and ensure we preserve the local heritage and natural resources," said Mohammed bin Zayed Al Nahyan. "In commemoration of this humanitarian approach, the award was established to recognize and motivate creative minds and innovators in the field of renewable energy, with the ultimate purpose of maintaining a healthy and clean environment for future generations."
The prize is awarded annually to individuals, companies or organizations that have made significant contributions in the global response to the future of energy, climate change and sustainable global energy resources.
Announcing the 2011 winners, Dr. Sultan Ahmed Al Jaber, director general of the Zayed Future Energy Prize, said, "Vestas is a worthy winner, having pioneered large-scale innovation in wind power and for its positive impact on the energy needs of humanity. Sustainability is one of the greatest challenges of our time and I am proud that the Zayed Future Energy Prize continues to reward those that help advance us on this important journey."
Dr. R.K. Pachauri, chairman of the jury and chairman of the Intergovernmental Panel on Climate Change, said, "Vestas clearly stood out for a number of reasons, and most importantly, for dynamically changing wind-energy technology, something that requires imagination, vision and dedication. Innovation doesn't come about through a flash in the pan, it is something that requires enormous perseverance, clarity of purpose, efforts and resources."
Amory Lovins, chairman and chief scientist of the Rocky Mountain Institute was awarded a runner-up prize of US$350,000 for his work on an "integrative design" methodology for energy efficient buildings, vehicles and factories. Lovins describes his designs as a powerful and globally applicable new tool for shifting rapidly from oil and coal to efficiency and renewables.
E+Co, a clean-energy investment company, was also awarded a runner-up prize of US$350,000 and congratulated for its pioneering investments in the developing world. It supports and invests in small and growing clean-energy enterprises in developing countries to impact climate change and energy poverty.
Vestas immediately announced that it would split its $1.5 million prize in two and give both portions away.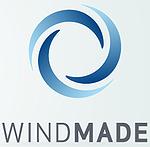 This logo will identify products made using wind power. (Image courtesy WindMade)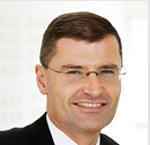 Vestas CEO Ditlev Engel (Photo courtesy WFES)
The first US$750,000 will be donated to a new nongovernmental organization named WindMade that has seven partners: The UN Global Compact, The World Wildlife Fund, the Global Wind Energy Council, Bloomberg, PriceWaterhouseCoopers and LEGO.
WindMade today announced its support for development of the first global consumer label identifying corporations that use wind energy and also products made with wind energy.
"We want to build a bridge between consumers and companies committed to clean energy, and give consumers the option to choose more sustainable products. We hope that this will create a strong element of consumer pull which will accelerate the pace of wind energy development globally," said Ditlev Engel, chief executive and president for Vestas Wind Systems who pioneered the WindMade initiative. "We strongly encourage forward-looking companies to join us in this effort."
To use the WindMade label for their communications or products, WindMade members will undergo a certification process to verify their wind energy procurement. The standard for certification is currently being developed by a technical expert group. The aim will be to drive the development of new wind power plants, over and above what would be developed anyway.
The second $750,000 will be split between the three other finalists for the 2011 Zayed Future Energy Prize:
Bunker Roy, director of Barefoot College, the only fully solar electrified college in India, for training woman in rural areas to contribute to solar energy development. The college believes the very poor have every right to have access to, control, and manage and own the most sophisticated technologies to improve their own lives.
Jons Van der Hyden, vice president of business development EMEA, First Solar, a solar modules manufacturer based in Arizona, for its commitment to solar energy and the development of more efficient thin film solar modules. First Solar has developed an innovative photovoltaic technology focused on affordability as well as sustainability and is the preferred module supplier for major photovoltaic projects globally.
Terry Tamminen, founder and chief executive of 7th Generation Advisors, for his work in developing renewable energy solutions in California. For more than 20 years, Tamminen has developed, implemented and replicated effective renewable and sustainable energy solutions by using California as a proof-of-concept model, then scaling up to larger markets within the United States and internationally.
The 2011 Zayed Future Energy Prize winner and the runner-up awards were chosen from a total of 391 submissions from 69 countries.
Awarding of the prize coincides with the World Future Energy Summit 2011 – the world's largest conference and exhibition on renewable and future energy solutions, innovations, investments, policy and vision, hosted by the company Masdar at the Abu Dhabi National Exhibition Centre.
Masdar is Abu Dhabi's multi-faceted initiative advancing the development, commercialization and deployment of renewable and alternative energy technologies and solutions.
Copyright Environment News Service (ENS) 2011. All rights reserved.
Environment News Service (ENS) © 2011 – 2012 All Rights Reserved.