USA and BP Both Fortify Deepwater Drilling Safety Rules
WASHINGTON, DC, September 30, 2010 (ENS) – Both BP and the Obama administration aim to strengthen the safety of deepwater oil drilling operations with sweeping operational and regulatory changes announced over the past 24 hours.
BP is creating a new safety division with sweeping powers to oversee and audit the company's oil and gas operations around the world. The Safety and Operational Risk function will have authority to intervene in all aspects of BP's technical activities.
The company said the decision to establish the new safety function follows the Deepwater Horizon oil spill in the Gulf of Mexico and BP's investigation into the disaster. The April 20 explosion killed 11 men, injured 17 others and set off the largest oil spill in history. At least 4.1 million barrels of oil gushed into gulf waters over 87 days.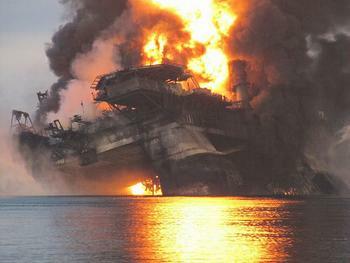 BP's Deepwater Horizon oil rig sinks into the Gulf of Mexico after burning for 36 hours. April 22, 2010 (Photo courtesy U.S. Coast Guard)
BP's new safety division is one of a number of major changes announced by Bob Dudley as he replaces Tony Hayward as BP chief exective on October 1.
Dudley said, "These are the first and most urgent steps in a program I am putting in place to rebuild trust in BP – the trust of our customers, of governments, of our employees and of the world at large. That trust is vital to the restoration of shareholder value which has been so adversely affected by recent events."
"The changes are in areas where I believe we most clearly need to act, with safety and risk management our most urgent priority."
Designed to strengthen safety and risk management across the BP group, the new division will have its own expert staff embedded in BP's operating units, including exploration projects and refineries. It will be responsible for ensuring that all operations are carried out to common standards, and for auditing compliance with those standards.
Dudley said that BP will carry out a detailed and wide-ranging review of how it manages third-party contractors.
It will also conduct a fundamental review of how the BP Group incentivizes business performance, including reward strategy, with the aim of encouraging excellence in safety and risk management.
In a message to BP staff worldwide, Dudley said, "This is a deeply challenging time for BP. The Macondo incident was a tragedy that claimed the lives of 11 people, caused injury to many others and had a widespread environmental impact."
"Our response to the incident needs to go beyond deepwater drilling," Dudley said. "There are lessons for us relating to the way we operate, the way we organize our company and the way we manage risk."
BP's costs for responding to the incident and paying claims has topped $9.5 billion and there are about 400 lawsuits pending.
Today in Washington, the Department of the Interior announced two new rules that are intended to help improve drilling safety.
One strengthens requirements for safety equipment, well control systems, and blowout prevention practices on offshore oil and gas operations, while the other aims to improve workplace safety by reducing the risk of human error.
The Drilling Safety Rule is being issued under an emergency rule-making process. Officials say the agency will soon move forward with a standard rulemaking process that includes greater opportunity for public comment.
"These new rules and the aggressive reform agenda we have undertaken are raising the bar for the oil and gas industry's safety and environmental practices on the Outer Continental Shelf," said Secretary of the Interior Ken Salazar, who announced the rules today in a speech at the Woodrow Wilson International Center.
"Under these new rules, operators will need to comply with tougher requirements for everything from well design and cementing practices to blowout preventers and employee training. They will also need to develop comprehensive plans to manage risks and hazards at every step of the drilling process, so as to reduce the risk of human error."
The Drilling Safety Rule and the Workplace Safety Rule join other reforms that the Department of the Interior has undertaken in the five months since the Deepwater Horizon oil spill that touch every stage of the offshore planning, review, permitting, drilling, and development processes.
"These two rules are part of a broader series of reforms we are undertaking to reduce the risks of offshore energy operations," said Michael Bromwich, director of Interior's Bureau of Ocean Energy Management, Regulation and Enforcement.
"We are substantially raising the standards for all offshore operators, and are doing it in an orderly and responsible way," Bromwich said. "We will continue to move forward with other changes and reforms in what will remain a dynamic regulatory environment. We owe the public nothing less."
The American Petroleum Institute, representing more than 400 oil and gas companies, said the new rule should establish an effective process to improve safety performance while providing the framework needed for companies to get approval from the government for exploration and development projects.
API upstream director Erik Milito said, "Getting a good offshore safety rule in place is critical to the nation's energy future. The Gulf and other parts of the nation's offshore areas are vitally important to helping meet the nation's future energy needs. The rule will affect every offshore energy project for years to come. It has to be right."
"We also still have the issue of the Gulf deepwater moratorium," Milito said. "Every day the moratorium remains exacts an economic penalty on the people of the Gulf and on our nation. The costs are already too high. We continue to urge the government to end it as soon as possible."
Copyright Environment News Service (ENS) 2010. All rights reserved.