Unmoved by Heating Planet, Climate Talks in China Stumble
TIANJIN, China, Ocober 8, 2010 (ENS) – United Nations talks on climate change in the Chinese port city of Tianjin are nearing a close with no clear consensus yet in sight. The meeting is aimed at laying the groundwork for progress at the UN's annual climate change summit that opens in Cancun, Mexico on November 29.
Chinese and Brazilian officials have balked at discussing the legal framework for a further set of emissions reductions under the Kyoto Protocol after the first commitment period expires at the end of 2012.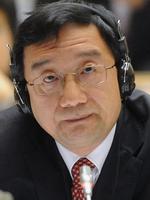 Huang Huikang listens to discussions in Tianjin. (Photo courtesy ENB)
Huang Huikang, China's special representative for climate change negotiations at the Ministry of Foreign Affairs, said today, "Our intervention is not to block discussions of the Kyoto Protocol group, we just want to keep the group's discussion the right way. The key issue is the lack of substantive progress on the developed countries' side."
As Huang said in August, he believes that, "The core of the ongoing UN climate talks is that developed countries should take on their historical, legal and moral responsibilities for climate change."
Some 3,000 participants from more than 170 countries are in Tianjin for a week-long negotiating session that winds up on Saturday. They are working to limit global warming in a year that is so far one of the hottest on record, with fires and drought in Russia, floods in Pakistan and China, and Greenland shedding a 100-square mile chunk of ice.
Many of the negotiators consider reaching a global climate change accord essential before the current Kyoto Protocol commitment period expires in 2012.
The protocol commits 36 developed nations to reduce greenhouse gas emissions 5.2 percent below 1990 levels by then. But the world's two largest emitters, China and the United States, are not parties to the protocol, which took effect in 2005 as part of the UN Framework Convention on Climate Change, UNFCCC.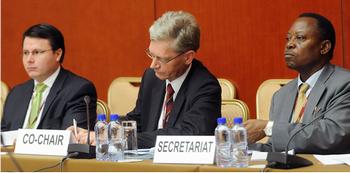 Legal matters contact group in Tianjin, from left: Co-Chairs Daniel Ortega, Ecuador, and Gerhard Loibl, Austria, and Dan Bondi Ogolla of the UNFCCC Secretariat (Photo courtesy Earth Negotiations Bulletin)
One major sticking point at Tianjin is whether or not to continue the Kyoto Protocol. China and Brazil are in favor of continuing the Kyoto Protocol, yet they are blocking continuing discussion of legal matters related to the protocol.
At last year's climate summit in Copenhagen, the international community failed to reach an agreement that included legally binding emissions reductions beyond 2012. The Copenhagen Accord, a loose, voluntary agreement outside the Kyoto Protocol structure, was the outcome.
Another of the major sticking points at the Tianjin meeting and meetings earlier this year is whether or not there should even be binding targets to reduce emissions.
Beijing refuses to commit to targets because it says it is still a developing nation, and the United States still does not have greenhouse gas reduction legislation.
The European Union, most of whose member states are bound by the Kyoto Protocol, said a Cancun outcome could include inscription of reduction commitments, confirmation of the continuation of the Kyoto Protocol architecture and a work plan to move forward. He emphasized the importance of sending a strong signal on the continuity of the Kyoto Protocol institutions and mechanisms to the world.
The Obama administration will stand by a pledge to cut greenhouse gases but does not plan to provide details about how the goal will be met for climate talks in Mexico this year, U.S. climate negotiator Todd Stern has said.
At the Cancun negotiations, the U.S. will reaffirm its plan to reduce emissions tied to global warming about 17 percent by 2020, Stern told reporters after a September Major Economies Forum, a meeting of the world's largest greenhouse gas emitters.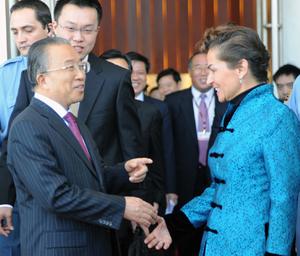 Chinese State Councilor Dai Bingguo greets UNFCCC Executive Secretary Christina Figueres in Tianjin. (Photo courtesy ENB)
Exactly how that will be accomplished has not yet been determined, Stern acknowledged.
In Tianjin, Chinese State Councilor Dai Bingguo told the conference that one of his country's top priorities is economic development.
China's ability to control greenhouse gas emissions faces great pressure, Dai said, adding that the speed of industrialization and urbanization in the country is still quickening, which means China's energy demand also will increase.
But the effects of climate change are also affecting China's economy. Today, a grim report on the shrinking of China's glaciers due to climate change was released at the Tianjin meeting.
The report, "Climate Changes and Poverty – Case Study in China" by the Institute of Environment and Social and Sustainable Development in Agriculture and the Chinese Academy of Agricultural Sciences warned that the average area of glaciers in western China might shrink by about 30 percent by 2050 because of global warming, damaging crop production and worsening droughts.
Forecasts of glacier recession patterns, summer temperatures and precipitation showed the average glacier area in western China might be reduced by 27.2 percent by 2050, said the report.
Glacier shrinkage would threaten China's agriculture sector, the report warns. Overall crop production capacity would drop by five to 10 percent by 2030 due to global warming, especially in wheat, rice and corn, and the impact would worsen after 2050, the report forecast.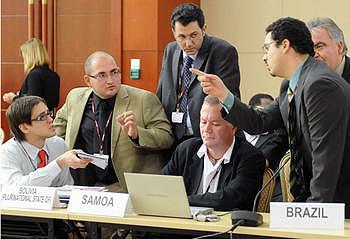 Members of the G-77/China Group consult about adapting to climate change. (Photo courtesy ENB)
Sun Cuihua, an official with the National Development and Reform Commission told delegates in Tianjin today that the Chinese government has attached importance to tackling the problems caused by climate change and has taken effective measures to reduce the negative impacts.
"Science tells us that global emissions must peak in the next five years if we are to have any hope of avoiding catastrophic social, economic and ecological impacts," said Matt Vespa, an attorney with the Center for Biological Diversity who is in Tianjin for the talks.
"Yet several key nations, including the United States, remain committed to doing far less than is necessary to avoid this crisis," said Vespa. "As China's lead negotiator said earlier this week, the rest of the world can't wait for the United States to act."
"Not Just a Number," a new report issued this week by the Center and 350.org, warns that the greenhouse gas reduction pledges made by the United States and other countries in Copenhagen last year fall far short of what is needed to avert the worst consequences of climate change.
Most climate scientsts agree the limiting climate change to two degrees Celsius would ensure human safety, but this report says limiting temperature increases even further – to 1.5 degrees Celsius – is essential for safety.
To accomplish this goal, global emissions must reach their peak in the next one to five years, say the Center and 350.org, adding, "If the emissions peak is delayed to 2020, there will be no realistic chance of reaching this goal, and the world will be effectively committed to severe and irreversible climate impacts."
"Even viewed in the most optimistic light, climate pledges made in Copenhagen would still lead to CO2 concentrations of 650 ppm, or roughly a 3.2 degree Celsius increase in temperature," the two groups say. "A temperature increase of this magnitude would result in widespread catastrophic impacts that far exceed what can rationally be considered safe."
In Tianjin, negotiators from many governments emphasized the need for new, additional, adequate and predictable finance, as well as assessed contributions from public sources of funding.
Other negotiators warned against proposing "simplistic percentage figures" and said they are looking forward to the outcome of the UN Secretary-General's High-Level Advisory Group on Climate Change Financing.
The final meeting of the UN Secretary-General's High-level Advisory Group on Climate Change Financing will take place in Addis Ababa, Ethiopia on October 12. The Advisory Group's final report is expected by October 29 and will be presented to world leaders in Cancun.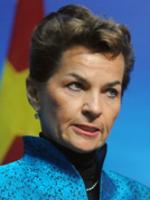 UNFCCC Executive Secretary Christina Figueres addresses delegates at Tianjin. (Photo courtesy ENB)
The UN's top climate negotiator Christina Figueres of Costa Rica said, "The agreements that can be reached in Cancun may not be exhaustive in their details, but as a balanced package they must be comprehensive in their scope and they can deliver strong results in the short term as well as set the stage for long term commitments to address climate change in an effective and fair manner."
Figueres acknowledges there are areas of political disagreement, mainly over how and when to agree on a fair share of responsibilities for present and future action on climate change, but said they are not insurmountable.
"Governments seem ready to discuss difficult issues. Now they must bridge differences in order to reach a tangible outcome in Cancun," said Figueres, who took over as UNFCCC executive secretary in July.
Governments can formalize the many pledges and promises they have made to cut and limit emissions, along with providing clarity on the continuation of the Kyoto Protocol, she said.
In Mexico City on Wednesday, business leaders from around the world pledged to slash their carbon emissions in areas ranging from energy, communications and construction. They urged governments to advance negotiations to ensure an ambitious outcome at Cancun summit.
In a declaration issued at the conclusion of the Business for the Environment, B4E, meeting, the executives underlined the need for a level playing field worldwide to foster green entrepreneurship.
Energy companies at the gathering agreed to work towards reaching 100 percent renewable energy production by 2050, while information and communication technology companies committed to curbing nearly eight gigatonnes of carbon emissions, and representatives from the building sector pledged to limit emissions by 40 percent in new buildings by 2020.
UN Environment Programme Executive Director Achim Steiner said, "Many businesses, including those at the B4E Summit, are signalling leadership and seizing the opportunities of the climate change challenge. Why? Because many see rising risks to profits from the impacts of rising greenhouse gases but also an opportunity to become far more resource efficient and innovative enterprises."
Steiner said governments at the Cancun meeting and beyond have a responsibility to support these goals.
Business leaders in Mexico City agreed that the creation of strong global policy and national legal frameworks are required to avert a major climate crisis with economic, political, health, environment, safety and other implications.
"While governments hold the key to setting the right signals and incentives, it is business that provides the solutions we need," said Georg Kell, executive director of the UN Global Compact, an initiative that fosters socially responsible business practices.
"Now is the time to support the many efforts that already exist to ensure that low-carbon innovation is shared widely and to mobilize those still sitting on the fence," Kell stressed. "We cannot afford to wait any longer."
Copyright Environment News Service (ENS) 2010. All rights reserved.
Environment News Service (ENS) © 2010 – 2012 All Rights Reserved.