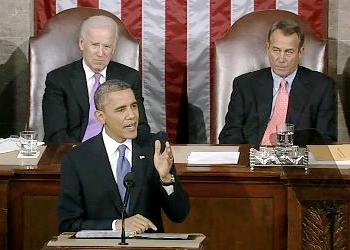 WASHINGTON, DC, February 12, 2013 (ENS) – In a State of the Union Address focused on rebuilding the U.S. economy, President Barack Obama tonight pledged to fight climate change "while driving strong economic growth."
"For the sake of our children and our future, we must do more to combat climate change," Obama told a joint session of Congress, with his Cabinet, the Supreme Court justices and the Joint Chiefs of Staff also present.
The President urged this Congress to "pursue a bipartisan, market-based solution to climate change."
"But if Congress won't act soon to protect future generations, I will," Obama declared. "I will direct my Cabinet to come up with executive actions we can take, now and in the future, to reduce pollution, prepare our communities for the consequences of climate change, and speed the transition to more sustainable sources of energy."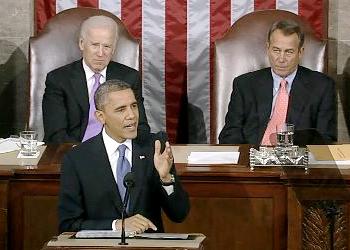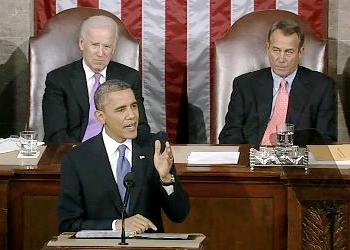 In addition to taking executive action to curb climate change, Obama proposed using the revenues from U.S. oil and gas production to fund an Energy Security Trust that will "drive new research and technology to shift our cars and trucks off oil for good."
After Obama's first four years in office, the U.S. energy business is in good shape. "We are finally poised to control our own energy future," the President said. "We produce more oil at home than we have in 15 years."
"We have doubled the distance our cars will go on a gallon of gas, and the amount of renewable energy we generate from sources like wind and solar – with tens of thousands of good, American jobs to show for it," he said.
"We produce more natural gas than ever before – and nearly everyone's energy bill is lower because of it," he said.
"And," said the President, "over the last four years, our emissions of the dangerous carbon pollution that threatens our planet have actually fallen."
"But the fact is," he said, "the 12 hottest years on record have all come in the last 15. Heat waves, droughts, wildfires, and floods – all are now more frequent and intense."
"We can choose to believe that Superstorm Sandy, and the most severe drought in decades, and the worst wildfires some states have ever seen were all just a freak coincidence. Or we can choose to believe in the overwhelming judgment of science – and act before it's too late," Obama said.
In his first term, President Obama worked to energize America's clean energy industry, and tonight he reported that progress has been made.
"Four years ago, other countries dominated the clean energy market and the jobs that came with it. We've begun to change that," he said.
"Last year, wind energy added nearly half of all new power capacity in America. So let's generate even more. Solar energy gets cheaper by the year – so let's drive costs down even further. As long as countries like China keep going all-in on clean energy, so must we," said Obama.
He also recognized the power of America's booming natural gas industry, saying, "The natural gas boom has led to cleaner power and greater energy independence. That's why my administration will keep cutting red tape and speeding up new oil and gas permits."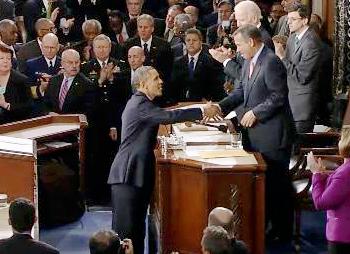 "But I also want to work with this Congress to encourage the research and technology that helps natural gas burn even cleaner and protects our air and water," he said.
"Now is the time to reach a level of research and development not seen since the height of the Space Race. And today, no area holds more promise than our investments in American energy," Obama said.
Much of America's new-found energy is drawn from public lands and waters. So tonight, Obama proposed to use some of these oil and gas revenues "to fund an Energy Security Trust that will drive new research and technology to shift our cars and trucks off oil for good."
The environmental community is pleased with the President's position on climate change and clean energy.
The nonprofit Environmental Defense Fund is launching a multi-state TV ad campaign to support Obama's proposals to fight climate change.
"The President knows carbon pollution is leading to costly storms, more asthma, and dangerous changes to our climate," said EDF climate communications director Keith Gaby. "Right now there are no limits on this kind of pollution from some of its largest sources, and we are very encouraged that the President recognizes the need to take action."
"We strongly support the President's goal of reducing carbon pollution. This ad campaign is intended to show the American public what's at stake," said Gaby.
The TV ad campaign will run for the next two weeks in Washington, DC, North Carolina, Virginia, New Hampshire, Colorado, Ohio, Maine, and Iowa. Spanish language versions will run on Univision.
Michael Brune, Sierra Club Executive Director, said his nonprofit group will push the President to act on the words he said tonight.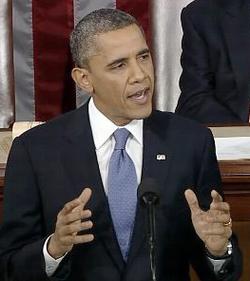 "President Obama has the authority to create a robust clean energy economy and lead the world on climate solutions. He also has the executive power to reject the dirty Keystone XL pipeline, stop natural gas exports, reject trade agreements that put our air and water at risk, put an end to destructive Arctic drilling, and hold polluters accountable for their pollution," said Brune. "He has our full support to wield that power, and we will push him every step of the way to ensure a safer future for Americans."
Eileen Claussen, president of the nonprofit Center for Climate and Energy Solutions, was "encouraged" by Obama's proposals.
"Like the president, we continue to believe that market-based approaches that put a price on carbon are the most cost-effective means of reducing emissions," Claussen said. "So as he and Congress seek long-term solutions to the nation's fiscal challenges, we strongly encourage them to consider either a cap-and-trade system or a revenue-neutral carbon tax."
Rhone Resch, president and CEO of the Solar Energy Industries Association, also said he was "encouraged" by the President's support for clean energy industries.
"We are especially encouraged by the president's commitment to securing America's place as a leader in clean energy innovation throughout the world," said Resch. "President Obama understands that the stakes are high and we must not fall behind other nations as the world shifts to emissions-free clean energy technologies like solar."
The National Farmers Union, too, was "encouraged" by Obama's speech. NFU President Roger Johnson said, "As the President stated, we have purchased less foreign oil than we have in 20 years. Farmers and ranchers are leading the way in the clean energy revolution, providing feedstocks to advanced biorefineries and harnessing the wind and sun to power the country as well as their own operations."
"The President's call for Congress to pass a market-based solution to climate change is also very encouraging," Johnson said. "Extreme weather events like the current drought are hurting America's farmers and ranchers ability to provide the nation with food, feed, fiber, and fuel. Given the right incentives, agriculture can play a significant role in combating climate change by being a part of the solution."
Bruce Ratain, state policy associate for Environment Illinois, said, "We applaud the President's focus: we must cut carbon pollution that's fueling global warming, rein in our energy use by making our homes and businesses more efficient, and ramp up our production of truly clean, renewable energy sources like wind and solar power."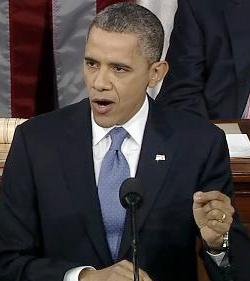 "Americans have been asking for leadership on global warming," said Ratain. "Clean energy solutions, like cutting our energy waste in half and expanding renewable energy, as the president outlined, are critical pieces of the puzzle. We are also counting on the president to clean up carbon pollution from power plants, which will help the United States fulfill its obligation to future generations."
Larry Schweiger, president and CEO of the National Wildlife Federation, said, "President Obama made it clear tonight that we need to confront the climate crisis – but that he hasn't given up on reaching across party lines to forge a bipartisan solution. The climate-fueled extreme weather that's battered America from Cape May to Waldo Canyon has destroyed Democratic and Republican homes and businesses with equal malice."
"Now is the time to harness America's spirit of ingenuity and leadership to confront this climate crisis and sustain our nation's conservation legacy for future generations," said Schweiger. "We look forward to working with Congress and the White House to get it accomplished."
The Coalition on the Environment and Jewish Life praised the President for proposing the Energy Security Trust and prioritizing America's response to the threat of global climate change
COEJL Co-Chair Rabbi Steve Gutow said, " The President has highlighted his understanding of the moral urgency of reducing our contribution to the climate crisis. We hope to see regulations that enable us to achieve our national goal of a 17 percent reduction in greenhouse gas emissions from 2005 levels by 2020."
The American Petroleum Institute, voice of the oil and gas industry, was also positive on President Obama's goals. Marty Durbin, API's executive vice president, told reporters this afternoon, " Our industry is part of an energy revolution that has become an enormous asset to our nation's recovery and economic future."
" And we can do much more," said Durbin. "We can be a major driver of a better energy future – an 'all-of-the-above' energy future that can help lead the nation's economy forward, achieving the goals of robust growth and full employment that the President has identified."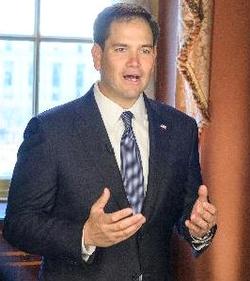 In delivering the Republican response to the State of the Union Address, Florida Senator Marco Rubio said nothing about climate change.
Rubio said this about energy. "One of the best ways to encourage growth is through our energy industry. Of course solar and wind energy should be a part of our energy portfolio. But God also blessed America with abundant coal, oil and natural gas. Instead of wasting more taxpayer money on so-called 'clean energy' companies like Solyndra, let's open up more federal lands for safe and responsible exploration."
A manufacturer of cylindrical panels of copper indium gallium selenide thin-film solar cells based in Fremont, California, Solyndra generated much interest in its unusual technology before falling silicon prices led to its inability to compete with conventional solar panels. In September 2011 the company stopped doing business, filed for bankruptcy, and laid off all employees. Solyndra received a $535 million U.S. Energy Department loan guarantee before going bankrupt.
However, despite this failure, under its economic stimulus legislation, the Obama Administration has supported many successful clean energy companies.
Finally, tonight the President issued a new goal for America. "Let's cut in half the energy wasted by our homes and businesses over the next 20 years," he said. "The states with the best ideas to create jobs and lower energy bills by constructing more efficient buildings will receive federal support to help make it happen."
Alliance to Save Energy President Kateri Callahan says Obama's new goal for America embraces her group's proposal.
"When the President issued a goal to cut energy waste in half, he advanced the Alliance's Energy 2030 plan, unveiled Thursday in Washington," Callahan said. "Twenty national energy experts spent a year developing a plan to double U.S. energy productivity, and it took the White House just days to publicly embrace it. We are especially heartened to hear the President announce the new energy efficiency 'Race to the Top' challenge for states – a key recommendation of our bipartisan Energy 2030 plan."
Copyright Environment News Service (ENS) 2013. All rights reserved.
© 2013, News Editor. All rights reserved.