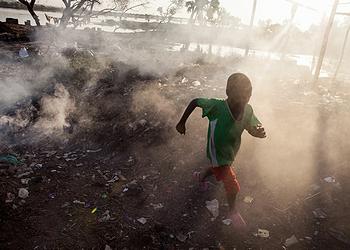 NEW YORK, New York, October 31, 2016 (ENS) – One in every seven children, 300 million, endure the world's most toxic levels of outdoor air pollution – six or more times higher than international guidelines – and many die as a result, finds a new report from UNICEF, the United Nations Children's Fund.
Dirty air sickens and kills people of all ages. The World Health Organization, WHO, says air pollution kills about seven million people a year, nearly 12 percent of all deaths worldwide. The culprits are the same pollutants that are warming the climate, and WHO has launched a new campaign to clear the air.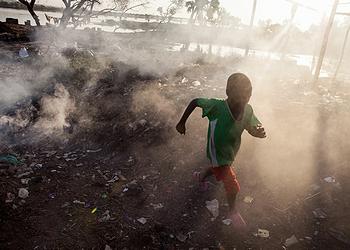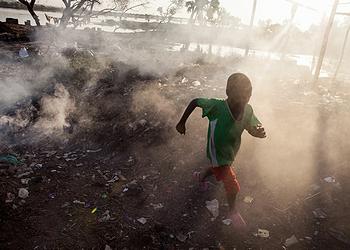 The UNICEF report, "Clear the Air for Children" uses satellite imagery to show for the first time how many children are exposed to outdoor pollution that exceeds global guidelines set by the World Health Organization and where they live.
"Air pollution is a major contributing factor in the deaths of around 600,000 children under five every year – and it threatens the lives and futures of millions more every day," said UNICEF Executive Director Anthony Lake.
"Pollutants don't only harm children's developing lungs – they can actually cross the blood-brain barrier and permanently damage their developing brains – and, thus, their futures," warned Lake. "No society can afford to ignore air pollution."
The satellite imagery confirms that roughly two billion children live in areas where outdoor air pollution, from vehicle emissions, heavy use of fossil fuels, dust and burning of waste, exceeds WHO's minimum air quality guidelines.
South Asia has the largest number of children living in these areas, 620 million, with Africa next at 520 million children.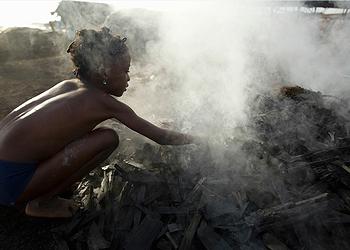 The East Asia and Pacific region has 450 million children living in areas that exceed WHO's guideline limits.
The study also examines the heavy toll of indoor pollution, caused by burning fuels like coal and wood for cooking and heating, which mostly affects children in low-income, rural areas.
Together, outdoor and indoor air pollution are directly linked to pneumonia and other respiratory diseases that account for almost one in 10 deaths of children under five, making air pollution one of the leading dangers to children's health.
Children are more susceptible than adults to both indoor and outdoor air pollution as their lungs, brains and immune systems are still developing and their respiratory tracks are more permeable, says UNICEF. Young children also breathe faster than adults, and take in more air relative to their body weight.
The most disadvantaged, who already tend to have poorer health and inadequate access to health services, are the most vulnerable to the illnesses caused by polluted air.
The findings come a week ahead of the UN's annual climate conference, held this year in Marrakesh, Morocco, where UNICEF is urging world leaders to cut air pollution in their countries by taking four steps:
* – Reduce pollution by cutting back on fossil fuel combustion and investing in energy efficiency and renewable energy.
* – Increase children's access to healthcare to improve their resilience to air pollution and their ability to recover from diseases and conditions linked to it.
* – Minimize children's exposure to polluted air. Sources of pollution such as factories should not be located within the vicinity of schools and playgrounds. Better waste management can reduce the amount of waste that is burned within communities. Cleaner cookstoves can help improve air quality within homes.
* – Monitor air pollution better to help children, youth, families and communities reduce their exposure to air pollution, become more informed about its causes, and advocate for changes that make the air safer to breathe.
"We protect our children when we protect the quality of our air. Both are central to our future," Lake declared.
Young people are not alone in suffering the effects of air pollution.
The World Health Organization says polluted air is responsible for 35 percent of all deaths due to lung disease, 27 percent of deaths from heart disease, 34 percent of deaths from stroke, and 36 percent of deaths from lung cancer, reports WHO.
In partnership with the Coalition for Climate and Clean Air and the Government of Norway, WHO has launched a global awareness campaign on the dangers of air pollution, both for the health of people and the planet.
Titled "BreatheLife: Clean air. A healthy future," the campaign was opened October 20 at the Habitat III conference in Quito, Ecuador.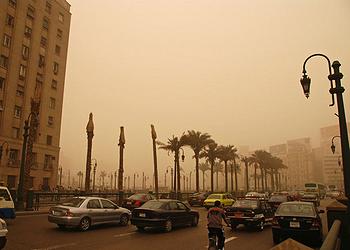 It targets all air pollution, but especially invisible killers in cities such as black carbon, ground-level ozone and methane.
Tone Skogen, state secretary, Ministry of Foreign Affairs, Norway, said the campaign is important for everyone as there is no reason for more than six million people to die from air pollution each year.
"The world's cities are the worst affected and this is where we need find solutions. The technology to solve the problem is known and action will have immediate effect," Skogen said. "By addressing air pollution, we not only reduce these deaths, but we improve people's health and we address climate change. This is a win win situation, we need to pool our efforts and really get to work."
The BreatheLife campaign seeks to halve the number of deaths from air pollution by 2030, the target year for the achievement of the UN Sustainable Development Goals, adopted by the UN General Assembly in September 2015.
Erik Solheim, the UN Environment Programme's executive director, said the world should look at past environmental successes, like the elimination of acid rain, to understand that today's reality does not need to be, and should not be, the reality for future generations.
"Air pollution is one of the fastest growing issues on the global health agenda. We have been successful at defeating and eradicating transmittable diseases and now we have need to deal with one of the biggest killers, air pollution," Solheim said.
"We need to clamp down on short-lived climate pollutants like black carbon and methane. We need to regulate traffic and build mass transit systems, we need to move to electric vehicles and fight dust storms, and we need to move from coal to renewables," said Solheim. "This is not rocket science, these solutions are available now."
Marcelo Mena, Chile's vice minister for environment and co-chair of the Climate and Clean Air Coalition, said it is important for cities to monitor their air pollution and to take fast practical action to improve air quality.
"In Chile we have many cities with bad air quality but our government has come up with concrete plans to decontaminate 14 cities. We are putting in place structural measures to reduce emissions like improving transport and reducing black carbon from burning coal and wood," Mena said.
"We need to bring together air pollution control and climate mitigation," he said, "because at the end of the day we are dealing with the health of people, of children. We need green growth."
Copyright Environment News Service (ENS) 2016. All rights reserved.