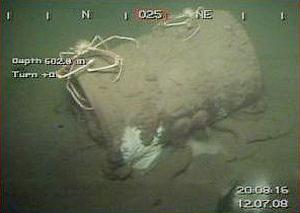 COLLEGE STATION, Texas, October 3, 2012 (ENS) – Millions of pounds of unexploded bombs dumped decades ago off the coasts of 16 states, from New Jersey to Hawaii, could now pose threats to shipping lanes and the 4,000 oil and gas rigs in the Gulf of Mexico, oceanographers warn.
Texas A&M University oceanography professors William Bryant and Neil Slowey say military dumping of unused bombs into the Gulf and other sites started in 1946 and continued until 1970, when it was banned. Bombs used by the military during this period ranged up to 1,000 pounds.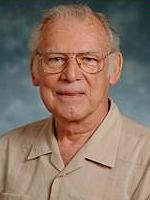 Bryant says the existence of the discarded bombs is not a secret. "This subject has been very well documented through the years," he said. "My first thought when I saw the news reports of the Deepwater Horizon explosion in the Gulf two years ago were, 'Oh my gosh, I wonder if some of the bombs down there are to blame.'"
The explosion was BP's Macondo well blowout, not a munitions blowup, but the oceanographers say no one, not even the military, knows how many millions of pounds of munitions were dumped on the ocean floor or exactly where they are.
"The best guess is that at least 31 million pounds of bombs were dumped, but that could be a very conservative estimate," said Bryant. "And these were all kinds of bombs, from land mines to the standard military bombs, also several types of chemical weapons. Our military also dumped bombs offshore that they got from Nazi Germany right after World War II. No one seems to know where all of them are and what condition they are in today."
With the ship traffic supporting the 4,000 oil and gas rigs, as well as commercial fishing, cruise lines and other marine activities, the Gulf is a busy place. An estimated 30,000 workers are on the rigs at any given time.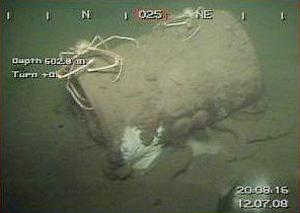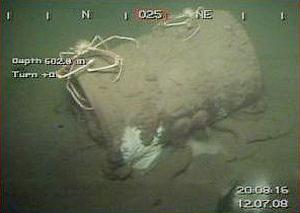 "Is there an environmental risk? We don't know, and that in itself is reason to worry," warns Bryant. "We just don't know much at all about these bombs, and it's been 40 to 60 years that they've been down there."
Photos show that some of the chemical weapons canisters, such as those that contain mustard gas, appear to be damaged and leaking.
Bryant and Slowey have documented and photographed some of the bombs while conducting research projects in the Gulf, finding some dump sites in areas cleared for oil and gas platform installation.
"Ten are about 60 miles out and others are about 100 miles out," said Bryant. "The next closest dump site to Texas is in Louisiana, not far from where the Mississippi River Delta area is in the Gulf. Some shrimpers have recovered bombs and drums of mustard gas in their fishing nets."
"Record keeping of these dump sites seems to be sketchy and incomplete at best. Even the military people don't know where all of them are, and if they don't know, that means no one really knows," Bryant says.
He believes that some munitions were "short dumped," meaning they were discarded outside designated dumping areas.
"The bottom line is that these bombs are a threat today and no one knows how to deal with the situation," Bryant says. "If chemical agents are leaking from some of them, that's a real problem. If many of them are still capable of exploding, that's another big problem. There is a real need to research the locations of these bombs and to determine if any are leaking materials that could be harmful to marine life and humans."
Dr. Bryant presented this information in San Juan, Puerto Rico Monday to oceanographers and marine scientists at a conference held by a nongovernmental organization, the International Dialogue on Underwater Munitions.
IDUM works to create an internationally binding treaty on all classes of underwater munitions – biological, chemical, conventional, and radiological. The treaty would encourage countries to collaborate on underwater munitions policy, research, science, and responses, including environmentally friendly remediation.
To detect and disarm unexploded ordnance in waters off Hawaii's main island of Oahu, since 2011 the U.S. Army has been testing a remotely operated underwater munitions recovery system and a complementary system that cuts up the recovered munitions and incinerates them.
"When we are done with the process all we have is the steel which we recycle locally," said Spencer Nelsen, of Applied Research Associates, which conducted the incineration. "The residue we'll have is a fine pizza-like ash which is absolutely non-hazardous and non-toxic. It is a very clean process."
Hershell "Hew" Wolfe, deputy assistant secretary of the Army for the environment, said after a test of the equipment in July 2011, "This demonstration is an exciting part of a larger effort of the DoD as it seeks to develop a better understanding of sea-disposed munitions in an ocean environment."
The subject of the disposal of munitions at sea has been discussed at several offshore technology conferences in recent years, and it was a topic at an international conference several years ago in Poland, says Bryant, who has been with the Texas A&M Oceanography Department for 45 years.
In 2008, former students and associates of Professor Bryant contributed a total of $1 million dollars to establish an endowed chair in his name in the Texas A&M Department of Oceanography within the College of Geosciences.