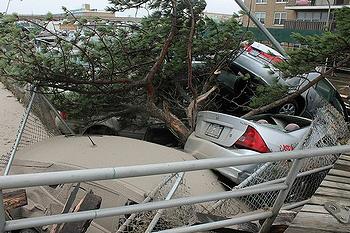 STANFORD, California, November 13, 2012 (ENS) –  "The devastation wrought by Hurricane Sandy in the United States and the Caribbean in recent weeks reminds us how destructive extreme and volatile weather can be. The costs of inaction are increasingly clear to all, as extreme weather inflicts loss of life and livelihoods and the destruction of property and infrastructure on communities around the world," said Helen Clark, administrator of the UN Development Program. "Yet, out of every problem comes an opportunity."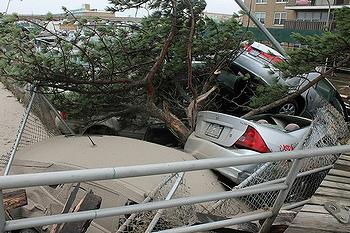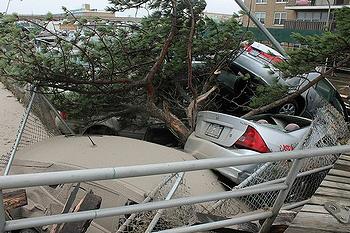 Speaking Thursday at Stanford University, Clark used the destructive effects of the superstorm to set the stage for the UN's annual climate negotiations taking place in Doha, Qatar from November 26 through December 7.
At this meeting of governments that are Parties to the UN Framework Convention on Climate Change, UNFCCC, Clark says it is crucial for negotiators to extend the Kyoto Protocol to limit the emission of greenhouse gases responsible for global climate change.
At the UNFCCC talks in Durban last year, member states agreed to a second commitment period for the protocol, ensuring that industrialized countries continue to take the lead on legally binding emission reductions.
Now it is time for the lengthy negotiations on a second commitment period to end and an agreement to take effect from January 1, 2013, the day after the first commitment period expires, Clark said.
"Doha is the last opportunity for a seamless transition" from one commitment period under the Kyoto Protocol to another, she said. "Failure to agree there could gravely affect future negotiations."
"It is well understood that the Kyoto Protocol is dramatically insufficient in its current form, as it covers only 10 to 12 percent of total global greenhouse gas emissions," Clark said. But "maintaining it is important because it is legally binding and contains infrastructure and accounting rules which are critical to making a global climate change regime viable."
Agreement by all member states on an amendment extending the Kyoto Protocol, and on expressing ambitious and unconditional commitments to emission reductions could help accelerate progress on a new global climate agreement, said Clark,  a former prime minister of New Zealand..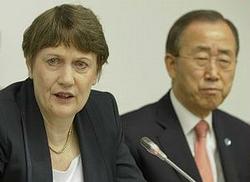 "The elements of a decision on such an amendment of the Kyoto Protocol were discussed in September, and negotiators have been working since on agreed language," she said.
Climate change threatens to undermine human development in both rich and poor countries, Clark warned, and the longer the world waits to act the more costly damages and solutions will become.
"UNDP recognizes that the world's 2.6 billion poorest people will be hardest hit by climate change and that its impacts could reverse decades of human development gains unless pre-emptive action is taken," said Clark, who has headed the UN Development Programme since 2009.
"For the world to stay under the two degree Celsius increase in temperature, set as a threshold beyond which there is believed to be catastrophic and irreversible change to our climate, we all need to do much more, first to stabilize and then to reduce emissions radically," Clark said.
The International Energy Agency warned in April that on current energy and emissions trends and policies, global temperatures will climb by at least six degrees Celsius by 2100, putting the world into dangerously uncharted territory.
But Clark says there is still time to avert the worst consequences of climate change. If governments use the financial resources that already exist for climate change adaptation and mitigation and apply them to "smart strategies," Clark said the global community could "accelerate economic and energy transformations, drive technology revolutions, drive the creation of new goods, services, jobs, and exports."
But climate change is already damaging agriculture, driving up food prices, creating water insecurity, destroying coral reef fishing grounds and exposing millions to diseases such as diarrhea, dengue fever and malaria, she said.
"To tackle climate change, the whole world must develop differently," said Clark. "That requires engaged citizens and bold leadership, willing and able to take on entrenched interests and leave behind failed models. The issues and the politics are complex and challenging. It is vital to put aside division and inaction to head off the worst impacts and address the global climate crisis effectively."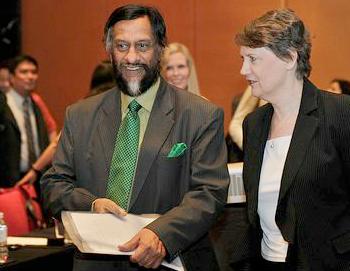 In Doha, Clark says negotiators also could move forward on arrangements for climate finance.
To access the finance available today, countries must navigate a maze of more than 50 international public funds, 60 carbon markets, and some 6,000 private equity funds. They must meet diverse criteria for funding, and they need to be able to use public funds in a catalytic way to leverage additional investment from the private sector.
But many countries lack these capabilities so they miss out on funding opportunities. Support is needed to expand their "climate finance readiness" through capacity building – an area where the UN Development Programme is actively involved.
The Green Climate Fund agreed last year in Durban will be the vehicle for the commitments developed countries made in Copenhagen to provide $100 billion annually by 2020 to more vulnerable countries for climate mitigation and adaptation.
But to date only $50 million in seed funding has been pledged. Agreement is needed in Doha to operationalize the Green Climate Fund quickly, said Clark, as a portion of the additional climate finance committed under the international negotiations is expected to flow through it.
The Board of the Green Climate Fund in October selected the Songdo International Business District, part of Incheon City, South Korea, as the host city for the Fund.
In Durban, governments agreed that market mechanisms will be an important component of a new more ambitious climate agreement, Clark said.
"In Doha, governments should decide to fix, not scrap, the world's only dedicated carbon market for developing countries – the Clean Development Mechanism, or CDM.
Set up under the Kyoto Protocol, the CDM allows projects which reduce greenhouse gas emissions in developing countries, to earn a carbon credit for each tonne of carbon dioxide avoided.
The CDM has helped reduce carbon emissions by a billion tonnes and attracted $215 billion of green investments to developing countries, she explained.
"There have been difficulties with slow approval processes and wasted funds under the CDM," Clark acknowledged, "but important reforms to it are now underway. Policy action is needed in Doha to accelerate those reforms to keep the CDM relevant and sustainable."
In Cancun member states agreed to establish a Climate Technology Centre and Network. In Doha, they have the opportunity to define how it will work, decide where it will be housed, and make it operational.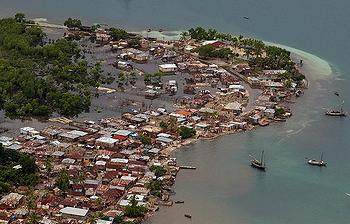 "UNDP has learned, for example, the importance of early warning systems to save people's lives," said Clark. "We help countries establish such systems wherever we can. In Bhutan, we helped establish a warning system for those living below glacial lakes, to alert them to periods of excess snow melt."
Another opportunity available to member states in Doha is to address the drivers and underlying causes of deforestation and forest degradation, which causes up to one-fifth of global carbon emissions.
Doha's focus on preventing deforestation reflects an acknowledgement of how the economic, social, and environmental factors behind climate change are interconnected. The evidence suggests that for example, that corruption and weak enforcement institutions are behind much of the world's deforestation.
A recent report by the UN Environment Programme found that organized crime is behind 90 percent of illegal logging in parts of Central Africa and Southeast Asia.
"In Doha, negotiators should agree to strong measures to prevent deforestation, including through tackling criminal activity," Clark said.
She advised global negotiators to get a clearer sense of the way forward by looking at the examples of countries, sub-regions, and states that are alert to the opportunities climate change presents.
Clark pointed to voluntary mitigation pledges covering approximately 80 percent of global emissions made over the past three years by all industrialized countries and 55 developing countries:
China will begin next year piloting emissions trading in seven of its largest cities and provinces.
A large emission-trading scheme will start in California next year.
The European Union has the world's largest, well-established emissions trading scheme, covering 40 percent of its greenhouse gas emissions.
In July, Australia adopted a far-reaching carbon tax, and will join the EU's carbon emissions market in 2015. Amidst fierce political debate, the prospect of joining the EU's market scheme helped dilute criticism that a carbon tax would put Australian firms at an international disadvantage.
India plans to start emissions trading in 2014, covering 54 percent of its industrial energy consumption.
Thailand has plans for a voluntary emissions trading market in 2014.
Last year, Ethiopia, one of the world's poorest countries, launched an ambitious low carbon, climate resilient, green economy strategy, under which the government will invest US$150 billion to fight poverty, while meeting a zero-carbon growth target.
"All countries can act to head off climate change's worst impacts while also generating new industries, jobs, and more sustainable ways of living," concluded Clark. "At Doha, member states must build on what has already been agreed to build a sufficiently ambitious, fair, and legally binding climate change regime."
Clark's lecture at Stanford was co-sponsored by the Stanford Woods Institute for the Environment and Stanford's Program in Human Biology.
Copyright Environment News Service (ENS) 2012. All rights reserved.