UN Panel: Only Sustainable Development Can Create a 'Resilient Planet'
ADDIS ABABA, Ethiopia, January 31, 2012 (ENS) – A panel of current and former heads of government, ministers and lawmakers Monday launched a plan for world leaders to propel an "ever-green" energy revolution that could wean the world off fossil fuels, when they meet in Brazil later this year.
The report of the High-level Panel on Global Sustainability links the United Nations' goals of reducing poverty and inequality to promoting the use of wind, solar and other renewable energy sources to power the economies of rich and poor nations alike.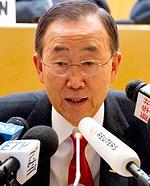 Secretary-General Ban Ki-moon's news conference in Addis Ababa (Photo by Eskinder Debebe courtesy UN)
The report, "Resilient People, Resilient Planet: A Future Worth Choosing," contains 56 recommendations to put sustainable development into practice quickly, moving it from a general concept to the core of mainstream economics.
Secretary-General Ban Ki-moon accepted the new report in Addis Ababa, where he met with heads of state and government from more than 30 African countries gathered for a two-day African Union Summit.
"Our report makes clear that sustainable development is more important than ever given the multiple crises now enveloping the world," said panel co-chair President Jacob Zuma of South Africa. "With the possibility of the world slipping further into recession, policymakers are hungry for ideas that can help them to navigate these difficult times."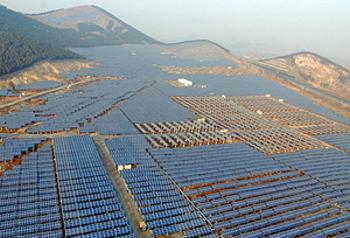 China's largest solar farm in Xuzhou City, Jiangsu, a 20 MW mix of fixed panels and tracking systems, went online in 2009. (Photo courtesy GCL-Poly Energy Holdings Ltd)
The other panel co-chair, Finnish President Tarja Halonen, sent a video message, saying, "Eradication of poverty and improving equity must remain priorities for the world community," said President Halonen. "The panel has concluded that empowering women and ensuring a greater role for them in the economy is critical for sustainable development."
The report says governments and international organizations "should work to create a new green revolution, an 'ever-green revolution' for the 21st century" by spending more on agricultural research, protecting imperiled plant and animal species, conserving land and water and fighting pollution.
It urges creation of regional oceans and coastal management bodies that protect world fisheries, which supply 170 million jobs and daily protein for about one in five people on the planet.
The panel advises governments to "enable young people's participation in and influence on decision-making processes at the local, national and international levels. In addition, consultation processes and dialogue should be encouraged to incorporate voices from non-conventional networks and youth communities, such as Internet forums and opinion-making blogs."
The report of the High-level Panel contributes to preparations for the UN Conference on Sustainable Development (Rio+20) in Brazil June 20-22, 2012.
Rio+20 will focus on two themes – a green economy in the context of sustainable development and poverty eradication; and the institutional framework for sustainable development. It will result in a focused political document.
This conference comes 20 years after the landmark Earth Summit in Rio in 1992 that attracted more than 100 heads of state and government and energized the global environmental movement, leading to the adoption of Agenda 21, a blueprint for action to achieve sustainable development worldwide. It was there that the world first agreed to accept voluntary controls on greenhouse gases under the UN Framework Convention on Climate Change.
But the High-level Panel warns in its new report that the world has not yet solved the "sustainable development dilemma."
"As the global population grows from 7 billion to almost 9 billion by 2040, and the number of middle-class consumers increases by 3 billion over the next 20 years, the demand for resources will rise exponentially," the panel writes.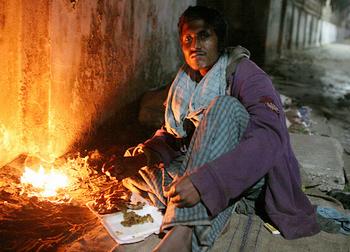 Homeless man on the street in Chittagong, Bangladesh (Photo by Nayeem Kalam)
"By 2030, the world will need at least 50 per cent more food, 45 per cent more energy and 30 per cent more water – all at a time when environmental boundaries are throwing up new limits to supply. This is true not least for climate change, which affects all aspects of human and planetary health."
"The current global development model is unsustainable. We can no longer assume that our collective actions will not trigger tipping points as environmental thresholds are breached, risking irreversible damage to both ecosystems and human communities," the panel writes. "At the same time, such thresholds should not be used to impose arbitrary growth ceilings on developing countries seeking to lift their people out of poverty."
"Indeed," the panel warns, "if we fail to resolve the sustainable development dilemma, we run the risk of condemning up to 3 billion members of our human family to a life of endemic poverty. Neither of these outcomes is acceptable, and we must find a new way forward."
One of the panel's most urgent recommendations is to create "a new nexus between food, water and energy rather than treating them in different 'silos.' All three need to be fully integrated, not treated separately if we are to deal with the global food security crisis."
"It is time to embrace a second green revolution – an "ever-green revolution" – that doubles yields but builds on sustainability principles," the panel writes.
The panel urges governments to "establish price signals that value sustainability to guide the consumption and investment decisions of households, businesses and the public sector."
Among these signals, the panel recommends that governments:
Establish natural resource and externality pricing instruments, including carbon pricing, through mechanisms such as taxation, regulation or emissions trading systems, by 2020
Reform national fiscal and credit systems to provide long-term incentives for sustainable practices, as well as disincentives for unsustainable behaviour
Develop and expand national and international schemes for payments for ecosystem services in such areas as water use, farming, fisheries and forestry systems
Phase out fossil fuel subsidies and reduce other "perverse or trade-distorting subsidies" by 2020
Among its 56 recommendations, the panel endorses the Secretary-General Ban's "Sustainable Energy for All" initiative, which it says should be implemented "without delay."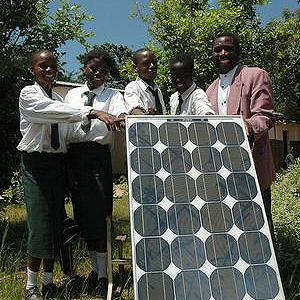 Students in Zambia with a solar panel for their school (Photo by Tony Roberts)
The initiative brings all sectors of society to the table: business, governments, investors, community groups and academia, to ensure universal access to modern energy services; a doubling of the rate of improvement in energy efficiency; and a doubling of the share of renewable energy in the global energy mix – all by 2030.
In its report, the panel notes that, "Recent years have seen renewable energy's share of power, heat and transport grow strongly, with renewables accounting for an estimated 16 per cent of global final energy consumption. Renewable energy accounted for about 50 per cent of total added power-generating capacity in 2010."
"Progress has been especially marked in the electricity sector," the panel said, "where renewables delivered close to 20 per cent of the world's electricity in 2010."
The panel's report underscores the importance of science as an essential guide for decision making on sustainability issues. It calls on the secretary-general to lead efforts to produce a regular Global Sustainable Development Outlook report that integrates knowledge across sectors and institutions, and to consider creating a science advisory board or scientific advisor.
Overall, the panel recommends that nations fully integrate the social and environmental costs of their commerce into the prices and measures of their economic goods and services.
Copyright Environment News Service (ENS) 2012. All rights reserved.