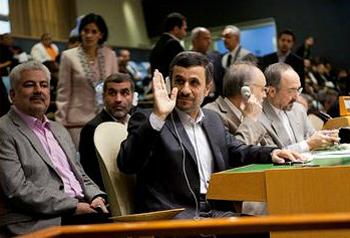 NEW YORK, New York, September 24, 2012 (ENS) – The UN General Assembly's first-ever High-level Meeting on the rule of law today stressed the "essential link" between the rule of law and sustainable development, economic growth and the eradication of poverty and hunger.
Attended by the leaders of 80 nations, the meeting was held a day before the annual general debate opens at UN Headquarters in New York.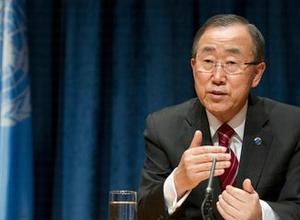 In his report to the High-level Meeting, UN Secretary-General Ban Ki-moon warned that the global system is under unprecedented stress from interconnected and complex transformations in human and physical geography.
"Environmental degradation, rapid urbanization, conflict, severe income inequalities and exclusion of vulnerable groups pose major challenges to human development and security," Ban wrote.
The UN defines the rule of law as "a principle of governance in which all persons, institutions and entities, including the State itself, are held accountable to publicly promulgated laws which are equally and fairly enforced, independently adjudicated, and consistent with international human rights standards."
President of the UN General Assembly, Vuk Jeremic of Serbia, said the high-level meeting represents a "landmark moment" in the global peace process as part of this year's overarching theme on the peaceful settlement of international disputes.  It is "critical not to lose sight of the importance of fully respecting the equality, sovereignty and territorial integrity of UN Member States," Jeremic said.
Addressing the High-Level Meeting, Iranian President Mahmoud Ahmadinejad ignored the secretary-general's warning to him on Sunday to avoid incendiary rhetoric. His comments denigrating Israel prompted a walk-out by the Israeli delegation.

Speaking to reporters through an interpreter at UN Headquarters, Ahmadinejad said of the Israelis, "We don't even count them as any part of any equation for Iran. During a historical phase, they represent minimal disturbances that come into the picture and are then eliminated."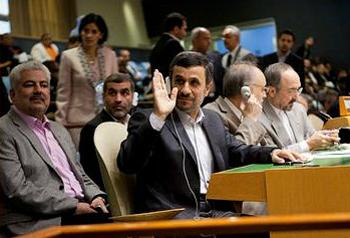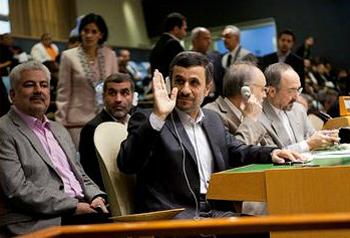 Ban stressed that responsibility for strengthening the rule of law lies with UN Member States and their citizens, and views the United Nations' role as providing integrated and effective assistance. To galvanize collective efforts to strengthen the rule of law at the national and international levels, Ban is proposing that the General Assembly adopt a program of action for the rule of law.
Ban believes upholding the rule of law is the foundation of world peace, which increasingly depends on sustainable use of natural resources.
"That is the essence of this year's International Day of Peace: "Sustainable Peace for a Sustainable Future," Ban told hundreds of students from Canada, Mexico and the United States Friday at a student conference on the 20th anniversary of the International Day of Peace.
"As we all know, natural resources are increasingly becoming scarce and this scarcity is frequently the cause of conflicts. We must do more to advance sustainable development. At the United Nations Rio+20 Conference on Sustainable Development this year," he said, "leaders made 700 commitments towards reducing poverty, advancing social equity and ensuring environmental protection."
"A sustainable future rests on sustainable peace. Today, we use 50 percent more resources than our planet can provide," Ban told the students. "By the time you are in the middle of your careers and raising families, we will need two Planet Earths. This is unsustainable. As they say on Facebook, we must 'de-friend' this approach."
"For the sake of peace, we need more balance in all of our policies," Ban emphasized. "The world devotes more than $1.6 trillion for weapons of war and other military spending. To put that in perspective, that means: 60 years of United Nations peacekeeping has cost less than six weeks of current global military spending."
Thousands of United Nations peacekeepers around the world will learn natural resources management through an online training program launched today by the UN Environment Programme, UNEP.
There are close to 120,000 people serving as UN peacekeepers – in military, police and civilian capacities – in 16 peace operations around the world, according to the UN Department of Peacekeeping Operations.
"The 'blue helmets' carry out demanding work, in difficult situations, where clean water, forests and other key resources are often already under pressure. This training programme is a critical step towards making peacekeeping operations more sustainable and effective," UNEP Executive Director Achim Steiner said in a statement.
"Such greening measures can serve to reduce conflict, and to make an important contribution to global efforts to improve resource efficiency and meet the challenges of climate change," said Steiner.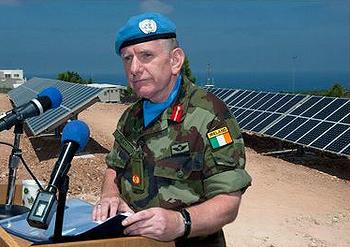 The course follows the Greening the Blue Helmets report produced by UNEP earlier this year, which analyzed how peacekeeping missions around the world affect, and are affected by, natural resources and the broader environment.
The study found that while UN peacekeeping operations play a key role in the recovery and stability of countries emerging from conflict, they have a large environmental footprint and can place considerable demands on local resources in fragile environments.
The report makes recommendations as to how sustainability measures can be improved in all missions.
Several peacekeeping missions have already adopted environmental policies and taken action to improve resource efficiency, UNEP said.
The UN Interim Force in Lebanon is using electric cars at the mission's headquarters in the southern town of Naqoura, has introduced to solar and energy-efficient power generation and established a community-led recycling plant.
At the UN Integrated Mission in Timor-Leste, switching off equipment or adjusting room temperature settings have resulted in a 15 percent reduction of energy consumption.
UNEP calculates that a simple measure like this could save US$95.7 million annually if it was implemented across all 16 missions.
The new training program, compiled with the technical assistance of the UN Institute for Training and Research and the International Institute for Sustainable Development, aims to share these good practices with all missions and to encourage investments in new technologies, practices and behaviors to reduce the overall environmental footprint of peacekeeping.
Copyright Environment News Service (ENS) 2012. All rights reserved.
Environment News Service (ENS) © 2012 All Rights Reserved.