UN General Assembly: Invest in Natural Disaster Risk Reduction
NEW YORK, New York, February 10, 2011 (ENS) – Natural disasters last year set a record for lives lost and infrastructure destroyed, the UN General Assembly acknowledged Wednesday during its first-ever debate on disaster risk reduction. With increasing risk from extreme weather events triggered by climate change, the 192-nation UN body urged investments now to reduce the toll of deaths and damage by building safer schools, hospitals and cities.
"Barely a day went by without lives devastated, homes demolished, people displaced, and carefully cultivated hopes destroyed. It was one of the deadliest years in more than a generation," said Secretary-General Ban Ki-moon in opening the session.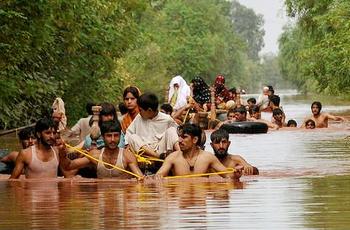 Flooded residents of Pakistan's Khyber Pakhtunkhwa district try to reach higher ground. (Photo courtesy UN-HABITAT)
Ban recalled the disasters of 2010 – earthquakes in Haiti, Chile and China, floods in Pakistan and Europe, wildfires in Russia and the United States, cyclones and tropical storms in Asia.
Earthquakes, heat waves, floods and snowstorms affected 208 million people around the world, killing nearly 300,000, and costing $110 billion in losses, only $37 billion of which were insured, according to global reinsurance company estimates.
"Children are among the most vulnerable," Ban declared. "Thousands died last year as earthquake, flood or hurricane reduced their schools to rubble. These deaths could have been prevented. Lives can be saved by advance planning – and by building schools, homes, hospitals, communities and cities to withstand hazards. Such measures to reduce risk will grow ever more important as our climate changes and extreme events become more frequent and intense."
While poorer countries often suffer the most and have the biggest recovery challenges, Ban said that recent severe floods in Australia and Brazil show that no country or city, rich or poor, is immune to disaster.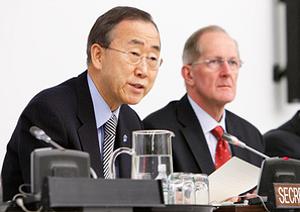 UN Secretary-General Ban Ki-moon, left, and UN General Assembly President Joseph Deiss at the natural disaster risk reduction session, February 9, 2011 (Photo by John McIlwaine courtesy UN)
Ban cited Australia as an example of the importance of investing in disaster risk reduction. Last week, the state of Queensland escaped relatively unscathed from one of the largest cyclones to hit the country in living memory, partly due to luck since the densest population areas were spared, he said, but also thanks to the "key role" played by planning and preparedness.
Ban said the UN's global disaster risk reduction campaign has attracted nearly 600 towns and cities from all regions that have committed to a 10-point checklist for making them more resilient.
"But so much more needs to be done," he stressed. "It will require courage, vision and leadership, and will need everyone's participation and investment."
"We need to take lessons from cities and countries that have shown how to reduce risk," said Ban, "as well from those less fortunate, whose examples of calamity should give us all pause for thought."
Mayors attending the meeting included Mawardy Nurdin from the city of Banda Aceh on the Indonesian island of Sumatra, which was devastated by the Indian Ocean tsunami in December 2004. Triggered by an earthquake off the coast of Sumatra, the tsunami claimed the lives of 228,000 people in 14 countries, submerging coastal communities with waves up to 30 meters (100 feet) high.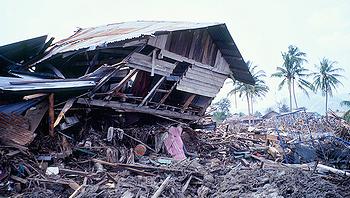 Wreckage left in Banda Aceh, Indonesia by the Indian Ocean tsunami, February 2005 (Photo by Gideon Yago)
Many speakers referred to the Hyogo Framework for Action: 2005 – 2015, adopted in January 2005 a month after the tsunami, by 168 countries attending the UN World Conference on Disaster Reduction in Japan.
The 10-year plan calls for putting disaster risk reduction at the center of national policies, strengthening the capacity of disaster-prone countries to address risk, and investing in disaster preparedness.
General Assembly President Joseph Deiss told reporters that disaster risk reduction is crucial to protect gains made in reaching the Millennium Development Goals, especially in poor countries where capacities are low and losses only perpetuate a cycle of poverty and disempowerment.
Deiss said the debate was organized as a follow-up to September's high-level meeting on the Millennium Development Goals, where world leaders recognized that increasing resilience to natural hazards could "have a multiplier effect" and could "speed progress" towards attaining the goals.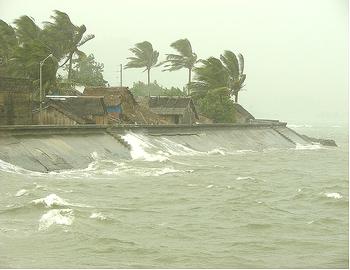 Tropical storm batters coastal Sorsogon City on the southernmost tip of the Philippine island of Luzon. February 8, 2011 (Photo by UN-HABITAT)
Agreed by world leaders in 2000, these targets aim to eliminate extreme poverty and hunger, ease maternal and infant mortality, improve access to medical care and education, and provide better environmental protection by 2015.
"By wiping out major development gains, such as school buildings, hospitals and energy grids, disasters perpetuate a cycle of underdevelopment, poverty and disempowerment," said Deiss.
Margareta Wahlstrom, UN assistant secretary-general for disaster risk reduction, joined Deiss at the press conference to say that dealing with increasing losses requires long-term planning and a conscious decision to invest in prevention.
Taking a question on funding, Wahlstrom said a joint World Bank-United Nations report showed that "prevention pays, but you don't have to pay for all prevention."
She said prevention does not have to cost a lot of money. "Good choices must be made," she said. "For example, roads could be built along a coastline, which carries risk, or away from the water – the costs involved are often the same."
What is costly, Wahlstrom said, is addressing the lack of infrastructure maintenance, which is a problem for poor and rich countries alike. She said that to support vulnerable countries with better investments, much stronger partnerships among local governments, civil society, the private sector and donors are needed.
"Post disaster management is of growing importance," said UN-HABITAT's Executive Director Dr. Joan Clos earlier this month. "The increasing frequency of disasters means that people have barely been resettled and rehabilitated before there are new emergencies," she said, expressing concern that a shortfall in funding recovery from last October's Cyclone Giri in Myanmar, also known as Burma, would make some communities unnecessarily vulnerable ahead of the coming monsoon season.
The Cyclone Giri funding shortfall echoes that of the response to Myanmar after Cyclone Nargis, which left some 140,000 dead and affected the lives of an estimated 2.4 million people in May 2008.
Only one-third of the US$690 million needed for the Post-Nargis Recovery and Preparedness Plan, covering up to the end of 2011, has been forthcoming, and recovery activities in the country's Ayeyarwady Delta are stalled for lack of funds.
Copyright Environment News Service (ENS) 2011. All rights reserved.