UN Chief Heads to Quake-Hit Chile Offering Help
SANTIAGO, Chile, March 4, 2010 (ENS) – UN Secretary-General Ban Ki-moon will arrive here later today to express his solidarity with the Chilean government and people in the wake of the recent earthquake and to assess the humanitarian assistance effort.
Updated figures from Chile's National Emergency Office now place the death toll at 799, and two million others were affected by the 8.8-magnitude quake, which occurred just off the central coast of the South American nation early Saturday morning.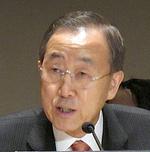 UN Secretary-General Ban Ki-moon (Photo courtesy UN)
On Wednesday, aftershocks continued in Chile, with at least six tremors measuring between magnitudes 5.0 and 6.0 recorded through the day.
Ban is scheduled to meet on Friday with President Michele Bachelet and President-elect Sebastian Pinera, who takes office March 11, as well as senior government officials in charge of national disaster and emergency humanitarian assistance.
The Secretary-General says the UN system, through its Office for the Coordination of Humanitarian Affairs, OCHA, is committed to assisting the Chilean government and people with any assistance required, both immediate and long-term.
OCHA reported yesterday that the situation in the main areas affected by the quake is still critical, and added that access to food and the restoration of electricity and drinking water are still the top priorities.
The Chilean government, which is leading the rescue and relief efforts, has announced that it will be able to supply the entire affected population with food and water and has not asked for this type of international aid.
The government has so far requested very specific priority items, such as field hospitals with surgical facilities, dialysis centres, generators, satellite phones, structural damage evaluation systems, salt water purification systems, mobile bridges and field kitchens.
Search and rescue efforts continue in the Maule and Biobio regions, where search and rescue teams drawn from different national agencies in Chile – firefighters, police, search teams with dogs – are working in the coastal areas affected by the earthquake and tsunami.
The earthquake-affected area of Chile encompasses six of the country's 13 regions and is home to 80 percent of the population.
The Pan-American Health Organization, a regional office of the UN's World Health Organization says the earthquake-affected regions have 77 percent of the total hospital beds in the country – 20,950 of 27,336 beds.
The Chilean Ministry of Health has decided to close Felix Bulnes Hospital, a large public hospital in Santiago, due to severe structural damage. The hospital has relocated more than 200 patients to other health facilities in Metropolitan Region.
A multisectoral team from the Ministry of Health has begun an assessment of hospitals in Canete, Curanilahue, Temuco and Villarrica. Upon completion, they will join another team to carry out similar assessments in Lota, Concepcion and Coronel.
Current government reports list 10 health facilities that are non-functioning or have been evacuated or flooded, as was the case of one facility damaged by the tsunami.
Temporary field hospitals belonging to the Chilean armed forces have been set up in affected regions of the country. An Argentine armed forces plane arrived in Santiago with a 70-bed modular hospital and two tent medical wards, an ambulance and other medical equipment. The field hospital is headed for the Maule region, closest to the earthquake's epicenter.
The Minister of Health has stated that all 10 temporary field hospitals will be up and running in the next 72 hours. The government of China has offered an additional field hospital.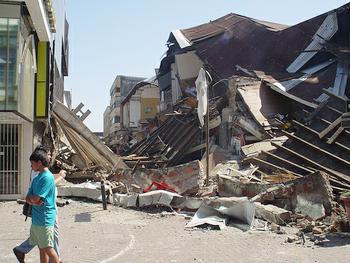 Earthquake destruction in the city of Concepcion (Photo by Sirundri)
According to the Ministry of Health and PAHO, the majority of adolescents and adults in Chile are susceptible to contracting hepatitis A, especially in areas where adequate potable water is not available. The ministry estimates that 800,000 doses of hepatitis A vaccination will be required to inoculate the displaced population in Chile.
During his visit, Ban is also expected to visit the city of Concepcion, one of the cities most affected by the earthquake.
In addition, he will meet with staff at the UN Economic Commission for Latin America and the Caribbean, ECLAC, which is headquartered in the capital, Santiago.
It was reported that ECLAC's headquarters suffered no serious structural damage, but parts of the main building continue to pose a security risk for staff members. Staff whose offices are in good condition returned to work today, while the remaining staff will return gradually as repairs advance and staff safety is ensured.
Nonprofit aid agencies are in Chile, assessing the damage and offering assistance. World Vision staff began distributing food and relief supplies yesterday in outlying towns destroyed by the earthquake and resulting tsunami.
Following assessments Tuesday, staff from the Christian humanitarian organization distributed water, food, blankets, diapers and other infant items in the town of Dichato, located about 40 miles north of Concepcion.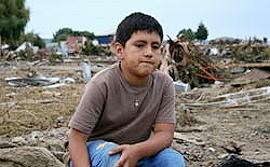 Boy in earthquake-shattered Dichato (Photo by Paula Saez courtesy World Vision)
"In Dichato, there's nothing, nothing," said Paula Saez, World Vision's communications manager in Chile. "The damage is incredible because they have been hit twice – once with the earthquake and a second time with the tsunami. There is death everywhere: dead dogs in the street, dust, garbage. It's devastated."
World Vision sent additional trucks from Santiago today with additional food, water, diapers and other infant items for distribution later this week in Dichato and Lota, located 25 miles south of Concepcion.
"People need everything here," said Saez. "Shelter, clothes, food. Everything else is gone or destroyed."
The aid agency Oxfam has a team of logisticians and water engineers assessing needs in Constitucion and Concepcion. Speaking from Constitucion, assessment team head Charlie Rowley said Wednesday, "The tsunami that hit the coastal areas has done significant damage to infrastructure and we are particularly concerned about the impact to water and sanitation facilities. Shortages of water and poor sanitation are a major concern and if this is not addressed then it could, in time, have an impact on public health.
"Relief supplies are starting to reach people in the south and we have seen food and medical supplies being distributed but we believe there are still many people in need who have not received any assistance yet," Rowley said.
On March 2, the International Federation of Red Cross and Red Crescent Societies released an emergency appeal for $6.4 million to assist some 75,000 people for six months. In support of the appeal, the U.S. government is providing $1 million to IFRC.
Copyright Environment News Service (ENS) 2010. All rights reserved.