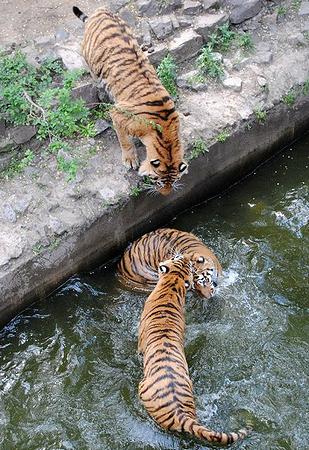 KIEV, Ukraine, April 7, 2014 (ENS) – Ukraine resident Lionel de Lange, an entrepreneurial, animal-loving, bush war veteran from South Africa, is engaged in a rescue mission – to save more than 6,000 Ukraine zoo animals from starvation brought on by economic and political strife in the region.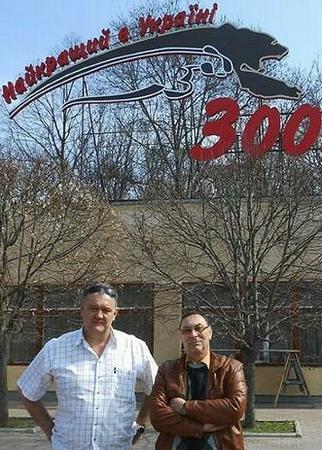 These Ukrainian zoo animals are in dire straits because government funding for their food has dried up, De Lange said the animals will starve if aid is not provided by donors.
De Lange's first rescue target is Ukraine's 114 year old Nikolaev Zoo which has survived two world wars. It currently houses 5,735 animals, including big cats, wolves, bears, bison, foxes, monkeys, crocodiles, boa constrictors, deer, and a wide variety of birds and fish.
"At the Nikolaev Zoo, these thousands of animals are on the brink. There is only enough food left for the carnivores to eat today and tomorrow. The herbivores have enough to last one more week. Medical supplies have run out. These animals need our help right now," said de Lange.
For assistance, de Lange contacted the Lawrence Anthony Earth Organization, LAEO. Located in California, LAEO is named after the South African conservationist who staged the Bagdad Zoo animal rescue mission at the onset of the Iraq War.
LAEO's International President Barbara Wiseman immediately launched a fundraising campaign to supply food for the starved zoo animals after learning the details of the crisis from de Lange, who is in direct contact with Ukrainian zoo officials.
She established a Ukrainian Chapter of LAEO, which de Lange now heads.
"Just in the past couple of days since we began getting the word out to our members and supporters, people are beginning to step up and donate to ensure none of these animals unnecessarily suffer or perish. We have to cover their immediate needs and get some breathing room here so that we can then help zoo facilities implement self-sustaining longer-term solutions," said Wiseman.
Since late March, LAEO has raised enough funds to cover two weeks of needed food and medical supplies for the animals at Nikolaev Zoo and enough food for one more week.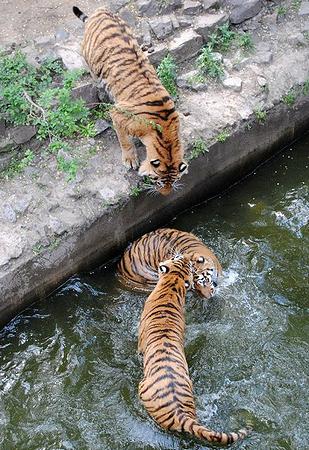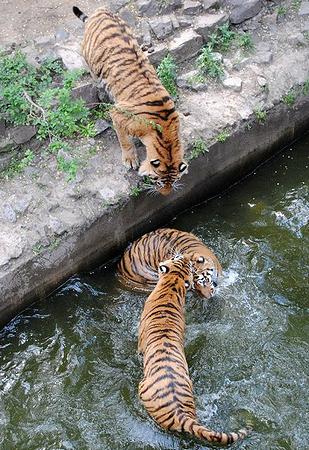 The zoo will not have the resources to take care of the animals' food needs until the end of April when the weather gets warmer and the fees from zoo attendance go into what Wiseman calls "a viable range."
Located in the southern Ukraine port city of Mykolayiv, Nikolaev Zoo was founded by then Nikolaev city mayor Nikolai Pavlovich Leontovich on April 26, 1901 with fish and reptiles from his own collection. At first it was considered an aquarium. Later, bison, camels, yaks, deer and ostriches were brought from Askania Nova. Bears, wolves, foxes and monkeys were also purchased for the zoo. After the institution survived two world wars, concerned donors are stepping up to ensure it survives the current turmoil in Ukraine.
But the Nikolaev Zoo is not the only zoo in Ukraine where the animals are in trouble.
Ex-President Viktor Yanukovych's private zoo, with over 2,000 animals, was abandoned when he fled the country in February. Although the condition of the zoo facility in Kiev is beautiful and modern, the animals are completely out of food and animals are being stolen by looters, say de Lange and Wiseman.
"There are a few volunteers there who are going door-to-door in Kiev begging for food for the animals. But the scene is desperate and we are working to raise funds to get through the immediate crisis and then will work with them to figure out a long-term solution," says Wiseman.
"The Askonia-Nova Biosphere Reserve is in better shape because, for the moment, the animals can live off the land; but they have run out of necessary supplies to feed the baby animals that are dependent on dry milk and nipples for bottles to feed them and we are working to get those supplies, as well," she said.
"This situation underscores the reasons why we submitted to both the UN and the International Criminal Court our proposed Wildlife in War Zones Resolution," Wiseman said.
While de Lange cautions anyone against calling Ukraine a war zone, he is determined that zoo animals will not perish as a result of political and economic instability.
De Lange, owner of Optimum Software Development in the Port Elizabeth area of South Africa, says he did not intend to start an organization, but once he found out more about Lawrence Anthony's conservation work, he decided to take the problem on and help Ukraine's zoos become more economically sustainable.
Copyright Environment News Service (ENS) 2014. All rights reserved.