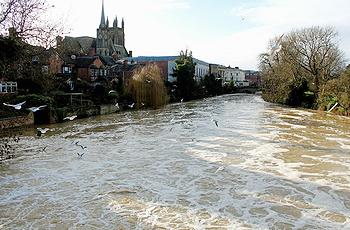 LONDON, UK, January 9, 2014 (ENS) – The River Thames continues to rise in response to recent heavy rainfall, and communities in the south of England should be prepared for further flooding this week from groundwater and rivers, warns the UK Environment Agency.
Following a week of torrential rains, strong winds, storm surges and high tides that have left seven dead and hundreds of homes inundated, further flooding is expected along the River Thames.
The Environment Agency warns that water levels will continue to rise, even though The Met Office is forecasting light showers and drier weather into the weekend.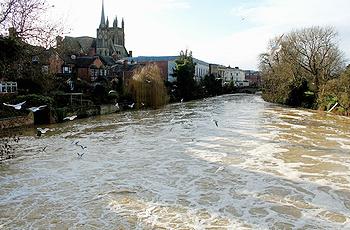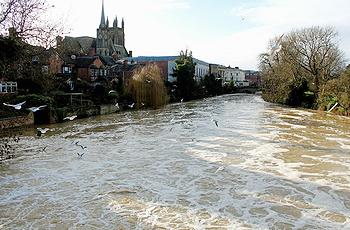 Paul Mustow, flood risk manager at the Environment Agency said, "Environment Agency teams continue to work to work around the clock maintaining flood defences, clearing watercourses and deploying pumps and temporary defences to protect communities at risk."
"The risk of flooding continues this week, with communities in the southwest and southeast urged to stay safe and sign up to free flood warnings," said Mustow. "When flood warnings are issued it means that flooding is expected and we urge people to take immediate action to prepare."
Mustow said, "Our teams continue to work around the clock monitoring water levels, checking and operating defences, working with partner organisations, issuing warnings and helping communities to prepare."
But Environment Agency Chief Executive Paul Leinster has warned that government funding cuts to the agency will impact its ability to deal with flooding. The Environment Agency's budget is being cut by 15 percent over the next year.
Leinster said, "Flood risk maintenance will be impacted. All of our work on mapping and modeling and new developments in things like flood warning will also have to be resized. And we're looking at a proportionate reduction in the number of people in flood risk management."
At least 550 staffers who work in flooding could lose their jobs as part of the government restructuring, according to figures obtained by "The ENDS Report," an environmental policy magazine.
MP Owen Paterson, who heads the Environment Agency's Department for Environment, Food and Rural Affairs, or Defra, said last week that the agency "intends" to protect front-line flooding services from the cuts, but his past remarks have tagged Paterson as a climate change skeptic, and environmentalists are skeptical of his commitment to flood protection.
Friends of the Earth climate campaigner Guy Shrubsole said, "On the same day that the Environment Agency chief executive said that it's inevitable that Defra's cuts will impact on their ability to deal with flooding, Owen Paterson's bizarre claim that these front-line services will be protected will ring hollow for all those affected by the current flooding."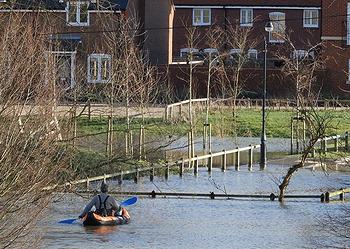 "What's more, the Environment Agency says investments in flood defences must increase to keep pace with climate change – yet the [Conservative/Liberal Democrat] Coalition [Government] has overseen a real-terms cut in spending on them," Shrubsole said.
Pointing out that every pound the government invests in flood protection saves eight times that much in damages, Shrubsole said, "Cutting flood defence spending is a false economy and David Cameron now needs to intervene."
Surprising many members of his own Conservative Party, Prime Minister Cameron Wednesday told Parliament he now believes climate change is responsible for the extreme rainfall and flooding afflicting the UK.
Cameron said, "Colleagues across the house can argue about whether that is linked to climate change or not. I very much suspect that it is. The point is that whatever one's view it makes sense to invest in flood defences … it makes sense to get information out better, and we should do all of those things."
MP Ed Miliband, who serves as Leader of the Opposition Labour Party asked the Prime Minister for "a full assessment of the future capability of our flood defences and flood response agencies and of whether the investment plans in place are equal to the need for events of this kind."
Cameron responded, "In this current four-year period, we are spending £2.3 billion, compared with £2.1 billion in the previous period. The money is going into flood defences. As I said, in the early December flooding, about 800,000 homes were protected by previous flood defence work and over the Christmas period a further 200,000 houses were affected. Whenever there is flooding, it makes sense to look again at the proposals in the programme for flood defence work and to see what more can be done."
Environmentalists are urging the government to reverse its plans to cut hundreds of jobs from the Environment Agency, the jobs of staffers who are working to defend the country from flooding.
"Protecting the nation from the impacts of extreme weather must be one of David Cameron's New Year's resolutions," said Shrubsole, "and this must include making tackling climate change a top priority."
The Met Office predicts that 2014 will be among the top 10 hottest since recordkeeping began.
Copyright Environment News Service (ENS) 2014. All rights reserved.