U.S. Tsunami Warning System Leaves Coastal Residents Vulnerable
WASHINGTON, DC, September 17, 2010 (ENS) – America's warning system for the series of giant ocean waves known as a tsunami is better than it was before the deadly 2004 Indian Ocean tsunami, but not good enough to meet risks posed by tsunamis generated near land that leave little time for warning, says a new congressionally requested report from the National Research Council.
The report says the United States must do more to get prepared. It is critical of coordination between the two federal Tsunami Warning Centers in Alaska and Hawaii, and their communication with emergency managers, the media, and the public.
"For a tsunami warning system to be effective, it must operate flawlessly, and emergency officials must coordinate seamlessly and communicate clearly," said John Orcutt, chair of the committee that wrote the report and a professor at the Scripps Institution of Oceanography in La Jolla, California.
"If a large earthquake near shore triggers a tsunami, it could reach the coast within minutes, allowing hardly any time to disseminate warnings and for the public to react," Orcutt said.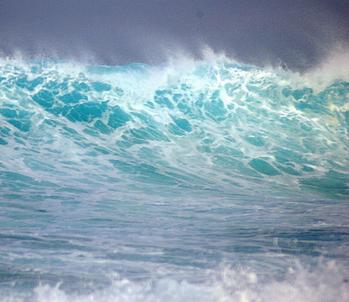 Tsunami waves first cause the sea to recede from shore, then the towering waves rush in. (Photo by Hamza Hassan)
Earthquakes, volcanic eruptions and other underwater explosions, including detonations of underwater nuclear devices, landslides, and meteorite ocean impacts all have the potential to generate a tsunami.
The Hawaii and Alaska Tsunami Warning Centers are designed to be backups for each other, but they do not operate as such, creating "an illusion of redundancy that could prove dangerous and costly," the report says.
Operating under the National Weather Service, the Tsunami Warning Centers monitor seismic activity and sea levels to detect tsunamis and warn emergency managers in their respective regional "areas of responsibility."
But the centers cannot order evacuations because they are part of the federal government. Local officials are responsible for transmitting alerts, issuing evacuation orders, managing evacuations, and declaring all-clears.
Therefore, close coordination between the Tsunami Warning Centers, states, and local jurisdictions is needed to ensure that the public receives consistent information about the threat and proper protective action.
But "the two sets of warnings often conflict, causing confusion among the media, some local officials, and the public," the report says.
For example, in June 2005, media outlets in the Pacific Northwest received messages from both Tsunami Warning Centers that seemingly contradicted each other because their respective areas of responsibility were not understood.
The committee recommends that the message content be improved or that the two Tsunami Warning Centers release one message that includes information for all areas under their responsibility.
The Tsunami Warning Centers' organizational structure should be evaluated to decide if a single, centrally managed center should be created, such as the National Hurricane Center.
"Significant changes need to occur in the management, operations, software and hardware architecture, and organizational culture," the report concludes.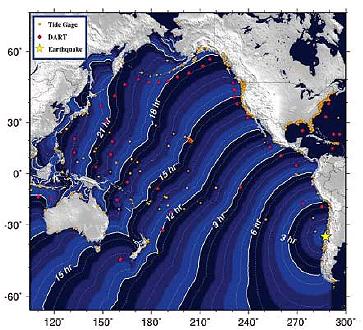 Map of travel times for tsunami waves generated by the February 27, 2010 Chilean earthquake. (Map courtesy Alaska Tsunami Warning Center)
The committee also said people in coastal areas need to learn how to take responsibility for their own safety with or without official tsunami warnings.
"Education and preparation are necessary to ensure that people know how to recognize natural cues – such as earthquake tremors or receding of the water line – and take appropriate action, even if they do not receive an official warning," Orcutt said.
The report finds many enhancements have been made since 2004, including an increase in the amount and quality of hazard and evacuations maps and the expansion of the Deep-Ocean Assessment and Reporting of Tsunamis, DART, sensor network that indicates the size of tsunamis.
But improvements to the DART network's reliability, station coverage, and operations still are needed, the committee advises.
There have been improvements in coastal sea-level stations and the Global Seismic Network operated and maintained by the U.S. Geological Survey and the National Science Foundation.
Some states have evaluated select tsunami-prone communities and initiated several tsunami education and awareness efforts.
But in addition to better detection and forecasting, an ideal and comprehensive tsunami program will require risk assessments, public education, and a well-coordinated response, the committee concludes.
To prioritize efforts, the report recommends first completing a comprehensive risk assessment that characterizes the hazards, inventories the threatened populations and assets, measures the preparedness and ability of individuals and communities to successfully evacuate, and estimates expected losses.
Tsunami education and preparation could also be improved by undertaking periodic and comprehensive vulnerability assessments, establishing a review strategy and leadership chain for post-tsunami events, and creating new tsunami detection techniques and analyses.
The report was sponsored by the National Oceanic and Atmospheric Administration; University of Alaska, Fairbanks; and National Academy of Sciences.
The committee members volunteered their time for this work; their peer-reviewed report is signed off by both the committee members and the National Academies. Click here to view the full report.
Copyright Environment News Service (ENS) 2010. All rights reserved.