U.S. Teen Wins Stockholm Junior Water Prize With Cell Phone Test
STOCKHOLM, Sweden, August 24, 2011 (ENS) – An American teen who developed a low-cost method to test drinking water quality using a mobile phone has been awarded the 2011 Stockholm Junior Water Prize.
Alison Bick received the prize from the hands of Crown Princess Victoria of Sweden at a ceremony on Tuesday that took place as part of the annual World Water Week in Stockholm.
A 2011 graduate of New Jersey's Millburn High School, Bick worked for four years on her project, which combines micro-fluidic devices, cell phones, and chemical indicators to evaluate water quality.
Concerned about the threat of contaminated drinking water following natural or man-made disasters, Bick sought a low-cost, portable, publicly accessible method for testing water potability.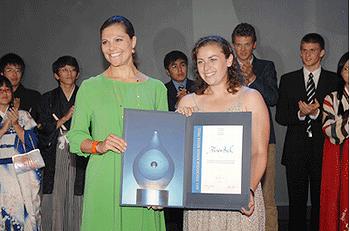 Alison Bick, right, of Short Hills, New Jersey is presented with the Stockholm Junior Water Prize by Crown Princess Victoria of Sweden. (Photo courtesy SIWI)
Her project uses Colilert-18, a chemical that turns yellow in the presence of coliform bacteria, to accurately assesses the bacteria content of water. It is much faster and up to 200 times less costly than standard testing procedures.
"This year's winning project reflects truly out of the box thinking to find a solution to an important real world problem that is relevant in both a developing and developed country context," said the International Jury in its citation.
"It is the result of a creative, multi-faceted, and long-term effort that was triggered by an actual problem in the local community. It has the potential to revolutionize our ability to monitor water quality in a way that is fast, accurate, more flexible and less expensive than existing technologies," the Jury said.
Thousands of participants from 28 countries entered the competition for the Stockholm Junior Water Prize. The finalists are the winners of national competitions that received over 9,000 submitted projects this year.
Bick said, "It was absolutely fascinating to speak to all the different contestants from all the different nations and cultures. It was something I've never experienced before. I am really excited to win such a prestigious contest. Hopefully I'll keep in contact with the other contestants and hopefully collaborate one day."
Bick received a US$5,000 award and a handmade blue crystal prize sculpture. The Stockholm International Water Institute administers the competition, which is sponsored globally by ITT Corporation.
"Every year we are inspired by the groundbreaking work of students across the world and their commitment to finding new and innovative solutions our global water challenges," said Gretchen McClain, senior vice president at ITT and president of its Fluid and Motion Control group. "We congratulate this year's winner and of all the participants for continuing their efforts to help solve our global water issues."
As a result of Bick's win, Millburn High School will receive a $1,000 educational grant to enhance water education and research in the classroom.
All U.S. finalists are offered an all-expense-paid trip to Los Angeles in October to display their research at the Water Environment Federation Technical Exhibition and Conference.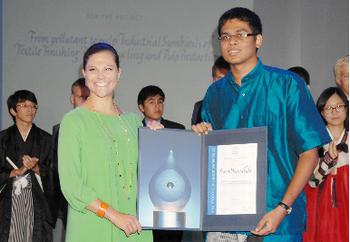 Prasan Warnakula of Sri Lanka, right, receives a Diploam of Excellence from Crown Princess Victoria of Sweden. (Photo courtesy SIWI)
A Diploma of Excellence was awarded to Prasan Warnakula from Sri Lanka for his project, "From pollutant to pulp: industrial symbiosis of textile finishing, paper recycling and pulp production."
The jury said Warnakula's project "reflects a refreshing new way of systems thinking that is highly needed for future sustainability."
The jury was impressed by "the innovative approach to conducting the experiments using equipment adapted from items readily available in the home environment," saying, "The principle of this detailed project is inspired by nature and will soon be applied in a much larger context: a real world example of industrial symbiosis in a developing country."
The Stockholm Junior Water Prize competition is open to young people between 15-20 years of age, who have conducted water-related projects of local, regional, national or global importance. Contest organizers say that as a result of the competitions, thousands of young people around the world undertake academic study and often pursue careers in the water or environmental fields.
World Water Week in Stockholm is the annual meeting place for the planet's most urgent water-related issues. Organized by the Stockholm International Water Institute, it gathers 2,500 experts, practitioners, decision makers and business innovators to exchange ideas, foster new thinking and develop solutions.
Copyright Environment News Service (ENS) 2011. All rights reserved.