U.S., Russian Cities to Collaborate on Energy-Efficient Smart Grids
WASHINGTON, DC, June 25, 2010 (ENS) – New pilot projects using cutting-edge smart grid technology will match U.S. and Russian cities for creative energy management solutions, Presidents Barack Obama and Dimitry Medvedev said Thursday after their bilateral meeting in Washington.
"President Medvedev and I agreed to expand trade and commerce even further," said President Obama. "We agreed to deepen our collaboration on energy efficiency and clean energy technologies."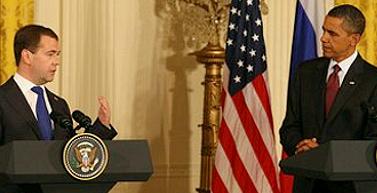 President Dimitry Medvedev, left, and President Barack Obama hold a joint news conference, June 24, 2010 (Photo courtesy the Kremlin)
The centerpiece of this collaboration will be the development of a pilot smart grid project based on the most innovative technologies to cut losses in electric power systems and reduce national levels of carbon emissions to limit climate change. S
Russian and U.S. cities will partner to implement parallel projects, and to share best practices and technical information.
President Medvedev said the Moscow region town of Skolkovo, "our Silicon Valley," will be "a new center of innovative developments" for energy and telecommunications, biotechnology and nuclear technology.
Earlier this week Medvedev visited California's Silicon Valley and said he was "deeply impressed" by what he saw there and encouraged by the interest of U.S. businessmen who have expressed their desire to work together. Corporations such as Intel and Cisco are involved in developments at Skolkovo, where an advanced school of business management was opened in 2006.
Smart grids will integrate advanced functions into the nations' electric grids to enhance reliability, efficiency, and security with information-age technologies, such as microprocessors, communications and advanced computing. Such smart grids will allow better integration of intermittant sources of power such as wind and solar.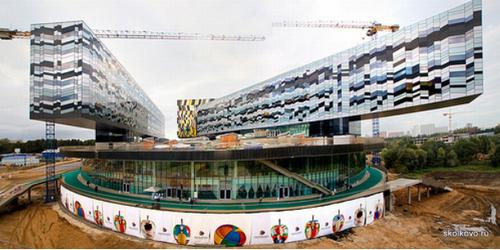 The Moscow School of Management at Skolkovo, Russia (Photo courtesy Skolkovo)
During their meeting in Moscow on July 6, 2009, Presidents Medevedev and Obama established the U.S.-Russia Bilateral Commission consisting of 16 working groups.
The smart grid projects are agreed under the action plan of the Commission's Energy Working Group, co-chaired by Secretary of Energy Steven Chu and Minister of Energy Sergey Shmatko.
This Working Group will also implement energy management and technical programs to improve energy efficiency in Russian and U.S. public sector buildings.
The U.S. and Russia also agreed to develop financial mechanisms to help create investment incentives for small and medium sized private companies to promote energy efficiency and clean technologies.
Both presidents said the clean energy cooperation will help stimulate greater economic growth as well as help address climate change.
"The positive momentum generated by the Commission's activities in these areas is stimulating the growth in Russian-American economic ties and creating thousands of jobs in both countries," they said in a joint statement.
Presidents Obama and Medvedev meet with business leaders from both countries. June 24, 2010 (Photo courtesy the Kremlin)
Working Groups on Energy and Science and Technology within the Commission have brought together government experts, academics, and business executives to advance cooperation on energy efficiency, the development of low carbon fuels and climate science, e-government, and nanotechnology.
Through the Commission's Nuclear Energy and Nuclear Security Working Group, the two presidents said, "we have carried out initiatives to secure and eliminate nuclear materials around the globe, and in April, we concluded an agreement on the Protocol to amend the 2000 Plutonium Management and Disposition Agreement, which will dispose of enough weapons-grade plutonium for 17,000 nuclear warheads."
The leaders said, "We are also continuing to work with other nations to secure and eliminate excess stocks of proliferation sensitive nuclear materials worldwide. Joint activities are being conducted to promote the safe use of civilian nuclear power and to work toward entry into force of the Agreement for Cooperation in the Peaceful Uses of Nuclear Energy."
Today, Presidents Obama and Medvedev are in Muskoka, Canada to participate in the annual meeting of the Group of Eight, the world's most powerful industrialized democracies.
Copyright Environment News Service (ENS) 2010. All rights reserved.