U.S. Polluted Beach Closings, Warnings Spiked in 2010
WASHINGTON, DC, June 29, 2011 (ENS) – Polluted stormwater runoff and sewage overflows carrying oil, and human and animal waste fouled beaches around the country in 2010, causing the second-highest number of closing and advisory days in more than two decades, finds the Natural Resources Defense Council in its annual beachwater quality report issued today.
NRDC's annual report, "Testing the Waters: A Guide to Water Quality at Vacation Beaches," analyzes government data on beachwater testing results from 2010 at more than 3,000 beach testing locations nationwide.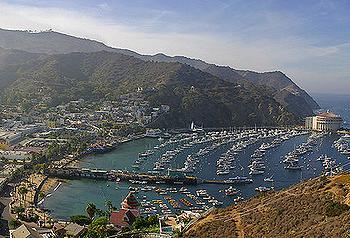 The worst repeat offender beach, Avalon Beach on Santa Catalina Island in Los Angeles County (Photo by Aaron Logan)
Closing and advisory days at America's beaches spiked to the second-highest level in the 21 years that NRDC has been compiling this report at 24,091 days, a 29 percent increase from the previous year.
The increase is due to heavy rainfall in Hawaii, contamination from unidentified sources in California, and oil washing up in the Gulf of Mexico from the BP oil well blowout and oil spill,the worst offshore oil spill in U.S. history.
The region with the most frequently contaminated beachwater in 2010 was the Great Lakes, where 15 percent of beachwater samples exceeded public health standards.
The report names the top 10 "Repeat Offender" beaches with persistently poor water quality year after year.
Of the worst repeat offenders, three California beaches top the list: Avalon Beach in Los Angeles County, Cabrillo Beach Station in Los Angeles County and Doheny State Beach in Orange County.
The report also provides a five-star rating guide to 200 of the nation's most popular beaches, evaluating them for water quality and best practices for testing and public notification.
Stars are earned for exceeding health standards less than five percent of the time last year and over the last three years, and for the following best practices: testing more than once a week, notifying the public promptly when tests reveal bacteria levels exceeding health standards, and posting closings and advisories both online and at the beach.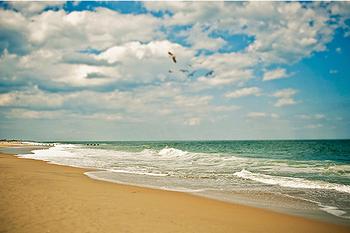 One of the nation's cleanest beaches, Rehoboth Beach in Delaware on the Atlantic Ocean (Photo by Heather Dyan)
For the first time this year NRDC is awarding top performers "Superstar" status for earning a five-star rating this year and for having perfect testing results for the past three years, indicating a history of very good water quality. Those beaches are:
Delaware: Rehoboth Beach-Rehoboth Avenue Beach, in Sussex County
Delaware: Dewey Beach, in Sussex County
Minnesota: Park Point Lafayette Community Club Beach, in St. Louis County
New Hampshire: Hampton Beach State Park in Rockingham County
The Southeast, New York-New Jersey coast and Delmarva region proved the cleanest at four percent, five percent and six percent, respectively.
This year's report features a special section on oil-related beach closures, advisories, and notices in the Gulf of Mexico region during and after the BP oil spill. An explosion aboard the Deepwater Horizon oil rig April 20, 2010 released some five million barrels of crude oil over three months fouling some 1,000 miles of shoreline.
While most oil-related advisories, closures and notices were lifted by the end of the year, cleanup crews are still at work and the spill is still interfering with trips to some beaches as oil continues to wash ashore in Alabama, Louisiana, Florida and Mississippi.
As of June 15, 2011, four beach segments in Louisiana that closed due to oil have yet to open, and three beaches in Florida remained under oil spill notice. There have been a total of 9,474 days of oil-related beach notices, advisories and closures at Gulf Coast beaches since the spill, as of June 15.
Louisiana has been hit the hardest, with 3,420 days in that state, while there were 2,245 days in Florida, 2,148 days in Mississippi, and 1,661 days in Alabama.
A state-by-state look at oil spill notices, advisories, and closures at Gulf Coast beaches from the beginning of the spill through June 15, 2011 is online here.
To prevent a similar disaster in the future, NRDC is urging Congress to implement the recommendations of President Obama's National Commission on the Deepwater Horizon Oil Spill and Offshore Drilling and, in addition, move the nation to cleaner sources of energy that cannot spill or run out.
Beachwater problems often start on land, the report shows.
"America's beaches have long suffered from pollution – the difference is now we know what to do about it," said NRDC senior attorney Jon Devine. "By making our communities literally greener on land – we can make the water at the beach cleaner. In the years to come, there's no reason we can't reverse this dirty legacy."
The U.S. EPA estimates that more than 10 trillion gallons of untreated stormwater flow into U.S. surface waters each year. In addition, there are 850 billion gallons of wastewater, which includes sewage and stormwater, released in combined sewer overflows annually.
"The best way to keep this pollution out of America's beachwater is to prevent it from the start by investing in smarter, greener infrastructure on land – like porous pavement, green roofs, parks, roadside plantings and rain barrels – that makes a real difference in the water," NRDC advises.
Cities nationwide are starting to embrace these practices at the local level.
Now, EPA has an opportunity to expand the use of green infrastructure in communities across the country by overhauling its rules governing runoff pollution. EPA will propose new rules later this year.
"Clean beachwater is not only good for public health, it supports healthy coastal economies that generate billions of dollars and support millions of American jobs," said David Beckman, director of the Water Program at NRDC. "By taking steps to stop the biggest sources of pollution in the waves, we can help keep trips to beach carefree, and support our lucrative tourism industries nationwide."
Copyright Environment News Service,ENS, 2011. All rights reserved.