U.S. Plans Innovation Center for Advanced Batteries
DETROIT, Michigan, January 12, 2012 (ENS) – The Obama administration intends to open a new advanced battery research center this year, U.S. Energy Secretary Steven Chu told an audience at the Detroit Economic Club on Tuesday.
After visiting the North American International Auto Show at Cobo Center, Chu took the podium at the Detroit Economic Club to outline his vision for the new battery research center.
"This Energy Innovation Hub, modeled after America's great industrial labs in their heyday, will bring together scientists, engineers, and industry to develop fresh concepts and new approaches to making batteries that last longer, go farther, and cost less," Chu said. "This research center won't focus on incremental improvements, but on technologies that would enable us to leap forward and could allow prototype testing in this decade," said Chu, a Nobel-Prize winning physicist.
At the Detroit Auto Show: Energy Secretary Steven Chu, center, Chrysler CEO Sergio Marchionne, left, and outgoing Ford Group Vice President Sue Cischke (Photo courtesy DOE)
"Imagine a low-cost battery that allows you to drive a few hundred miles, recharge while you stop for lunch, and then drive on for another few hundred miles. Achieving this goal could be transformative," said Chu. "The advanced battery competition is a race the United States can and should win."
Chu emphasized how the Obama administration's economic stimulus funding, made possible by the American Recovery and Reinvestment Act, already has created a thriving advanced battery industry in the United States, after decades of neglect.
Decades ago, Chu reminded his listeners, the United States let leadership in battery manufacturing shift to Asia. In 2009, when President Barack Obama took office, the U.S. had only two factories manufacturing advanced vehicle batteries.
Today, "Grants from the American Recovery and Reinvestment Act are supporting 30 new U.S. plants to manufacture advanced battery and electric vehicle components," Chu said. "We're catching up, but our goal is to become the market leader."
Market leadership depends on bringing down battery costs, which Chu said is already beginning to happen. Battery costs are expected to drop to a third of what they were in 2008.
"While a typical battery for a plug-in hybrid electric vehicle with a 40-mile electric range cost $12,000 in 2008, we're on track to demonstrate technology by 2015 that would reduce the cost to $3,600," Chu said.
Last year the Obama administration set a goal of demonstrating technology by 2020 that would further reduce the cost to $1,500, an accomplishment Chu says could help spur real mass-market adoption of electric vehicles.
By 2015, the United States will be able to produce enough batteries and components to support one million plug-in hybrid and electric vehicles, Chu said, due to Recovery Act investments and the Advanced Technology Vehicles Manufacturing loan program.
The Electric Drive Transportation Association applauded the planned battery research center. EDTA President Brian Wynne said, "This center will be a critical partner with industry in advancing transformative electric drive technologies.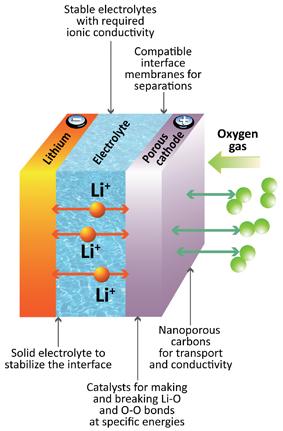 Lithium-air batteries hold the promise of increasing the energy density of lithium-ion batteries by as much as five to 10 times. (Image courtesy Argonne National Laboratory)
"By the end of this year," Wynne said, "American consumers will be able to choose from more than 30 hybrid models and 20 new plug-in electric vehicles to meet the diverse needs of the driving public."
"With public and private investment in innovation," said Wynne, "we can realize a clean, efficient electric drive fleet that moves us away from foreign oil dependence and contributes to a robust and globally competitive U.S. electric drive industry."
Already the Energy Department is supporting research into new battery technologies that is "pushing the limits of energy density and cost for lithium-ion batteries," said Chu, "while exploring more advanced battery concepts such as lithium-air, lithium-sulfur, and a whole class of metal-air batteries.
"We are still in the early days of this work, but we are seeing some promising results," the secretary said.
Collaborating with teams of scientists from the Department of Energy's Argonne National Lab, Pacific Northwest Lab and Oak Ridge National Lab, IBM researchers are exploring the science of lithium-air batteries, capable of powering an electric car at least 500 miles on a single charge.
Lithium air batteries pull oxygen from the air as the vehicle is being driven, creating an air-breathing battery and enabling extended range from a single charge. Lithium-air batteries for electric cars will be lighter due to the elimination of heavy metal oxides used in electric car batteries today.
Chu says advanced battery development is good for the U.S. economy. The projects supported by the Advanced Technology Vehicles Manufacturing program are employing tens of thousands of workers, reducing U.S. dependence on foreign oil and promoting U.S. technological leadership.
For example, Ford received a nearly $6 billion loan to retool and modernize factories across Illinois, Kentucky, Michigan, Missouri, and Ohio to produce higher-quality, more fuel-efficient vehicles.
A loan to Nissan North America is helping the company to produce advanced batteries and the all-electric LEAF in Tennessee.
And the Department of Energy is supporting Fisker and Tesla, said Chu, "two newer manufacturers who are building innovative electric vehicles in what will be a hotly competitive market."
"In Michigan, we are supporting several battery facilities and education training programs," he said. "Companies like Johnson Controls and A123 Systems have said that these grants were critical to their decision to locate their facilities in the United States instead of overseas."
"To compete in a world market that will double to two billion automobiles in the next 40 years," said Chu, "the United States has to make fabulous automobiles; cars that are fuel-efficient and fun."
Copyright Environment News Service (ENS) 2012. All rights reserved.