U.S. Marines Embrace Biodiesel Fuel
CAMP LEJEUNE, North Carolina, July 18, 2011 (ENS) – The first shipment of biodiesel fuel grown and processed in North Carolina for the military will arrive today at Marine Corps Base Camp Lejeune.
Marine Corps Maj. Gen. Carl B. Jensen, commanding general of Marine Corps Installations East, and State Senator Harry Brown will be on hand to mark what officials are calling a "watershed event" in the military's ongoing effort to increase its use of domestically produced renewable fuels.
The delivery culminates years of collaboration facilitated by North Carolina Eastern Region's Military Growth Task Force through an initiative known as "Fuel the Force," Camp Lejeune officials said.
"The project is a partnership between North Carolina's two leading industries – the military and agriculture – and promotes development of the processes and infrastructure necessary for North Carolina's farmers to provide the renewable fuels required by North Carolina's warriors," officials said in a statement announcing the delivery.
The military must meet federal mandates to reduce its energy consumption 30 percent by 2015, while increasing its use of renewable energy. Maj. Gen. Jensen detailed his energy needs at the task force's regional biofuels symposium last year.
"I believe strongly that we have got to break our dependence on petrochemicals," he said. "It has got to start somewhere, and it might as well start with the military."
Since then, a team of farmers, entrepreneurs, economic developers, elected officials, environmental groups, educators and interested citizens worked together to make the vision a reality.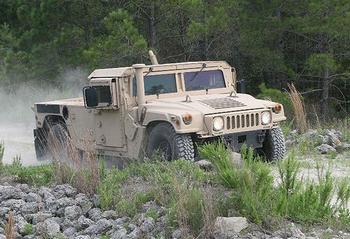 Humvee on a practice course at Camp LeJeune (Photo courtesy U.S. Marines)
The establishment of regional production capacity will reduce, and eventually eliminate, the need to import fuels from distant locations, officials said.
Through "Fuel the Force," North Carolina's armed forces members working together with farmers have sown the seeds of a North Carolina biofuels industry that is environmentally, logistically and fiscally sustainable, the announcement said.
Camp Lejeune is located on North Carolina's Atlantic coast. Far on the oppposite side of the country, in Hawaii, the Marines are involved in a Biodiesel Crop Demonstration Project.
The project is a combined effort between Pacific Biodiesel, Inc., the U.S. Marine Corps, the U.S. Army Corps of Engineers Research and Development Center, and Army Installation Management Command, Pacific.
"Marine Corps Base Hawaii has taken the lead in the race for renewable energy solutions and security in the state," said Hawaii Governor Neil Abercrombie in February.
Abercrombie initiated a $2.4 million appropriation for the project during his time as a U.S. Congressman representing Hawaii.
The first step of the project is locating suitable land to grow biofuel crops. Pacific Biodiesel is looking at sites on the Big Island, Maui and central Oahu. Plants will be selected based on the geographical climate. Kukui nut and sunflower oils are best suited for Hawaiian meteorological conditions, according to Eileen O'Hara who handles business development for Big Island Biodiesel.
Governor Abercrombie said the project will demonstrate the potential for commercial scale oil seed crop production in Hawaii, as well as expand the capability of the U.S. military to advance its renewable fuel usage and enhance energy security, while supporting the energy goals set by the Department of Defense and the State of Hawaii.
Even now, Marine Corps Base Hawaii turns used cooking oil from chow halls into biodiesel fuel.
The Marine Corps is pushing to fulfill the Secretary of the Navy's energy initiative. By 2025, the plan is to have the Navy Department, of which the Marine Corps is a part, operating with half of its fuel supply derived from alternatives to petroleum.
Marines in combat aren't yet using cottonseed or rapeseed oils as biofuel, but officials at Marine Corps Systems Command said they could be doing so in the near future.
Copyright Environment News Service (ENS) 2011. All rights reserved.