U.S. Leads New Coalition to Curb 'Short-Lived' Climate Pollution
WASHINGTON, DC, February, 17, 2012 (ENS) – Secretary of State Hillary Rodham Clinton Thursday announced a new global initiative to reduce short-lived climate pollutants.
Working together as the Climate and Clean Air Coalition, Bangladesh, Canada, Ghana, Mexico, Sweden, and the United States will conduct what Secretary Clinton described as "a targeted, practical, and highly energetic global campaign to spread solutions to the short-lived pollutants worldwide."
The initiative targets three pollutants that together account for more than one-third of current global warming – black carbon, or soot; methane; and hydrofluorocarbons, which are gases used in air conditioning, refrigeration, solvents, foam blowing agents and aerosols.
These pollutants remain in the atmosphere for a few days to a few years after they are emitted. By comparison, carbon dioxide, the most prevalent greenhouse gas, remains in the atmosphere for roughly 100 years.
These six countries, in collaboration with the United Nations Environment Programme, are engaging in the first international effort to treat the short-lived climate pollutants together, as a collective challenge.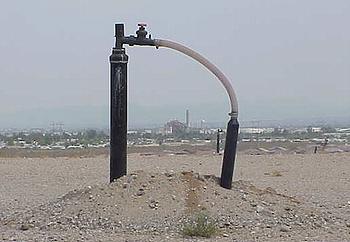 Los Reales landfill in Tucson, Arizona collects and pipes methane to Tucson Electric Power, where it is used to generate electricity. (Photo by Alana Levine)
The Coalition's work will augment, not replace, global action to reduce carbon dioxide in the atmosphere.
Secretary Clinton said the coalition "will mobilize resources, assemble political support, help countries develop and implement a national action plan, raise public awareness, and reach out to other countries, companies, NGOs and foundations."
The foundation partners are committing more than $15 million to get the coalition up and running.
Clinton said the United States is committing $12 million of new funding to this effort, in addition to the $10 million in annual support already provided to each of two existing efforts – the Global Methane Initiative and the Global Alliance for Clean Cookstoves.
"The Climate and Clean Air Coalition will spread practical ideas and practices regarding so-called short-lived pollutants, which remain in the atmosphere only for a short time – pollutants such as methane, black carbon or soot, hydrofluorocarbons," said Clinton. "In the past few years, we've learned that this group contributes much more to climate change than we previously realized."
"Millions die annually from constantly breathing in black carbon soot that comes from cookstoves in their own homes, from diesel cars and trucks on their roads, from the open burning of agricultural waste in their fields," said Clinton.
"Methane – a greenhouse gas more than 20 times more potent than carbon dioxide – can also be an abundant source of energy if we capture it instead of just venting it into the air or flaring it," she said.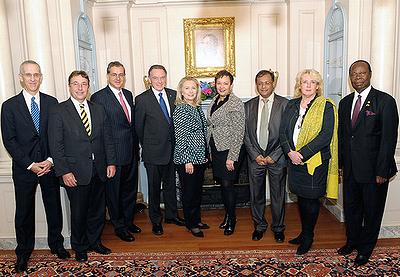 Founding partners of the Climate and Clean Air Coalition: from left: Todd Stern, U.S. Climate Envoy; Achim Steiner, UNEP; Mexican Environment Minister Juan Rafael Elvira; Canadian Environment Minister Peter Kent; U.S. Secretary of State Hillary Clinton; U.S. EPA Administrator Lisa Jackson; Bangladesh Environment Minister Hasan Mahmud; Swedish Environment Minister Lena Ek; Ghanian Ambassador to the USA, Daniel Ohene Agyekum (Photo courtesy U.S. State Dept.)
Making the announcement, Secretary Clinton was joined in the Benjamin Franklin room at the State Department by U.S. EPA Administrator Lisa Jackson, UNEP Executive Director Achim Steiner, and the environmental ministers from Bangladesh and Canada, Mexico and Sweden and the Ghanaian Ambassador to the United States.
"This is an important alliance that will serve to reduce emissions, help counter climate change, and work towards delivering a global solution to this global problem," said Canada's Environment Minister Peter Kent. "Taking action on short-lived climate pollutants (SLCPs) will yield positive results in the near-term as we continue to make progress in our efforts to reduce emissions from longer-lived greenhouse gases, such as carbon dioxide."
Clinton said, "The UN Environment Program has determined that reducing these pollutants can slow global warming by up to a half degree Celsius by 2050. To put that into context, the world's goal is to limit the rise in global temperature to two degrees. So a half a degree, or 25 percent, is significant."
UNEP has identified a package of 16 major actions that can reduce the emission of short-lived climate pollutants. They include replacing inefficient cookstoves and traditional brick kilns with more efficient ones to cut down on black carbon, stopping the burning of agricultural waste, harvesting coal mine methane, improving wastewater treatment, and adopting emissions standards on vehicles.
UNEP Exective Director Steiner said, "Fast action on short-lived climate forcers can deliver quick wins in a world often frustrated by the glacial pace at which sustainability challenges appear to be being addressed."
"In respect to climate change, it might assist in keeping a global temperature rise below two degrees Celsius but only for so long," Steiner said.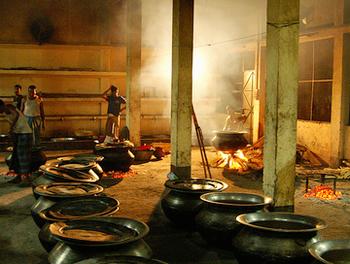 Cooking a wedding feast in Dhaka, Bangladesh, February 2011 (Photo by Reivax)
"Unless there is also decisive action on carbon dioxide," he warned, "then reducing all sources of short lived climate forcers will not spare the world and its people from dangerous climate change over the 21st century."
"But," said Steiner, "it would be a failure of leadership not to seize the benefits so manifest in respect to the health of humans and the health of our world."
Bangladesh Environment and Forests Minister Dr. Hasan Mahmud described his South Asian country as "one of the most vulnerable" to climate change, despite having little part in causing the planet to warm.
"Assessment of black carbon and tropospheric ozone reveals that the air pollution in South Asia causes more than 500,000 premature deaths annually. There are also negative impacts of air pollution on crop productivity, primarily due to high levels of tropospheric ozone, causing several millions of tons of reduced crop yield in South Asia annually," Dr. Mahmud said.
"Moreover," he stressed, "there are negative impacts of black carbon and other anthropogenic emissions on essential components of the regional climatic systems, such as monsoons, regional hydrological balance with implications of food security, and short-lived climate forcers are driving increased melting of Himalayan glaciers, which are a major source of fresh water for millions of people in that region."
Bangladesh is already taking action to reduce these pollutants. Almost two-thirds of gasoline-powered cars, jeeps, minibuses and three-wheelers, have been converted to cleaner fuel, compressed natural gas, over the last couple of years.
More than 400,000 improved and efficient cookstoves have been distributed throughout the country, replacing conventional inefficient cookstoves with the support of NGOs and bilateral funding agencies and a Clean Development Mechanism project under the Kyoto Protocol has been approved to place one million efficient cookstoves in Bangladeshi homes.
Work on the international level to limit short-lived climate pollutants is taking place through the Global Methane Initiative, the Montreal Protocol, the Arctic Council and the Global Alliance for Clean Cookstoves, which was launched by Secretary Clinton in 2010.
The Global Alliance for Clean Cookstoves is a public-private partnership led by the United Nations Foundation to create a global market for clean and efficient household cooking solutions.
The Alliance's 100 by '20 goal calls for 100 million households to adopt clean and efficient cookstoves and fuels by 2020.
The Alliance is working with its public, private and non-profit partners to help overcome the market barriers that impede the production, deployment and use of clean cookstoves in developing countries.
Copyright Environment News Service (ENS) 2012. All rights reserved.
Environment News Service (ENS) © 2012 All Rights Reserved.