U.S., Kazakhstan Secure Weapons-Grade Plutonium From Soviet-era Reactor
WASHINGTON, DC, November 18, 2010 (ENS) – Enough plutonium and uranium to make 775 nuclear weapons has been removed from the BN-350 fast reactor in Kazakhstan, built to breed plutonium for the Soviet Union's nuclear weapons program, and placed in a secure storage facility to keep terrorists from acquiring nuclear weapons.
The United States and Kazakhstan worked together to achieve the transfer, which was announced today by U.S. and Kazakh officials at the storage facility in Eastern Kazakhstan.
"Working closely together, we secured, packaged and removed the spent fuel that contains 10 metric tons of highly enriched uranium and three metric tons of weapons-grade plutonium, enough material for 775 nuclear weapons," said Anne Harrington, deputy administrator for defense nuclear nonproliferation with the U.S. National Nuclear Security Administration, NNSA.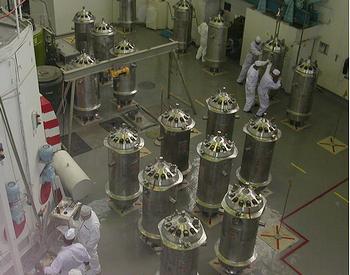 Casks of highly enriched uranium await transport. (Photo courtesy NNSA)
The shipments were conducted by NNSA's Global Threat Reduction Initiative in close cooperation with Kazakhstan's Ministry of Industry and New Technology and other government agencies.
Located in Aktau on the eastern shore of the Caspian Sea, the BN-350 fast reactor was designed to both generate electric power and to breed plutonium.
In 1997, the United States and Kazakhstan signed an agreement that established a joint program for the long-term, secure storage of the fuel from the BN-350 reactor, which stopped weapons material production in the 1980s, and was completely shut down in 1999.
Over the course of 12 shipments during the last year, the nuclear material was transported from the BN-350 reactor to the new storage facility. The material was packaged into 60 casks, each weighing 100 metric tonnes, which were transported by train and road over 3,000 kilometers (more than 1,800 miles).
"AMoving the BN-350 fuel to a new facility for secure long-term storage is a critical nuclear nonproliferation milestone and an important contribution to global security," said NNSA Administrator Thomas D'Agostino.
"AThrough our close partnership with Kazakhstan, we were able to finish the challenging series of shipments ahead of schedule," said D'Agostino. "Our partners in Kazakhstan once again demonstrated their commitment to international nonproliferation efforts, and together we have taken a major step forward in meeting President Obama's goal of securing all nuclear material within four years."
In his Prague speech of April 2009, President Obama called the danger of a terrorist acquiring nuclear weapons "the most immediate and extreme threat to global security" and called for an international effort to secure all vulnerable nuclear material around the world within four years.
The leaders from 47 countries and three international organizations reaffirmed this goals at the Nuclear Security Summit this past April in Washington.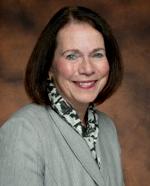 Anne Harrington, NNSA deputy administrator for defense nuclear nonproliferation(Photo courtesy NNSA)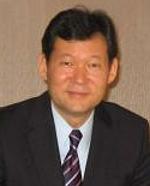 Deputy Foreign Minister Kairat Umarov (Photo courtesy Govt. of Kazakhstan)
The American officials were joined by Kazakhstan's Deputy Foreign Minister Kairat Umarov, the UK's Ambassador to Kazakhstan David Moran and U.S. Ambassador to Kazakhstan Richard Hoagland in announcing the accomplishment.
In addition to the contributions of hundreds of Kazakhstani and U.S. scientists, engineers, safety, security and transportation experts, the program received substantial support from the International Atomic Energy Agency, the United Kingdom, and the Russian Federation.
Harrington today outlined how the operation was accomplished.
"Working together with the IAEA, Russia, and our other partners, we designed and fabricated 61 dual-use casks that were used to transport and store the fuel in a safe and secure manner. We designed special rail cars to transport the casks and constructed additional rail lines," she said.
"We built three separate facilities – the Aktau Temporary Cask Storage Site, the Kurchatov Rail Transfer Site, and the Cask Storage Facility," she explained. "We provided countless hours of training for all personnel involved in the loading and transportation, renovated the guard barracks to accommodate more troops, and completed a full-scale dry run."
"We completed 12 shipments that transported the specially-designed casks – each weighing 100 metric tons when fully loaded – more than 3,000 kilometers across the country," said Harrington. "Each of these steps itself could be considered a major accomplishment."
"The completion of these shipments should make you all very proud and speaks to the dedication and hard work of everyone involved," she said.
The BN-350 program included the preparation of a decommissioning plan, decontamination of the primary sodium coolant at the reactor, and formulation of the process and design for the final waste form from the sodium processing operations.
In Washington, Republican U.S. Senator Richard Lugar of Indiana, the Senate Foreign Relations Committee Ranking Member, welcomed today's announcement, saying, "The completion of this decade-long effort to secure the BN-350 spent fuel provides yet another example of the progress on nuclear security and non-proliferation through concerted U.S. diplomacy and global security engagement."
Copyright Environment News Service (ENS) 2010. All rights reserved.