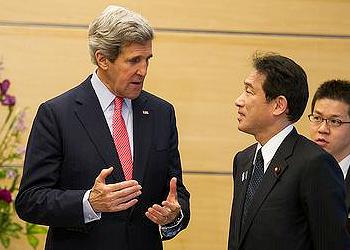 WASHINGTON, DC, April 18, 2013 (ENS) – Support for global action to curb climate change is growing stronger within the G8 group of the world's largest industrial democracies, which includes the United States and Japan.
During an April 14 meeting in Tokyo, U.S. Secretary of State John Kerry and Japan's Foreign Minister Fumio Kishida expressed "serious concern about anthropogenic climate change and its worsening impacts."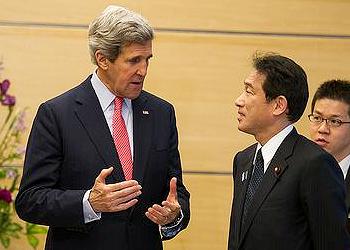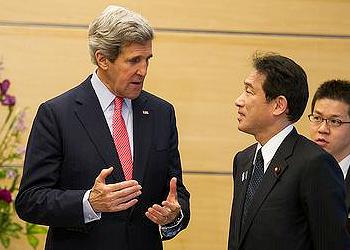 They said the United States and Japan "share the view" that human-caused climate change represents a threat to the security and economic development of all nations.
"Cooperative efforts between the United States and Japan demonstrate our shared commitment to advancing climate action in the multilateral context," the two officials said in a joint statement. "We plan to deepen our mutual engagement in advancing low-carbon growth."
Kerry and Kishida said the United States and Japan will hold a new bilateral dialogue, based on three pillars of cooperation – a new, ambitious, global, post-2020 international agreement to combat climate change, cooperation to advance low-emissions development in the world, and cooperation on constructing climate-resilient societies.
"We agreed that based on these three pillars, we will carry out cooperation regarding climate change," Kishida said.
"The United States and Japan seek to join with other partners, both bilaterally and multilaterally, in a renewed effort to craft an ambitious post-2020 agreement that is applicable to all countries," they said.
At a news conference in Tokyo Monday, Kishida said, "Regarding climate change, we agreed to cooperate based on the process of UN-led negotiations on building the future framework and to low-carbon growth realization and penetration, a society resilient toward climate change, including adaptive capability and disaster mitigation."
The Kyoto Protocol, which in December was extended to a second commitment period, is seen as an important first step towards a truly global emission reduction regime that will stabilize global greenhouse gas emissions and provide the architecture for the future international agreement on climate change.
At the UN climate negotiations in Durban, South Africa in 2011, a Working Group was established to develop a new treaty that would set binding emissions limits not just for 36 developed economies as the Kyoto Protocol does, but for all the 195 governments that are Parties to the UN Framework Convention on Climate Change.
The new treaty would, for the first time include developing countries such as China and India, as well as the United States which refused to ratify the Kyoto Protocol.
The Working Group is to complete its work as early as possible, but no later than 2015, in order to adopt this protocol, legal instrument or agreed outcome with legal force at the 21st session of the UNFCCC Conference of the Parties and for it to come into effect and be implemented from 2020.
Kerry and Kishida said their governments support this process. "Moving forward, the governments of the United States and Japan intend to continue to treat climate change as an issue of high priority in the bilateral relationship as we work towards an ambitious and coordinated global response to this serious challenge," they told reporters in Tokyo.
"Together we have promoted low-emissions development and supported those vulnerable to the impacts of climate change, a demonstration of our commitment to working to preserve our environment for our citizens, those of our international partners, and for our children and generations to come," they said.
The two governments expect to cooperate and work with other countries through the Low Emission Development Strategies Global Partnership and the East Asia Low Carbon Growth Partnership.
They are also collaborating on ways to mobilize private finance for action in developing countries and on reducing short-lived climate pollutants.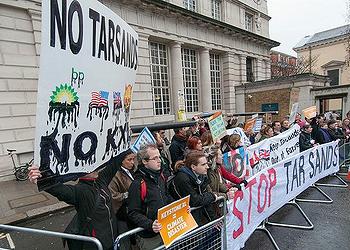 Both Kerry and Kishida attended the G8 Foreign Ministers meeting April 10-11 in London with their counterparts from the other six nations in the Group of Eight: Canada, France, Germany, Italy, Russia, the United Kingdom, and the United States. The European Union also participates.
"Climate change remains a key global challenge which, if not controlled, would have dramatic consequences not only on the environment but also on economic prosperity," the G8 foreign ministers said in a joint statement. "G8 Ministers recognised climate change as a contributing factor to increased economic and security risks globally."
Some 60 activists, including some from Texas and the Gulf Coast, gathered outside the G8 foreign ministers' meeting at Lancaster House in London on April 11, to tell  Secretary Kerry to reject TransCanada's permit application for the Keystone XL tar sands pipeline, address the global climate crisis, and keep tar sands out of Europe.
The G8 foreign ministers restated their commitment to "long term efforts with a view to limiting effectively the increase in global average temperature below two degrees Celsius above pre-industrial levels, consistent with science."
Even Foreign Minister John Baird of Canada, the only country to have abandoned the Kyoto Protocol after ratifying it, agreed to this statement.
The G8 foreign ministers said their governments remain "fully committed" to the UNFCCC process:
>> to achieving, by 2015, a new climate change agreement, applicable to all Parties, which will come into effect and be implemented from 2020;
>> to increase mitigation ambition in the pre-2020 timeframe, including through international cooperative initiatives such as the Climate and Clean Air Coalition;
>> to the developed countries' goal of mobilizing jointly US$100 billion per year by 2020, from public and private sources, to fund climate mitigation actions for developing countries and "transparency on implementation."
"Measurement, reporting, and verification will play a key role with respect to mitigation, adaptation, and international climate finance flows in order to measure progress towards the achievement of our goals," the ministers said.
Corporations are also lining up behind climate change action. Last week, 33 major U.S. companies, including Starbucks, eBay Inc., Nike and Limited Brands, met in Washington, DC to unveil the Climate Declaration, urging U.S. federal policymakers to take action on climate change.