U.S. House Votes to Yank EPA Authority to Regulate Greenhouse Gases
WASHINGTON, DC, April 7, 2011 (ENS) – The U.S. House of Representatives today voted 255-172 in favor of rescinding the U.S. Environmental Protection Agency's authority under the Clean Air Act to regulate greenhouse gas emissions.
The bill, H.R. 910, the Energy Tax Prevention Act of 2011, was coauthored by House Energy and Commerce Committee Chair Congressman Fred Upton, a Michigan Republican.
The measure now goes to to the U.S. Senate for a vote, where it needs a two-thirds majority of 60 votes to pass. The Senate voted down identical legislation on Wednesday sponsored by Republicans James Inhofe of Oklahoma and Senate Minority Leader Mitch McConnell of Kentucky.
Congressmen Upton said, "Today's vote was a victory for Michigan families who stand to bear the greatest costs of EPA's overreaching regulations."
"This is the same debate we had last year when both Congress and the American people soundly rejected the cap-and-trade regulatory scheme," he said.
In June 2009, the House passed the American Clean Energy and Security Act which mandated a cap and trade market for emissions of the greenhouse gas carbon dioxide, but the legislation died in the Senate.
Upton said today, "The rules supported by EPA seek the same ends as cap and trade and are no less costly in terms of lost American jobs and higher energy prices. Left unchecked, EPA's actions would have a devastating impact on jobs, U.S. competitiveness, and domestic energy prices."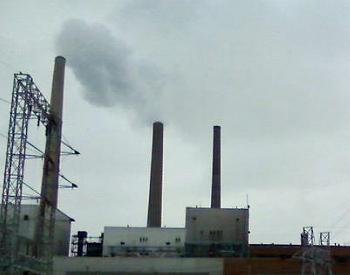 On the western shore of Lake Erie, Detroit Edison's Monroe coal-fired power plant emits greenhouse gases, as do all coal-burning generating stations. (Photo credit unknown)
"Republicans are voting to increase OPEC's wealth, and against protecting Americans' public health," said Congressman Ed Markey of Massachusetts, the top Democrat on the Natural Resources Committee and a senior member of the Energy and Commerce Committee.
"While the House Republicans' bill spurns the reality of climatic changes, the passage of this misguided bill is anti-climactic," said Markey, "as failure of several similar amendments in the Senate yesterday means the House bill was effectively dead before it ever lived."
New Jersey Congressman Steve Rothman, a Democrat, voted against the Upton bill.
"The Upton-Inhofe bill is harmful to New Jersey and our entire nation," said Rothman. "Specifically, this legislation would weaken the Clean Air Act, overturn the [U.S.] Supreme Court ruling that gave the EPA authority to regulate dangerous air pollutants, and derail efforts to move toward energy independence by reducing emissions from cars and trucks."
"It is for these reasons and many others that health advocacy and environmental groups – from the American Lung Association and the Union of Concerned Scientists to Environment New Jersey and the Asthma and Allergy Foundation of America – oppose this harmful legislation," Rothman wrote on his website.
"In opposition to the Clean Air Act and the EPA, and supporting the Upton-Inhofe bill, are groups like big oil companies and billion-dollar corporations with vested interests in avoiding the costs of cleaning up the environmental messes they make," he wrote. "I and many of my constituents and people throughout our state choose to stand with those who want to keep New Jersey's air clean, not those who put profit over public health."
Copyright Environment News Service (ENS) 2011. All rights reserved.
© 2011 – 2012, Jim Crabtree. All rights reserved.