U.S. Government Sues BP for Gulf Oil Spill
WASHINGTON, DC, December 15, 2010 (ENS) – The U.S. Justice Department today filed suit against BP Exploration and Production Inc. and eight other companies in an effort to recover billions of dollars in damages from the Gulf of Mexico oil spill earlier this year.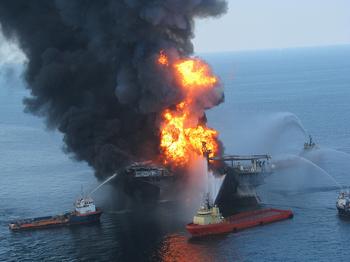 BP's Deepwater Horizon oil rig on fire in the Gulf of Mexico, April 21, 2010 (Photo courtesy U.S. Coast Guard)
Filed in U.S. District Court in New Orleans, the civil lawsuit seeks damages from BP, Transocean Holdings and Transocean Offshore Deepwater Drilling Inc., Anadarko Petroleum Corp. and Anadarko Exploration & Production LP, Mitsui & Co Ltd.'s MOEX Offshore 2007 LLC, Triton Asset Leasing GMBH, and BP's insurer Lloyds of London for their actions associated with the largest offshore oil spill in U.S. history.
The lawsuit asks that the companies be held liable for unlimited damages, beyond the $75 million cap under the U.S. Oil Pollution Act. The lawsuit also seeks civil penalties under the Clean Water Act.
"We intend to prove that these violations caused or contributed to this massive oil spill, and that the defendants are therefore responsible – under the Oil Pollution Act – for government removal costs, economic losses, and environmental damages," U.S. Attorney General Eric Holder said at a news conference today at Justice Department headquarters in Washington.
"While today's civil action marks a critical step forward, it is not a final step," said Holder. "Both our criminal and civil investigations are continuing. And our work to ensure that the American taxpayers are not forced to bear the costs of restoring the gulf area – and its economy – goes on."
"Over the past year, I have visited the gulf region multiple times," Holder said. "I have seen the devastation that this oil spill caused throughout the region – to individuals and families; to communities and businesses; to coastlines, wetlands, and wildlife."
An explosion at the Deepwater Horizon oil rig leased by BP from Transocean killed 11 workers and injured 17 others last April 20.
Oil gushed from BP's undersea Macondo well amounting to 4.1 million barrels, according to U.S. government data before the well was finally capped on July 19. The well was permanently sealed in September.
Oil from the well, located about 50 miles from the Mississippi Delta, polluted the Gulf of Mexico and shorelines from Florida to Texas.
Anadarko and MOEX Offshore 2007 LLC were in a partnership with BP for drilling the Macondo well in the Gulf of Mexico.
In the complaint, the United States alleges violations of federal safety and operational regulations, including:
Failure to take necessary precautions to secure the Macondo Well prior to the April 20th explosion
Failure to utilize the safest drilling technology to monitor the well's condition
Failure to maintain continuous surveillance of the well
Failure to utilize and maintain equipment and materials that were available and necessary to ensure the safety and protection of personnel, property, natural resources, and the environment
"As our investigations continue," Holder said, "we will not hesitate to take whatever steps are necessary to hold accountable those responsible for this spill."
Copyright Environment News Service (ENS) 2010. All rights reserved.