U.S. Fish and Wildlife Service Director Dies on Ski Trip
WASHINGTON, DC, February 21, 2010 (ENS) – Sam Hamilton, the director of the U.S. Fish and Wildlife Service, died Saturday after suffering chest pains at a ski resort in Colorado, officials announced.
Hamilton, 54, had served the U.S. Fish and Wildlife Service for more than 30 years. Hamilton was nominated as director by President Barack Obama and sworn in September 1, 2009.
He died Saturday afternoon after being transported off the Keystone Ski Area to Keystone Medical Center, said Summit County coroner Joanne Richardson. She said the manner of his death indicated an underlying heart condition.
Hamilton was skiing in Colorado following a Service regional leadership meeting which ended Friday.
"The Interior Department family has suffered a great loss with the passing of Sam Hamilton," said Interior Secretary Ken Salazar. "Sam was a friend, a visionary, and a professional whose years of service and passionate dedication to his work have left an indelible mark on the lands and wildlife we cherish."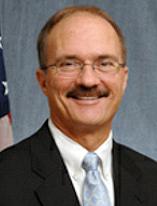 Sam Hamilton (Photo courtesy USFWS)
"His forward-thinking approach to conservation – including his view that we must think beyond boundaries at the landscape-scale – will continue to shape our nation's stewardship for years to come," Salazar said. "My heart goes out to Sam's family, friends, and colleagues as we remember a remarkable leader and a compassionate, wise, and eternally optimistic man."
Assistant Secretary for Fish and Wildlife and Parks Thomas Strickland said, "We are all saddened by the loss of our dear friend and colleague Sam Hamilton. A dedicated Fish and Wildlife Service employee for more than 30 years, Sam brought more than just a wealth of experience to the job, he brought courage and outstanding leadership. The Department of the Interior will miss him greatly."
Environmentalists too were saddened by Hamilton's passing.
"Sam was a strong partner, a great leader for fish and wildlife conservation, and a good friend," said Dr. Alan Wentz, Ducks Unlimited's senior group manager for conservation, marketing and communication. "His untimely passing leaves a void that we will feel for years."
"Sam and DU have worked together for many years to improve habitat for waterfowl and other wildlife. Sam's energy and vitality combined with his leadership skills produced results for wildlife and he set the pace for many of us. We will miss him greatly," Wentz said.
Born in Starkville, Mississippi, Hamilton began his conservation work at the age of 15 working as a Youth Conservation Corps member on the Noxubee National Wildlife Refuge in Mississippi. He graduated from Mississippi State University with a Bachelor of Science degree in biology in 1977.
Earlier in his career, Hamilton served as assistant regional director of ecological Services in Atlanta and as the Service's Texas state administrator in Austin.
He served as regional director of the agency's Southeast Region in Atlanta, Georgia. As head of the Southeast Region, made up of 10 states and Caribbean, he provided oversight and management of a $484 million budget and a 1,500-person work force charged with protecting more than 350 federally listed threatened and endangered species and operating 128 national wildlife refuges.
Hamilton provided key leadership and oversight to the Interior Department's restoration work in the Everglades, the largest ecosystem restoration project in the country.
He oversaw the extensive recovery and restoration efforts required following Hurricanes Katrina and Rita, which devastated coastal wetlands, wildlife refuges, and other wildlife habitat areas along the Gulf of Mexico.
In the Southeast Region, he supported efforts leading to the establishment of a carbon sequestration program that has helped biologists to restore roughly 80,000 acres of wildlife habitat.
His emphasis on partnership activities has bolstered the Service's fisheries program and helped establish the Southeast Aquatic Resources Partnership to restore vital aquatic habitats across the region.
Hamilton was a strong advocate for the National Wildlife Refuge System, which covers 550 units and encompasses 150 million acres of protected habitat. Throughout his career he supported the expansion of existing refuges and the addition of new refuges as an essential step in providing for America's wildlife heritage.
Hamilton is survived by his wife Becky, his sons Sam Jr. and Clay, and a grandson, Davis all of Atlanta, Georgia.
Copyright Environment News Service (ENS) 2010. All rights reserved.