U.S. EPA Will List, Possibly Regulate, Chemicals of Concern
WASHINGTON, DC, December 31, 2009 (ENS) – For the first time, the U.S. EPA intends to establish a Chemicals of Concern list and is beginning a process that could lead to regulations requiring risk reduction measures to protect human health and the environment.
The agency is taking action to control four groups of chemicals that EPA Administrator Lisa Jackson says raise "serious health or environmental concerns."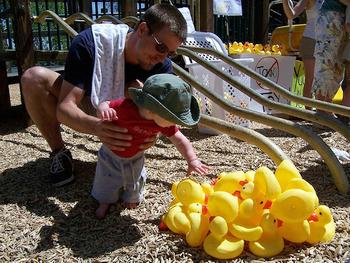 Kids and parents demanded safe, phthalate-free toys at a rally in Denver May 20, 2008. These plastic ducks are made soft with phthalates. (Photo courtesy Breast Cancer Fund)
"The American people are understandably concerned about the chemicals making their way into our products, our environment and our bodies," said Jackson, announcing the action Wednesday. "We will continue to use our authority under existing law to protect Americans from exposure to harmful chemicals and to highlight chemicals we believe warrant concern.
This is the first time the EPA has used the authority of the existing Toxic Substances Control Act, TSCA, to list chemicals that "may present an unreasonable risk of injury to health and the environment."
At the same time, Jackson says the 1976 law is both outdated and in need of reform.
The decision to list the chemicals further signals "this administration's commitment to aggressively use the tools at its disposal under TSCA," she said.
"At the same time," Jackson said, "I will continue to fight for comprehensive reform of the nation's outdated chemical management laws that ensures a full assessment of the safety of chemicals on the market today and effective actions to reduce risks where chemicals do not meet the safety standard."
"Chemical safety is an issue of utmost importance, especially for children, and this will remain a top priority for me and our agency going forward," said Jackson, who is a mother.
The four chemical groups EPA is addressing now are: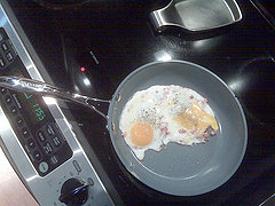 Alternatives do exist. This non-stick Green Pan by a Belgian manufacturer is made without PFOA. (Photo by Maia Cybelle Carpenter)
The EPA's action plans summarize available hazard, exposure, and use information; outline the risks that each chemical may present; and identify the specific steps the agency is taking to address those concerns. As rulemaking actions begin, there will be opportunities for public and stakeholder comment and involvement.
"Inclusion on the list publicly signals EPA's strong concern about the risks that those chemicals pose and the agency's intention to manage those risks," Jackson said.
Once listed, chemical companies can provide information to the agency if they want to demonstrate that their chemical does not pose an unreasonable risk.
The American Chemistry Council, an industry trade association, said Wednesday that it "supports" the EPA's effort to outline possible agency actions for prioritized chemicals under the Toxic Substances Control Act, but is "disappointed" that the initial set of chemicals seem to have been selected based on little more than their "current high-profile nature."
Cal Dooley, the council's president and chief executive, said, "In exercising its authority under TSCA, EPA should prioritize chemicals for the CAP [Chemicals Action Plans] program based on scientific criteria that reflect available hazard, use and exposure information provided to the agency."
"Unfortunately, until today, there has been little transparency, and significant uncertainty, over the scientific basis for the selection of these chemicals," said Dooley.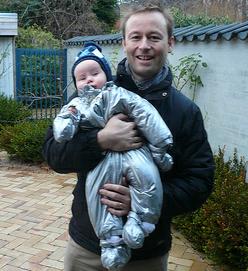 Baby in a suit made of fabric treated with flame retardant (Photo by Lars Plougmann)
"The action plans released today include references to scientific studies that the agency believes make the case for restrictive action, but the agency should maintain their responsibility to review the weight of evidence for all scientific studies, even those that lead to a different conclusion," he said.
For instance, Dooley says that exposure to phthalates in the general public indicated by biomonitoring data collected by the Center for Disease Control and Prevention is "well below" safety limits established by the EPA and the European Union but the EPA has failed to note this in its action plan.
"ACC members are proud of our products. Chemicals are critical in life saving vaccines, solar panels and energy efficient products, clean water, and so many other uses that improve quality of life, safety, and the environment," said Dooley. "ACC members will continue to work with consumer, government and scientific organizations to understand the impacts of chemicals on human health and the environment."
The EPA says the initial chemicals selected for action plan development were chosen "on the basis of multiple factors, including chemicals identified as persistent, bioaccumulative, and toxic; high production volume chemicals; chemicals in consumer products; chemicals of particular potential concern for children's health because of reproductive or developmental toxicity; chemicals subject to review and potential action in international forums; chemicals found in human blood in biomonitoring programs; and chemicals in categories generally identified as being of potential concern in the new chemicals program."
The European Union has regulated chemicals of concern since June 2007 under the REACH law, which stands for the Registration, Evaluation, Authorisation and Restriction of Chemical substances. Manufacturers and importers are required to gather information on the properties of their chemical substances, which will allow their safe handling, and to register the information in a central database run by the European Chemicals Agency in Helsinki.
The REACH law also calls for the progressive substitution of the most dangerous chemicals when suitable alternatives have been identified.
Copyright Environment News Service (ENS) 2009. All rights reserved.