U.S. EPA Curbs Air Pollution Blowing Across State Lines
WASHINGTON, DC, July 7, 2011 (ENS) – The U.S. Environmental Protection Agency today finalized Clean Air Act regulations that will slash hundreds of thousands of tons of pollutants from coal-fired power plants that drift across state borders.
The Cross-State Air Pollution Rule is intended to protect over 240 million Americans living in the eastern half of the country once it takes effect on January 1, 2012.
Environmental and public health groups and state air quality agencies praised the new rule, while the coal industry cried that economic damage would result.
The Cross-State Air Pollution Rule replaces and strengthens the 2005 Clean Air Interstate Rule, CAIR, which the U.S. Court of Appeals for the DC Circuit ordered the EPA to revise in 2008. The court allowed CAIR to remain in place temporarily while the environmental agency worked to finalize today's replacement rule.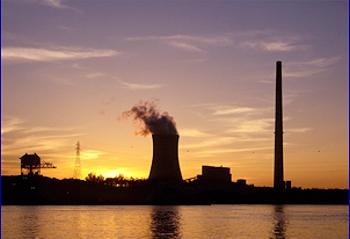 Ohio Power Company's Mountaineer coal-fired power plant in West Virginia sends air pollutants across the river into Ohio. (Photo courtesy AEP)
"No community should have to bear the burden of another community's polluters, or be powerless to prevent air pollution that leads to asthma, heart attacks and other harmful illnesses," said EPA Administrator Lisa Jackson. "These Clean Air Act safeguards will help protect the health of millions of Americans and save lives by preventing smog and soot pollution from traveling hundreds of miles and contaminating the air they breathe."
Carried long distances by wind and weather, power plant emissions of sulfur dioxide, SO2, and nitrogen oxide, NOx, cross state lines. The pollutants react in the atmosphere and contribute to harmful levels of ground-level ozone, known as smog, and fine particles, usually called soot, which are linked to illnesses and premature deaths and prevent many cities and communities from enjoying healthy air quality.
The Cross-State Air Pollution Rule will improve air quality by requiring power plants to cut SO2 and NOx emissions. By 2014, this rule and other state and EPA actions will reduce SO2 emissions by 73 percent from 2005 levels, the EPA estimates. NOx emissions will drop by 54 percent.
Pollution swirls throughout the eastern United States. Neil Donahue, a chemistry professor at Carnegie Mellon University, told the "Pittsburgh Post-Gazette" newspaper that smoke from a Pittsburgh-area power plant can ride the wind east and then south along the East Coast, then travel west to Baton Rouge where it blows north through the Midwest before prevailing winds may carry it right back to Pennsylvania.
In this way, Pennsylvania receives air pollution from 15 states as distant as Missouri, Georgia and Michigan.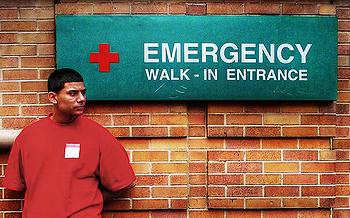 A Brooklyn, New York resident waits outside the Maimonides Hospital Emergency Room where his mother is being treated for a severe asthma attack. (Photo by Lou Bueno)
American Lung Association's National Volunteer Chair Albert Rizzo, MD, who serves as a pulmonary and critical care physician in Newark, Delaware, said the new rule will save lives. "Inhaling smog and soot can worsen chronic health problems including lung disease and heart complications, result in premature death, and can spark asthma attacks," he said.
"States cannot protect their citizens from pollution that blows in from neighboring states without a strong Clean Air Act and vigorous enforcement of the law by EPA," Dr. Rizzo said. "Thanks to this step, coal-fired power plants will have to install new equipment that will reduce millions of tons of sulfur dioxide and nitrogen dioxide emissions. These noxious gases are harmful themselves, and also contribute to the formation of ozone smog and fine particles, soot."
The EPA estimates that the rule will protect communities that are home to 240 million Americans from smog and soot pollution, preventing up to 34,000 premature deaths, 15,000 nonfatal heart attacks, 19,000 cases of acute bronchitis, 400,000 cases of aggravated asthma, and 1.8 million sick days a year beginning in 2014.
EPA says the rule will achieve up to $280 billion in annual health benefits. "The benefits far outweigh the $800 million projected to be spent annually on this rule in 2014 and the roughly $1.6 billion per year in capital investments already underway as a result of CAIR," said the agency in a statement today.
Twenty seven states in the eastern half of the country will work with power plants to cut air pollution under the rule, using what the EPA called "widely available, proven and cost-effective control technologies."
"By maximizing flexibility and leveraging existing technology, the Cross-State Air Pollution Rule will help ensure that American families aren't suffering the consequences of pollution generated far from home, while allowing states to decide how best to decrease dangerous air pollution in the most cost-effective way," Jackson said.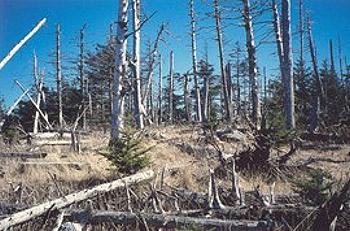 Acid rain, created by SO2 emissions, destroyed this Adirondack forest in New York state. (Photo by Gary Randorf courtesy Adirondacks Council)
The rule will help improve visibility in state and national parks while better protecting sensitive ecosystems, including Appalachian streams, Adirondack lakes, estuaries, coastal waters, and forests, the EPA said.
EPA expects pollution reductions to occur quickly without large expenditures by the power industry, said Jackson. Many power plants covered by the rule have already made substantial investments in clean air technologies to reduce SO2 and NOx emissions. The rule will level the playing field for power plants that are already controlling these emissions by requiring more facilities to do the same.
Industry groups say this and other new air quality regulations will cause economic damage.
"The EPA is ignoring the cumulative economic damage new regulations will cause," American Coalition for Clean Coal Electricity President Steve Miller said in a statement. "America's coal-fueled electric industry has been doing its part for the environment and the economy, but our industry needs adequate time to install clean coal technologies to comply with new regulations. Unfortunately, EPA doesn't seem to care."
Brian Houseal, executive director of the Adirondack Council, said the rule clears the way for the nation's most sensitive natural areas to recover from decades of chemical poisoning. "This is a historic day for the Adirondack Park, the Catskill Park and the neighboring Appalachian Mountain Range, from Maine to the Great Smoky Mountain National Park," he said.
But Houseal warned that a lawsuit from affected power plants could delay or prevent the enforcement of the new rule. "That is exactly what happened to the EPA's most recent attempt to control power plant emissions via regulation with the Clean Air Interstate Rule in 2008," he said.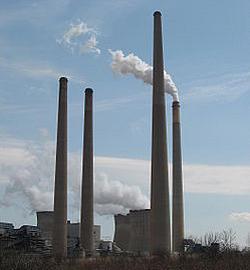 Homer City Generating Station in Indiana County, Pennsylvania (Photo credit unknown)
"That's why we want Congress to reinforce EPA's authority to impose these rules by passing a law that instructs EPA to make deep cuts in sulfur dioxide and nitrogen oxides from power plants, the two main causes of acid rain and smog," Houseal said. "That will curb any lawsuits from power companies challenging EPA's interpretation of Congressional intent. These new rules are an extension of EPA's authority under the existing Clean Air Act. Greedy power plant owners and coal companies have used armies of lawyers nit-pick every rule EPA has attempted to issue."
States and the EPA also have filed legal actions. Pennsylvania, New York and New Jersey and the federal agency alleged in May that prevailing winds carry air pollution far from Edison International's Homer City coal-burning power plant in Pennsylvania, causing environmental damage to streams and forests.
State air quality agencies back the new rule but say it does not go far enough.
William Becker, executive director of the National Association of Clean Air Agencies said, "We are pleased that the rule, which will take effect on January 1, 2012, is expected to reduce NOx and SO2 emissions by over 70 and 50 percent, respectively, and that a tighter, second-phase SO2 cap is included to garner even further reductions beginning in 2014."
"As significant as today's action is, it represents only a step toward a greater goal with respect to transported air pollution," said Becker. "The NOx emissions cap is simply not sufficient to control the magnitude of emissions that come from power plants."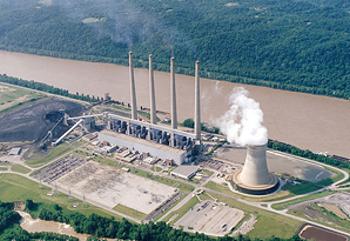 Air pollution from the JM Stuart power plant in Ohio blows across the Ohio River into Kentucky. (Photo courtesy PSI Energy)
"Not only does this cap fall short of where it should be if states and localities are to attain health-based air quality standards for ozone adopted in 1997 and fine particulate matter adopted in 2006, it will be wholly inadequate for meeting a the final reconsidered and tighter ozone standard expected to be issued later this summer," Becker said.
"Because today's rule is so enormously cost effective, there is substantial opportunity for EPA to further tighten the NOx and SO2 caps while still maintaining a great margin of benefit over cost," he said.
"In addition, EPA should extend the scope of this program to cover transported pollution from other sources, such as industrial, commercial and institutional boilers and cement kilns," Becker urged. "EPA has promised a second rule to follow this rule to further address transported air pollution. NACAA urges EPA to make good on this promise and to do so quickly. States and localities are depending on this EPA action to fulfill their statutory clean air obligations."
Kyle Ash, Greenpeace's senior legislative representative, said, "No method of harnessing energy is more expensive and damaging to American's health than burning coal, and yet coal polluters take every opportunity to outsource costs of up to $500 billion to American communities in the form of health care and environmental costs."
Sierra Club Executive Director Michael Brune said, "This long overdue and much-needed action will help communities clean up their air and save lives by curbing millions of tons of air pollution that travel downwind and across state lines each year."
The rule affects downwind states in the eastern half of the country and also some states in the West.
Sierra Club, Public Citizen, and the Environmental Integrity Project said in a joint statement about cross-border air pollution in Texas, "EPA's new Cross State Clean Air rules will reduce the asthma, other respiratory illnesses, heart disease, and pre-mature deaths that people are experiencing as a result of air pollution from Texas' dirtiest coal plants – not only here in Texas, but in downwind states. Some of our coal plants, including TXU-Luminant's coal plants in north east Texas, rank at the top of U.S. pollution lists."
In a supplemental rulemaking based on further review and analysis of air quality information, EPA also is proposing to require emissions sources in Iowa, Kansas, Michigan, Missouri, Oklahoma, and Wisconsin to reduce NOX emissions during the summertime ozone season. The proposal would increase the total number of states covered by the rule from 27 to 28. Five of these six states are covered for other pollutants under the rule.
The proposal is open for public review and comment for 45 days after publication in the Federal Register. Click here for more information.
Copyright Environment News Service,ENS, 2011. All rights reserved.