U.S. Develops Home-Fueled Natural Gas Cars
HOUSTON, Texas, July 16, 2012 (ENS) – The Obama Administration is investing $30 million to find new ways of expanding the use of natural gas as a vehicle fuel.
In Houston on Thursday, U.S. Deputy Secretary of Energy Daniel Poneman announced 13 new natural gas research projects that will share the $30 million.
The projects are funded under a new Department of Energy program, Methane Opportunities for Vehicular Energy, or MOVE. Overall, they aim to engineer lightweight, affordable natural gas tanks for vehicles and develop natural gas compressors that can efficiently fuel a natural gas vehicle at home.
"These innovative projects will leverage the ingenuity of U.S. scientists, engineers and entrepreneurs to develop breakthrough technologies to fuel cars with natural gas," said Poneman.
The United States has abundant supplies of natural gas and U.S. shale gas production has more than tripled since 2008.
Commercial fleet operators nationwide have begun to transition long-haul trucks and other commercial vehicles to run on compressed natural gas and liquefied natural gas. The advances achieved under this latest set of research and development awards are intended to help expand the use of natural gas vehicles, so that drivers nationwide can benefit.
Said Poneman, "These projects could transform America's energy infrastructure and economy by utilizing domestic energy sources to power our vehicles, reducing our reliance on imported oil, and increasing American energy security."
Poneman announced the newly selected projects at a meeting of the National Petroleum Council, a federal advisory committee to the Secretary of Energy that advises, informs, and makes recommendations on matters relating to natural gas and oil.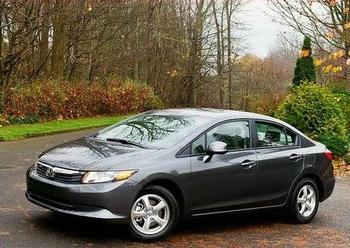 Honda's 2012 natural gas fueled Civic in Seattle, Washington (Photo by Martin Campbell)
Today's natural gas vehicle technologies require tanks that can withstand high pressures, are often cumbersome, and are either too large or too expensive to be suitable for smaller passenger vehicles.
MOVE's new projects are focused on removing these barriers, which will help encourage the widespread use of natural gas cars and trucks. For example, REL, Inc. in Calumet, Michigan will receive $3 million to develop an internal "foam core" for natural gas tanks that allows tanks to be formed into any shape. This will enable higher storage capacity than current carbon fiber tanks at one third the cost, Poneman explained.
Another funded project, the Center for Electromechanics at the University of Texas, Austin will receive $4 million to develop an at-home natural gas re-fueling system that compresses gas with a single piston. Unlike current four-piston compressors, the highly integrated single-piston system will use fewer moving parts, leading to a more reliable, lighter, and cost-effective compressor.
Ford Motor Company will receive $5.5 million to engineer a high-performance natural gas storage tank that utilizes an innovative external framework and internal porous materials. This comprehensive design will lower pressure and cost while increasing the performance of the fuel system.
General Electric Global Research in Niskayuna, New York will receive $1.8 million to develop an at-home natural gas refueling system that will chill, densify, and transfer compressed natural gas more efficiently to light-duty vehicles than conventional refueling systems. This fast-fueling design has very few moving parts, will operate quietly, and will be virtually maintenance-free.
Click here for a list of all the MOVE-funded projects.
Poneman said the new MOVE investments build on efforts underway through the Clean Cities program and National Clean Fleets Partnership to help large fleet operators, such as large companies, cities, and states, identify opportunities to transition to natural gas vehicles. The MOVE program is being organized and funded under a new energy research agency within the Department of Energy launched by President Obama in 2009.
The Advanced Research Projects Agency – Energy, usually called ARPA-E, is meant to seek out transformational, breakthrough technologies that are too risky for private-sector investment but have the potential to translate science into quantum leaps in energy technology, form the foundation for entirely new industries, and have large commercial impacts.
ARPA-E has already secured more than $200 million in outside private capital investment for 11 projects after initial funding by ARPA-E. To date, ARPA-E has attracted over 5,000 applications from research teams, which have resulted in some 180 groundbreaking projects worth nearly $500 million.
Copyright Environment News Service (ENS) 2012. All rights reserved.
Environment News Service (ENS) © 2012 All Rights Reserved.