U.S. Carbon Emissions Soared in 2010 After Recession
WASHINGTON, DC, August 18, 2011 (ENS) – U.S. energy-related carbon dioxide emissions increased in 2010 by 3.9 percent over the previous year, the largest percentage increase since 1988, according to a new federal government analysis released today.
U.S. carbon dioxide emissions from the consumption of fossil fuels were 5,638 million metric tons carbon dioxide (MMTCO2) in 2010, an increase of 3.9 percent from the 2009 level, said the U.S. Energy Information Administration, the statistical and analytical agency within the U.S. Department of Energy.
The EIA's report, "Energy-Related Carbon Dioxide Emissions, 2010," shows that while this is the biggest jump in CO2 emissions in 23 years, emissions are still six percent below the 2005 level.
"The 3.9 percent increase in emissions in 2010 was primarily driven by the rebound from the economic downturn experienced in 2008 and 2009," said Acting EIA Administrator Howard Gruenspecht.
Since 1990, U.S. carbon dioxide emissions have grown at an average annual rate of 0.6 percent.
Gruenspecht says CO2 emissions are not expected to grow as quickly in the future as they have over the past 20 years.
"The Reference case in our latest energy outlook projects significantly slower emissions growth over the next decade, averaging 0.2 percent per year," he said.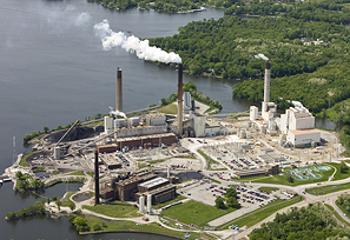 Springfield City Water, Light and Power plant burns coal and biomass in Illinois. (Photo courtesy CWLP)
Carbon dioxide is one of the most common greenhouse gases in the Earth's atmosphere. For at least the past 200 years, the burning of fossil fuels, such as coal and oil, and deforestation, have caused the concentrations of gases to increase in the atmosphere, preventing heat from escaping to space, as do the glass panels of a greenhouse.
As of October 2010, carbon dioxide in the Earth's atmosphere was at a concentration of 388 parts per million by volume.
But 350 ppm is the number that many scientists say is the safe upper limit for carbon dioxide to avoid runaway climate change.
The grassroots group 350.org warns, "The planet is in its danger zone because we've poured too much carbon into the atmosphere, and we're starting to see signs of real trouble: melting ice caps, rapidly spreading drought."
Among the factors that influenced the rise in CO2 emissions last year was an increase in the Gross Domestic Product of 3.0 percent.
In addition, the energy intensity of the U.S. economy, measured as energy consumed per dollar of GDP, increased by 0.7 percent in 2010, the EIA analysis shows.
There was also a slight increase in the carbon dioxide intensity of U.S. energy supply (CO2 per unit of energy) in 2010, which is in contrast to a drop of 2.4 percent in 2009.
Consumption of coal, the most carbon-intensive fossil fuel, rose by six percent in 2010 after falling by 12 percent in 2009.
Click here to see the EIA's full analysis of U.S. 2010 carbon dioxide emissions.
By law, EIA's data, analyses, and forecasts are independent of approval by any other officer or employee of the U.S. Government, so Gruenspecht's forecast is his own and "should not be construed as representing those of the Department of Energy or other federal agencies," the EIA said in a statement.
U.S. Energy Information Administration carbon dioxide publications:
Copyright Environment News Service (ENS) 2011. All rights reserved.