U.S., Canada, Mexico Vow 'Continental' Energy Grid
WASHINGTON, DC, April 2, 2012 (ENS) – The leaders of the United States, Mexico, and Canada today pledged to develop "continental energy, including electricity generation and interconnection" across national borders and welcomed "increasing North American energy trade."
Meeting in Washington, U.S. President Barack Obama, Canada's President Stephen Harper and Mexico's President Felipe Calderon committed their governments to enhance their collective energy security, to facilitate "seamless energy flows on the interconnected grid" and to promote trade and investment in clean energy technologies.
They will cooperate in expanding cooperation "to create clean energy jobs and combat climate change," the leaders said in a joint statement.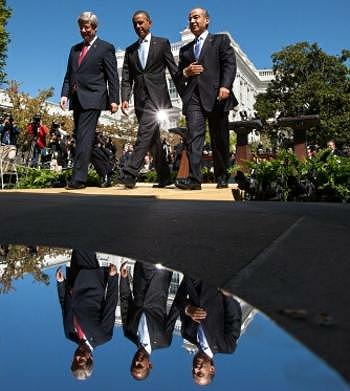 President Barack Obama, center, walks with Prime Minister Stephen Harper of Canada, left, and President Felipe Calderon of Mexico in the Rose Garden of the White House, April 2, 2012. The three leaders are reflected in the base of flag poles situated on the Colonnade. (Photo by Chuck Kennedy courtesy The White House)
"Enhanced electricity interconnection in the Americas would advance the goals of the Energy and Climate Partnership of the Americas to reduce energy poverty and increase the use of renewable sources of energy," the three leaders said.
They recognized Mexico's leadership in supporting inter-connections in Central America and reaffirmed their support "to bring affordable, reliable, and increasingly renewable power to businesses and homes in Central America and the Caribbean while opening wider markets for clean energy and green technology."
During a joint news conference this afternoon, President Obama said, "Between us, we represent nearly half-a-billion citizens, from Nunavut in the Canadian north to Chiapas in southern Mexico. In between, the diversity of our peoples and cultures is extraordinary. But wherever they live, they wake up every day with similar hopes – to provide for their families, to be safe in their communities, to give their children a better life. And in each of our countries, the daily lives of our citizens are shaped profoundly by what happens in the other two. And that's why we're here."
"Energy cooperation reduces the cost of doing business and enhances economic competitiveness in North America," the three leaders said. "We recognize the growing regional and federal cooperation in the area of continental energy, including electricity generation and interconnection and welcome increasing North American energy trade."
On climate change, Obama, Harper and Calderon pledged to advance "a lasting global solution."
"We are pleased with the outcome of the climate conference in Durban, with respect to both operationalizing the Cancun agreements and laying the groundwork for a new legal agreement applicable to all Parties from 2020," they said, referring to the annual UN climate conference held last December in Durban, South Africa.
They stated their support for activation of the multi-billion dollar Green Climate Fund to help developing countries cope with the warming climate, and underlined the importance of climate finance and investment for "meaningful mitigation" of climate change impacts.
The leaders said they plan to work together, including through the Major Economies Forum on Energy and Climate, to secure a successful outcome at the upcoming UN climate summit in Doha, Qatar at the end of this year.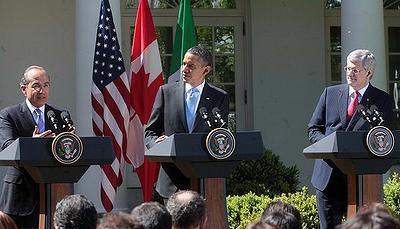 From left: President Felipe Calderon of Mexico, U.S. President Barack Obama, Prime Minister Stephen Harper of Canada at a White House news conference, April 2, 2012 (Photo by Ariel Gutierrez courtesy Office of President Calderon)
"We continue to advance the transition to a clean energy economy and cooperate to reduce global rates of deforestation and land degradation," they said.
The three leaders expressed their intention to deepen trilateral cooperation and work with other partners to accelerate reduction of emissions of "short-lived climate pollutants," noting the recently launched Climate and Clean Air Coalition to Reduce Short-lived Climate Pollutants in which they are all actively engaged.
"Reducing our emissions of these substances, which include methane, black carbon, and many hydrofluorocarbons (HFCs), offers significant opportunities to reduce the rate of global warming in the near term, in the context of our broader efforts to address climate change, while also yielding many health, agricultural productivity, and energy security benefits," the leaders stated.
Concerning public health, they announced the conclusion of a new North American Plan for Animal and Pandemic Influenza, which they committed to at the 2009 North American Leaders' Summit.
The joint plan provides a collaborative and multi-sectoral framework to strengthen the preparation for and the response of the three governments to future animal and pandemic influenza events in North America.
Prime Minister Harper said, "We also had useful discussions on continued cooperation in managing our borders, streamlining regulation, securing global supply chains, and advancing clean energy."
President Obama said today that in 2011, for the first time, the total trilateral merchandise trade among the three countries surpassed US$1 trillion.
In response, President Calderon said, "I think that that is not separate from a reality that has to be underscored. In this very complex world full of economic problems and severe crises, Canada, the United States and Mexico are three countries that are growing right now and generating jobs today."
Copyright Environment News Service (ENS) 2012. All rights reserved.
Environment News Service (ENS) © 2012 All Rights Reserved.