U.S. Automakers Will Profit from Higher Fuel Efficiency Standards
WASHINGTON, DC, March 31, 2011 (ENS) – As the United States gears up for higher vehicle fuel efficiency standards, two new reports from investors and industry experts conclude that U.S. automakers will be more profitable than they are today at a fleetwide 42 mile per gallon average in 2020.
The same research group projects that by 2015, less than five years away, more than one in 20 cars sold in the United States will be hybrid, plug-in or full electric vehicles.
Released on Wednesday, the two reports were produced by Citigroup Global Markets and Ceres' Investor Network on Climate Risk with the University of Michigan Transportation Research Institute, Baum and Associates and Meszler Engineering Services.
The fuel economy analysis evaluates the impact that changes to the U.S. Corporate Average Fuel Economy (CAFE) standards and greenhouse gas emissions standards may have on the auto industry in 2020.
Today's CAFE standard is 24.1 mpg for cars and light trucks combined, and is mandated to rise to 30 mpg by 2016.
In May 2010, President Barack Obama directed the U.S. Environmental Protection Agency and the National Highway Transportation Safety Agency to develop the next phase of the CAFE standards for model years 2017 to 2025.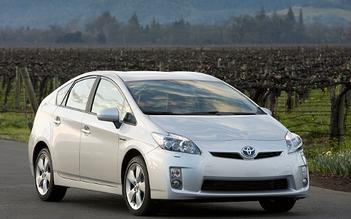 Most fuel-efficient car on the U.S. market, the Toyota Prius, gets 50 mpg. (Photo courtesy Toyota)
Federal and California state agencies tasked with developing these standards are considering a range representing an annual decrease in carbon dioxide emissions of three to six percent, which translates to a range of 47 mpg to 62 mpg in 2025.
The agencies' recommendation appears headed for the White House in May.
The Citigroup-Ceres report states, "These goals are eminently achievable technologically and cost-effective."
The report finds that stronger mileage and greenhouse gas standards will boost profits and sales in 2020 for the auto industry worldwide, with the Detroit Three – Ford, General Motors and Chrysler – seeing the biggest financial benefits.
Walter McManus, an economist at the University of Michigan Transportation Research Institute and director of the Automotive Analysis Group, said, "Our research indicates that increasing industry average fuel economy to 42 miles per gallon by 2020 could raise industry variable profit by $9.1 billion, or eight percent. Most of the added profit, $5.1 billon, could go to the Detroit Three."
Other beneficiaries will be U.S.-based suppliers of key fuel-saving technologies, from turbochargers to direct injection, dual-clutch transmissions.
Dan Meszler of Meszler Engineering Services said, "Between now and 2020 much of this technology is expected to mature, so that a 2020 CAFE requirement of 42 miles per gallon should produce consumer savings starting at gas prices of $2.00 per gallon."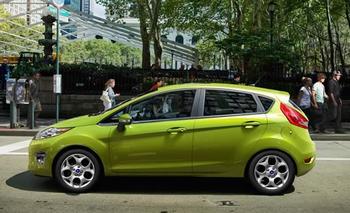 The most fuel efficient car on the U.S. market made by one of the Detroit Three is the Ford Fiesta, which gets 33 mpg combined city and highway driving. (Photo courtesy Ford)
"Since current and expected future gasoline prices far exceed that price," said Maszler, "these technology-driven fuel savings are extremely cost effective and indicate that a 42 mile per gallon CAFE program will not only reduce petroleum imports, but save consumers money."
Investors are also poised to benefit. Lily Donge, manager for environment and climate change at Calvert Asset Management Company, said, "Investors often view tighter environmental regulations as an impediment to growth but these reports offer a refreshing counterpoint. Stricter environmental standards actually have the potential to spark innovation and improve the competitive positioning of U.S. automakers."
The second report is an overview of the electric vehicle industry, with a focus on individual company product plans, key technological issues, and industry initiatives and government policies that may influence further development of electric vehicles.
The key conclusion here is that the U.S. electric vehicle industry is already robust and viable, and will grow further under strong standards and other government policies that will boost demand for electric and plug-in-electric cars.
Alan Baum of Baum & Associates, who produces long-range industry analyses with a focus on fuel economy and electric vehicles, said, "Our study shows that the automakers are well positioned to meet the fuel economy requirements necessary in 2020 with a variety of approaches already in their product plans. Consumer interest in fuel economy, and their expectation that gas prices will remain high, suggests that consumers will purchase these products."
By 2015, Baum & Associates forecasts over 100 alternative fuel models available in the U.S. market covering the four technology groups, including fuel cells, but many of these products will sell only in modest volumes.
The forecast anticipates that sales will grow from roughly 2.5 percent of the total market this year to 6.3 percent by 2015, with total sales of over 900,000 units that year.
Regular hybrids will remain most prevalent in both number of vehicle offerings and volume – approximately 55 percent of projected volume – with plug-ins and full electrics each representing about 20 percent of projected volume.
Copyright Environment News Service (ENS) 2011. All rights reserved.