U.S. Army Plans Green Warrior Convoy for 2013
WARREN, Michigan, April 12, 2012 (ENS) – The U.S. Army's next generation of advanced combat vehicles will be road tested in a Green Warrior Convoy.
Assistant Secretary of the Army for Installations, Energy and Environment Katherine Hammack made the announcement Wednesday during the opening of the Army's new Ground Systems Power and Energy Laboratory, or GSPEL, at the Detroit Arsenal, Warren, Michigan.
Hammack said that one year from today the Army will launch a Green Warrior Convoy of vehicles from Warren to Washington to road test technologies and systems developed at the Tank Automotive Research, Development and Engineering Center.
Rolling across the United States, the convoy will stop at schools, colleges, communities and military facilities to demonstrate the importance of energy improvements such as fuel cells, hybrid systems, battery technologies and alternative fuels.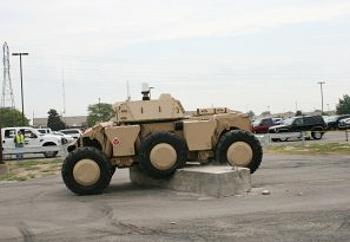 An autonomous platform demonstrator maneuvers over concrete blocks. (Photo by Carolyn Baum courtesy U.S. Army)
The convoy's detailed route and the complement of vehicles within the convoy will be announced at a later date, said Hammack.
GSPEL contains eight separate state-of-the-art labs offering "an unprecedented range of test and validation capabilities for emerging power, energy and mobility technologies" at a single facility, the White House said in a statement Wednesday announcing the new military program.
The centerpiece, the Power and Energy Vehicle Environmental Lab, features one of the world's largest environmental chambers. The lab's dynamometer and environmental chamber combination allows full mission profile testing of every ground vehicle platform in the military inventory in any environmental condition.
"The Army's best and brightest ground vehicle research scientists, engineers and technicians combined with GSPEL's unique facilities, will enable the Army to innovate tomorrow's energy solutions," the White House said.
Sharing access to the new laboratory with industry and academia is expected to foster the exchange of information and ideas for developing energy technologies that may hold promise for passenger and commercial cars and trucks as well as military vehicles.
High global oil prices affect every part of the economy, from families, to small businesses, to the Department of Defense. For every $1 increase in the price of a barrel of oil, the United States pays an additional $130 million in fuel costs, says the DoD.
This is why President Barack Obama has challenged the Departments of Navy, Energy and Agriculture to partner with private industry to accelerate the commercialization of drop-in biofuels for military and commercial use.
Officials with the three departments will cooperate to encourage private industry and financiers to construct or retrofit multiple integrated biorefineries capable of producing millions of gallons of fuel a year from U.S.-grown feedstocks at competitive prices.
On March 29, the Department of Defense's Defense Production Act Executive Agent published an announcement soliciting proposals for the advanced drop-in biofuel production project.
The project's goal is to establish commercial-scale biorefineries in different regions of the United states producing jet and naval biofuels from diverse feedstocks via different processes.
A Biofuel Industry Roundtable will be held on May 18 in Washington, DC to gather the market and industry expertise necessary to develop a domestic biofuel market capable of producing alternative fuel that is cost-competitive with petrol fuels.
Copyright Environment News Service (ENS) 2012. All rights reserved.