U. North Carolina Dormitory Wins Biggest Energy Loser Title
WASHINGTON, DC, October 28, 2010 (ENS) – The Morrison Residence Hall at the University of North Carolina at Chapel Hill has won first prize in the U.S. EPA's first-ever National Building Competition, reducing its energy use by 35.7 percent in one year.
The competition, launched on April 27, 2010, challenged teams from 14 buildings across the country to measure their building's energy use and reduce waste with help from the Energy Star program.
In an event playing off the TV show "The Biggest Loser," Morrison Residence Hall was named the winner. Cheered on by a mascot wearing a skyscraper costume cinched with a tape measure, Chris Martin, the university's director of Energy Management, stepped on a doctor's scale as a display counted down Morrison's energy reduction.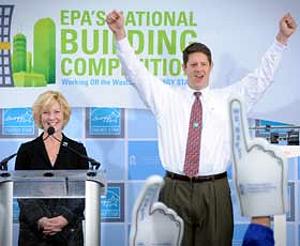 Chris Martin, Jr., right, director of UNC Energy Management, celebrates Morrison's win. At left is Maura Beard, representing the U.S. EPA. (Photo courtesy UNC)
"Do you think that's enough to win?" EPA Director of Strategic Communications Maura Beard asked the students and staff members gathered in the light drizzle on the Morrison basketball court.
Then "Biggest Loser" host Bob Harper appeared on the video display to announce the news that Morrison had won. The crowd waved white foam No. 1 fingers and cheered. In the crowd were representatives from North Carolina State University, which also had a building in the contest.
The National Building Competition measured energy performance from September 1, 2009, through August 31, 2010. The energy use of each of the 14 buildings was monitored through EPA's Energy Star online energy measurement and tracking tool, Portfolio Manager.
Buildings were evaluated on the greatest percentage-based reduction in energy consumed by a building relative to its size and adjusted to account for changes in weather. Third-party utility statements were required at the conclusion of the competition to verify the energy performance of each competitor.
Energy use in commercial buildings accounts for nearly 20 percent of total U.S. greenhouse gas emissions at a cost of more than $100 billion per year.
On average, 30 percent of the energy used in commercial buildings is wasted, the EPA said today.
Morrison Residence Hall is a 10 story, 200,000 square foot residence hall constructed in 1965. Housing 800 students, it is also home to the campus' Sustainability Living Learning Community.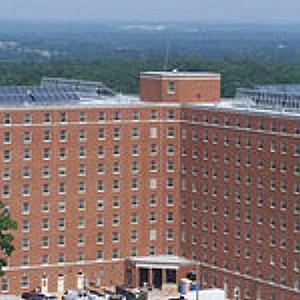 Morrison Residence Hall (Photo courtesy U.S. EPA)
The UNC team, the Watt-Busters, saved more than $250,000 on energy bills, and reduced greenhouse gas emissions equal to the electricity use of nearly 90 homes for a year.
Morrison reduced its energy use through a combination of energy efficiency strategies, including improved operations and maintenance as well as outreach to dormitory residents.
A computer touch-screen monitor in the dormitory's lobby helped residents keep track of energy consumption. Competitions between dorm floors encouraged students to turn off lights and computers, and reminders were posted in elevators, bathrooms, and common areas.
Improvements to the heating, ventilation and air conditioning system, as well as lighting improvements, helped to increase the building's energy efficiency and maximize savings.
"We are honored to win EPA's first National Building Competition," said UNC Chancellor Holden Thorp. "Carolina is a recognized national leader in sustainability and energy and carbon reduction. At UNC, sustainability is not just an academic topic. It's part of our culture. It's reflected in everything from our construction program to how we conduct business every day."
In the past year alone, UNC reduced its greenhouse gas emissions by 20 percent, and the UNC Energy Conservation Measure project, which Morrison was part of, resulted in a reduction of nearly $4 million in utility costs.
A Sears store in Glen Burnie, Maryland, came in second place with a 31.7 percent energy reduction.
The JCPenney Store located at 2200 North Tustin in Orange, California came in third, achieving an energy reduction of 28.4 percent. The winning store is part of a group of 63 JCPenney stores that participate in the company's Advanced Energy Management Program, which stresses a focus on energy awareness on both the facility maintenance and store associate level.
Together, the 14 competitors reduced their energy use by more than 44 million kBtu, saved $950,000 in utility bills, and reduced carbon dioxide emissions equivalent to those from the electricity use of approximately 600 homes for a year.
"The amazing results of the first-ever National Building Competition prove that any building can take simple steps to slash energy use, save thousands of dollars and protect the environment," said EPA Administrator Lisa Jackson. "We look forward to seeing even greater savings and energy innovations in the years ahead."
EPA selected the 14 contestants out of a pool of nearly 200 applications from ENERGY STAR partners. The final group represented a variety of commercial buildings of different types, sizes, ages, and locations – including a building constructed in 1896 and another in 2006 as well as one representing 60,000 square feet and another covering nearly one million square feet.
Some were using a great deal of energy at the start of the competition while others were already making progress and performing better than the average building. The final group of contestants reflected the philosophy of the competition – that everyone could set a goal and improve energy efficiency.
Thousands of businesses and organizations work with the EPA's Energy Star program and are saving billions of dollars and preventing millions of tons of greenhouse gas emissions from entering the atmosphere each year.
Jackson said that many of the methods used by each of these facilities to reduce their energy usage can be adopted easily by all types of facilities across the nation.
Copyright Environment News Service (ENS) 2010. All rights reserved.