Two Grassroots Leaders Share 2010 World Food Prize
DES MOINES, Iowa, June 16, 2010 (ENS) – David Beckmann, president of Bread for the World, and Jo Luck, president of Heifer International, have been named the co-winners of the 2010 World Food Prize for building sustainable solutions to hunger and poverty across the United States and around the world.
Each will receive a World Food Prize sculpture, a framed Laureate Certificate and will share the $250,000 award.
Ambassador Kenneth Quinn, president of the World Food Prize Foundation, announced the winners in a ceremony today at the U.S. State Department.
"David Beckmann and Jo Luck are receiving the World Food Prize for their landmark achievements in building Bread for the World and Heifer International into two of the world's foremost grassroots organizations, leading the charge to end hunger and poverty for millions of people around the globe," said Quinn.
Secretary of State Hillary Clinton said at the announcement ceremony that she takes personal delight in recognizing the two 2010 winners.
"I know and have worked with David Beckmann for a number of years," Clinton said. "Bread for the World has done an extraordinary job in not only providing positive responses in the fight against hunger, but in helping to really lead the way in terms of development and urging the United States to improve coordination and better target our investments and to learn from local communities – all lessons that we have embraced and applied in our Feed the Future Initiative."
"And Jo Luck is a friend of many years from Arkansas. She and I worked together in something called the Arkansas Advocates for Children and Families before half the audience here was born. (Laughter.) And she has done an exemplary job of building Heifer International into one of the world's most beloved anti-poverty organizations," Clinton said. "And you all know how Heifer has really caught the imagination of so many around the world as it provides livestock and other animals like bees and chickens and rabbits, along with the cows and the sheep and the goats."
Reverend Beckmann, a native of Nebraska, is a Lutheran pastor and an economist. He worked on poverty issues at the World Bank for 15 years before 1991 when he become president of the Washington D.C.-based Bread for the World, which he calls "a collective Christian voice urging decision makers to end hunger at home and abroad."
"The World Food Prize recognizes all that Bread for the World members and churches across the country have done to get our government to help end hunger in our country and around the world," said Beckmann today.
"U.S. funding for poverty-focused development assistance has tripled over the last decade; nutrition programs for hungry people in this country have more than doubled," he said. "This would not have happened without the advocacy of members and local congregations of Bread for the World."
Since 1991, Beckmann has marshaled a quarter of a million constituent contacts a year with elected officials through letters, email messages, and meetings, urging support for legislation to change the policies, programs, and conditions that allow hunger and poverty to persist.
Recently, Bread for the World began lobbying Congress to reform U.S. foreign aid to make it more effective in reducing hunger and poverty, and another to protect and strengthen tax credits for low-income working families.
He founded the U.S Alliance to End Hunger in 2004, which has brought together religious groups, charities, foundations, corporations, unions, and individuals to end hunger in the United States and worldwide.
Beckmann has lived and worked in Ghana and Bangladesh and has authored many articles and books. His latest book, "Exodus from Hunger: We Are Called to Change the Politics of Hunger," will be published this fall.
Since 1992, Luck has spearheaded the effort to build Heifer International into an effective hunger-fighting nonprofit organization, bringing animals that produce food and income to extremely poor families. Founded in 1944, the organization guides recipient families to self-reliance and provides opportunity for improved livelihoods through animal husbandry, technical training, and community development.
"I cannot begin to adequately express what this award means to me," said Luck today. "This is the absolute pinnacle of my professional life. And to share this prize with David, a personal friend for whom I have great respect, is an added honor."
Heifer International's activities have enabled 12 million families, including 1.5 million families in 2009, to put nutritious food on their own tables and also contribute to feeding others.
"Although this is a personal recognition," she said, "it would not have been possible without the efforts of the men and women who have shepherded Heifer International for more than 65 years, and the millions of families who have been helped and today continue to help others through Heifer's unique requirement that each beneficiary must pass on the gift to others, thus becoming a donor themselves. This provides the dignity they so richly deserve.
Heifer International encourages the practice of "Passing on the Gift," asking every family that receives an animal to give a female offspring of their animal to another family in need.
Since becoming head of Heifer International in 1992, Luck has expanded the scope of its activities throughout Africa, the Americas, Asia and the South Pacific, and Central and Eastern Europe, increasing the number of supporters from 20,000 in 1992 to more than 500,000 in 2009.
"When I am asked, 'What about the other global problems besides hunger,' I say that without sustenance, people are not able to address other issues," Luck said. "For me, ending hunger is a prerequisite for peace."
The World Food Prize was created in 1986 by American agricultural scientist Dr. Norman Borlaug, who was awarded the 1970 Nobel Peace Prize for his accomplishments in India and Pakistan and for his role as Father of the Green Revolution.
The prize of $250,000 is now endowed by philanthropist and businessman John Ruan, who hails from a small Iowa town as did Borlaug. Ruan served as chairman of The World Food Prize Foundation until 2003. Today his son, John Ruan III, serves as chairman.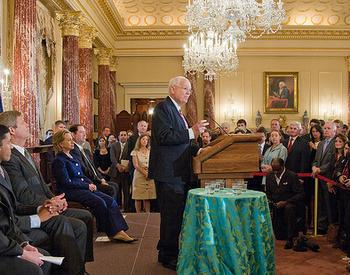 At the U.S. State Department, Ambassador Kenneth Quinn announces the 2010 World Food Prize Laureates. (Photo courtesy USDA)
The 2010 World Food Prize awards will be presented October 14, at the State Capitol in Des Moines, as part of the 2010 Borlaug Dialogue, the theme of which is "Take it to the Farmer: Reaching the World's Smallholders."
Today, Secretary Clinton also announced a new Obama administration effort to reach the world' smallholders – the Norman Borlaug Commemorative Research Initiative. She said new research investments would "leverage the work of our nation's scientists to benefit farmers in developing countries worldwide."
She said, "In a few decades, the world's population will grow to nine billion people. If we are to feed the future without leveling the forests, draining the aquifers, and depleting the soil of all its nutrients, we need science."
The research initiative will utilize the expertise and resources of the U.S. Agriculture Department and the U.S. Agency for International Development.
Agriculture Secretary Tom Vilsack said, "We are excited to be a part of Feed the Future, see the progress it has made, and partner with USAID to build on existing research grants and other USDA research activities to enhance agricultural development and food security worldwide. This is a fitting way to honor the memory of Dr. Borlaug, whose work demonstrated the incredible capacity of innovation and scientific research to combat hunger across the globe."
USAID Administrator Rajiv Shah said today, "I just returned from a regional meeting in Senegal where we heard from many governments about their national agriculture investment plans. Countries asked us for continued investments in new agriculture tools and technologies through increased investments in research. We are responding to their requests by redoubling our efforts to fight poverty and hunger through research and innovation and significantly expanding our research partnership with USDA."
"Through these investments we can discover and deliver breakthrough technologies that will benefit millions of farmers and their families worldwide," said Shah. "USAID will be laser focused on results and our ability to help farmers increase their incomes, reduce their risk, and improve their yields."
Copyright Environment News Service (ENS) 2010. All rights reserved.